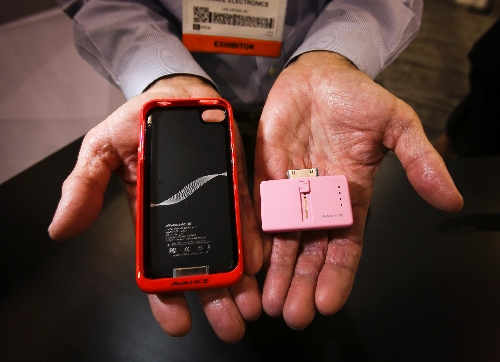 There are dozens of companies at the 2013 International Consumer Electronics Show this week offering new smartphone or tablet cases, power and other accessories for Apple products, even if the Cupertino, Calif.-based company avoids Sin City.
Avance, founded in 2006 as a subsidiary of Las Vegas-based Avance Electronics, is one of those companies promoting and selling car chargers and external batteries to retailers and distributors worldwide during the four-day trade show.
The company manufacturers rechargeable batteries, charges and electronic accessories for Apple products along with cars, toys and unmanned military vehicles.
"We've been manufacturing batteries as Avance Electronics in Las Vegas since the mid-1990s," said Shanin Polce, an Avance marketing executive. "We worked with cellular phone companies in the early days when they needed a lot of power to operate their phones."
Polce said its batteries can be found in radio-controlled helicopters and cars and unmanned drones used by the U.S. military. She declined to discuss Avance Electronics business ties to the military.
Avance Electronics employs 50 people in Las Vegas and manufactures products for the hobby industry and military at its University Avenue assembly plant. Avance's smartphone accessories are mostly assembled in China.
CES is crucial to Avance. Polce said the show is an opportunity to get the Avance brand out in the marketplace, and familiarize the public with its products.
"We are still in the early stages of launching the brand," Polce said. "It's been a real learning experience. When we initially introduced our products in the 1990s, it was purely out of necessity … we needed to meet the demand. It was a lot easier then."
Smartphones earned the aftermarket accessory industry $20 billion last year, accounting for more than half of the $36 billion in total industry revenue. A recent ABI Research study showed that smartphone owners spend almost $56 on accessories per device, nearly double the amount of feature phone owners.
By 2017, feature accessory revenue is estimated to decline to $112 billion, while smartphone accessories are estimated to increase to $38 billion, the New York-based firm said.
It's a $38 billion market that Avance is using CES to expand its brand.
"We are seeking sales and distribution," she said. "So CES is an opportunity to sell."
It's also an opportunity to correct the perception that Las Vegas isn't a high-tech town.
"I would agree with that," Polce said. "Its been known for hospitality and not cutting edge technology."
Polce said meeting Apple's requirements as well as getting its products to market were additional challenges the company never faced before. She expects Apple stores to carry Avance products "very soon."
Avance products were recognized this year at CES with Design and Engineering Showcase honors.
The LifePak 1500mAh battery case for iPhones and the LifePak 1300mAh mini external battery for iPhones and iPods were among this year's honorees. Polce said the 1300mAh is a 3.8-volt external battery.
"It's actually similar to other devices on the market," she said. "The difference is a 3.8 volt battery is an increase of about 8 percent in power over devices running a 3.7-volt battery."
Polce said recharging the battery is simple. All you have to do is use a USB connector and connect it with any personal computer or laptop. The LifePak 1300mAh mini sells for $39.95.
Avance's 1500mAh Ultra-Slim battery case lists for $69.95, while its 2200mAh Ultra-Slim battery case for the iPhone5 sells for $99.95. The company expects to launch additional products by March 30.
Contact reporter Chris Sieroty at csieroty@reviewjournal.com or 702-477-3893. Follow @sierotyfeatures on Twitter.