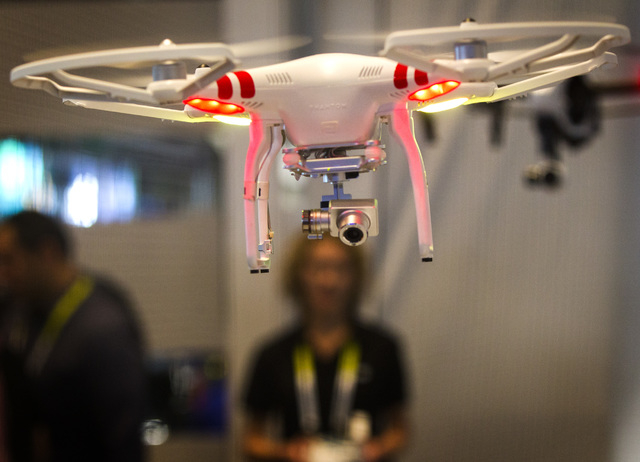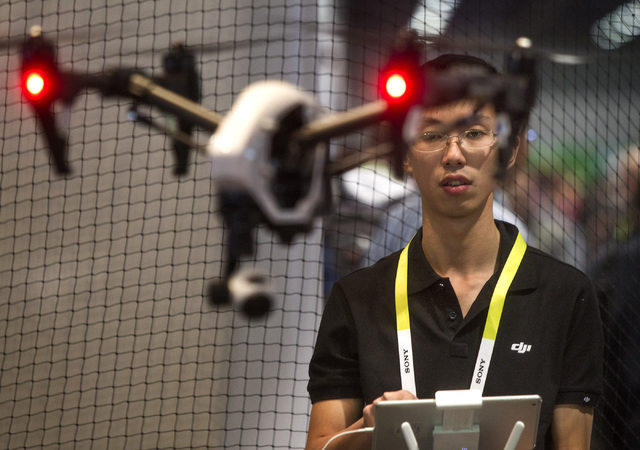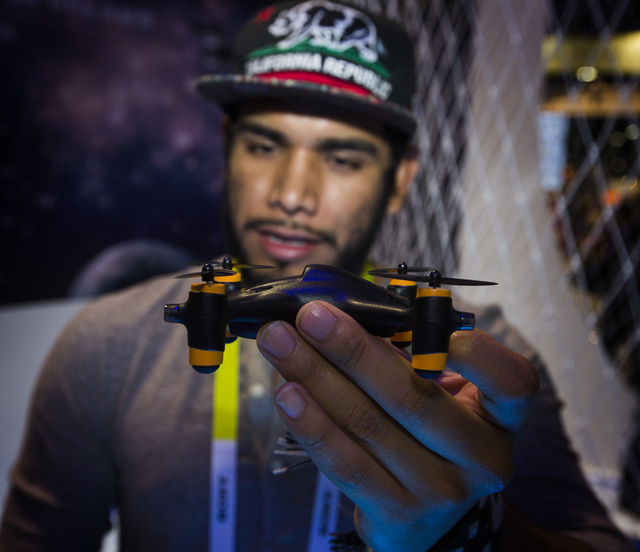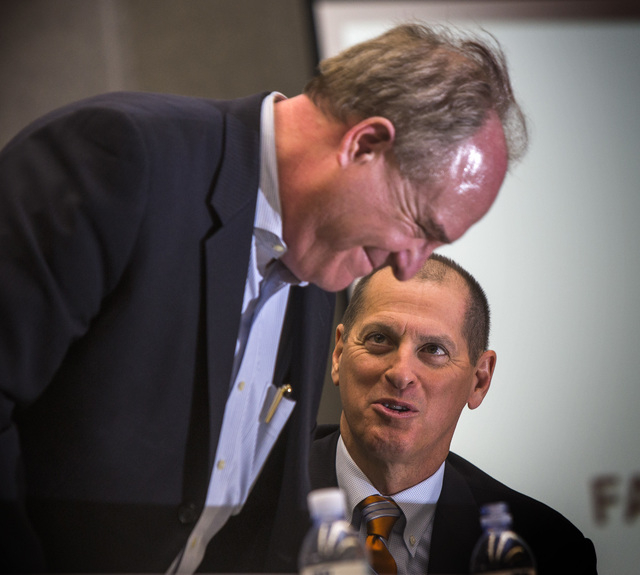 Aviation regulatory authorities have gotten a new ally in their efforts to keep the skies safe for commercial airliners and people on the ground.
The Consumer Electronics Association, producers of the annual International Consumer Electronics Show in Las Vegas, which wraps up its 2015 edition Friday, has signed on to assist in educating the public through the "Know Before You Fly" safety campaign.
Association President and CEO Gary Shapiro announced the collaboration late Wednesday while 15 companies marketing small unmanned aerial systems buzzed above the crowds attending the show at the Las Vegas Convention Center.
The 2015 show was the first CES with space exclusively dedicated to unmanned aerial systems. Shapiro said there was about 7,600 square feet dedicated to them.
Most of the vehicles flew in space enclosed by nets, glass or tall fences and weighed less than 25 pounds.
Manufacturers and distributors displaying drone systems were versed in safety programs devised by the Association for Unmanned Vehicle Systems, the Academy of Model Aeronautics and the Small Unmanned Aerial Vehicle Coalition.
But what concerns regulators with the Federal Aviation Administration is that hobbyists who received small unmanned systems for Christmas are more interested in flying them than worrying about the safety and ethical concerns that come with being an amateur drone pilot.
"Every new technology has its benefits and risks," Shapiro said in a session announcing the association's collaboration. "That doesn't mean we have to stop using them. It means we have to find reasonable ways to develop policies that make sense."
Shapiro noted that Intel demonstrated a collision-avoidance system in a drone demonstration at the show.
JUST EXPENSIVE HOBBIES?
It was clear at CES that small drones are still viewed primarily as expensive hobbies. Systems on the show floor ranged in price from $30 for a microdrone the size of a hummingbird to a $25,000 octocopter that could carry cameras and video equipment.
"The technology has really evolved," said Gordon Cockburn of Champaign, Ill.-based Hobbico, which is distributing vehicles manufactured in China by Ubsan.
Cockburn said while most drone owners are hobbyists, others are moving to the company's Ora, which can carry a high-resolution camera and can be used action sports and nature enthusiasts. The vehicle can fly 30 minutes on a single battery charge and has a "return-to-base" feature returning the vehicle to its originating point.
Cockburn sees a time when small drones such as Hobbico's can be used to carry heat sensors to help locate and rescue people struck by disaster, such as avalanche victims.
Kai Jiang, who heads operations for San Carlos, Calif.-based Ghost, said his Ghost and Skyway drones are controlled by smartphone apps. The Ghost model sells for $600 and the larger Skyway, which can haul up to 11 pounds, goes for $5,000.
Jiang said some customers are filmmakers and real estate sales professionals who use aerial shots in their projects. He's also working with the Chinese government for drones to patrol power lines and pipelines and for other security uses.
They also can be used for fun. Ghost models can use a program that follows the pilot on a run or walk — instead of walking a dog, you walk and fly your airborne companion.
BILLION DOLLAR INDUSTRY
Shapiro said he expects drones to become a billion-dollar industry and because flying them is becoming so popular the hobbyist organizations are doing their part to explain what operators should or shouldn't do.
Some of the "Know Before You Fly" guidelines:
— Fly no higher than 400 feet and remain below any surrounding obstacles.
— Always keep the vehicle within eyesight at all times.
— Stay clear of manned aircraft and don't intentionally fly over unprotected persons or moving vehicles, staying at least 25 feet away from people or property.
— Don't fly within 5 miles of an airport.
— Don't fly near sensitive infrastructure, such as power stations, water treatment facilities, correctional facilities or heavily traveled roadways.
— Don't conduct surveillance or photograph people in places where there's an expectation of privacy without the individual's permission.
Jim Williams, manager of the Federal Aviation Administration's Unmanned Aerial Systems Integration Office, said depending on the severity of potential danger, authorities should be notified of individuals practicing dangerous flying.
He concurred that flights along the Strip would be considered a danger, not only because vehicles would have the potential of being above large groups of people but in most locations, flights would be within five miles of McCarran International Airport.
Contact reporter Richard N. Velotta at rvelotta@reviewjournal.com or 702-477-3893. Find him on Twitter: @RickVelotta