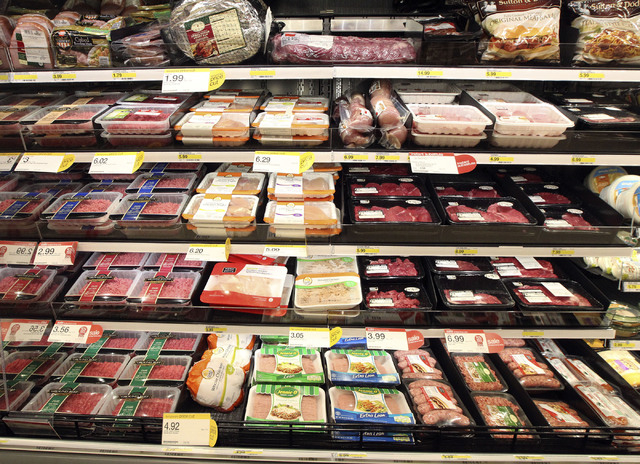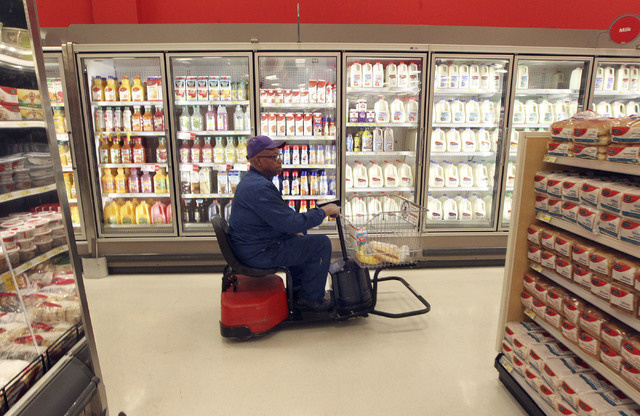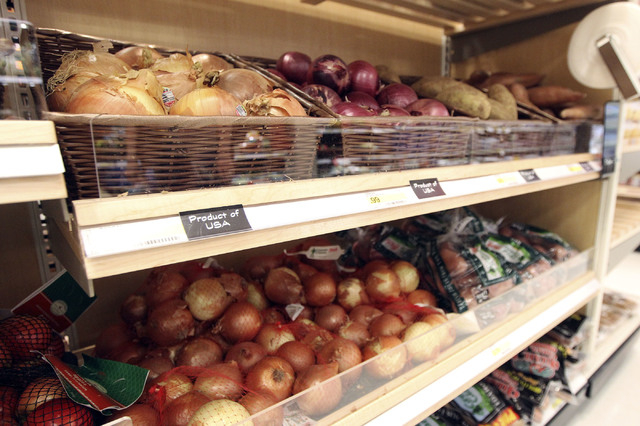 Customers are going bananas at Target.
The national chain remodeled eight Las Vegas-area locations in the past year including three in the last month in an effort to expand its fresh food offerings. The completed local renovations represent an investment of about $24 million for Target, which is remodeling about 100 stores nationally this year.
On Thursday morning, shopper Samuel Toston was picking up a few items in the grocery section at the Target at 3210 N. Tenaya Way, where he shops twice a week.
"I don't have to go other places to get fresh produce along with my medical supplies," Toston said. "It's a pretty neat idea that they came up with. We're glad to have them as neighbors."
The North Tenaya store's fresh produce section opened in mid-October and since then, its bananas have been selling like hotcakes.
"I think in our first week we sold something like 5,000 bananas," said perishables assistant Matthew Shaw.
Bananas are probably the item that sells most frequently at the Target stores' produce sections.
Overall, customers seem to be responding to the expanded offerings. The section features an array of organic items, including wild caught Alaskan salmon, granola and cage-free eggs. Fresh meats such as chicken breasts and ground meat are off to one side while produce including lettuce and berries are across the aisle. In the center, a bakery section features cookies, breads and other items.
"I noticed we sell more than I was expecting. I knew it would be busy, but I'm surprised at how often I see the same people come in, every day, every other day, getting the essentials like milk, eggs, bananas, stuff like that," Shaw said.
Haylie Jones is the Target store team leader for the location at Eastern Avenue and the Las Vegas Beltway. Her store's fresh section opened last spring, and she said sales there have risen 10 percent, which is similar to other locations in the chain that have opened the expanded grocery sections.
"It's a sustainable increase," Jones said.
Target's grocery prices are on par with traditional grocery retailers, and its management conducts weekly comparative shopping to stay current, Jones said.
According to the retailer, the median age of its customer is 40, with a median annual household income of $64,000. About 43 percent of Target's customers have children at home.
Leading up to Thanksgiving, local Target stores are providing Thanksgiving dinner for 10 families chosen from local elementary schools, and the fresh food sections sill be selling turkeys and ham for the holidays. The chain also is promoting its app called Cartwheel, which enables shoppers to load coupons and receive savings with one swipe of a barcode via their mobile phone.
"I think our goal is to get the mom in here that's shopping, grabbing a toy and an outfit for herself, to make it a one-stop shop," Jones said.
The overall square footage of the stores hasn't changed, as they all still measure about 135,000 square feet. Other departments have been trimmed to make room for the expanded food section. The smaller departments are different in every store, but most were home décor or domestics.
That said, Brian Albert, an executive team leader on the sales floor at the Tenaya location, noted that if customers request something that Target doesn't carry, a store is able to make a request at headquarters if it's in demand.
Contact reporter Laura Carroll at lcarroll@reviewjournal.com or 702-380-4588. Follow @lscvegas on Twitter.