Bank takeovers stress out customers, raise questions
August 18, 2009 - 9:00 pm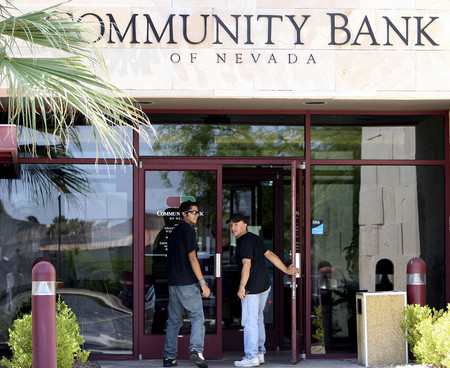 Bank customers were reeling Monday from the takeover of two banks with major presences in Nevada, and some questions remained unanswered.
Regulators seized Alabama-based Colonial BancGroup, which had 21 branches and $850 million in deposits in Nevada. Southeastern giant BB&T took over the former Colonial branches.
In addition, the Nevada Financial Institutions Division closed $1.4 billion-deposit Community Bank of Nevada and started liquidating the insolvent institution.
Jean Harris, 90, was shocked and worried when she learned that regulators closed Community Bank on Friday.
"They've got all my money," she said. "I got all upset. I thought I was going to lose all my money."
But she was chuckling Monday as she discussed the bank closing because bankers assured her that she would not lose any of her savings at Community Bank.
She has $130,000 deposited in Community Bank, much of it in certificates of deposit, and that is well under the $250,000 maximum that the Federal Deposit Insurance Corp. insures in bank accounts.
The FDIC established a temporary institution, Deposit Insurance National Bank of Las Vegas, to give depositors like Harris time to move their money to another bank. She asked them to send her a check.
The final disposition of Colonial Bank's 21 branches in Nevada remains undecided, however.
Global Consumer Acquisition Corp. of New York in July announced that it agreed to buy Nevada assets of Colonial Bank, acquire 1st Commerce Bank and merge the two under the 1st Commerce charter.
However, it's unclear whether BB&T will continue efforts to sell the Nevada bank operations to Global.
In a conference call Monday, BB&T Corp. Chief Executive Kelly King said the bank was evaluating options for the Nevada operations.
"We do not expect to hold onto the Nevada operations," King said. "Likely, we'll jettison the Nevada operations."
Mark Daigle, former chief executive of Colonial's bank operations in Nevada, continued at his post after the BB&T takeover. Daigle said he did not know whether the sale to Global would proceed. A call to Global headquarters was not returned.
Southern Nevada bankers are analyzing the effects of the bank seizures.
"The closing of Community Bank is under a rare structure since the FDIC has a strong bias towards arranging assumption of deposits by other institutions," Bill Martin, chief executive officer of Service1st Bank, said in an e-mail.
"This allows for the bank to open literally the following Monday morning under the new ownership and it completely smooths the transition for depositors, that is, there is virtually no disruption," he said.
"The 'payout,' which resulted from no bank showing an interest in assuming the Community deposits, now requires all depositors to open new accounts within 30 days which is an inconvenience, but not a reason for concern," he said.
The FDIC liquidates pending CDs when it takes deposits from a failed bank. The agency will return the principal amount to CD savers, but the interest payments will cease.
Contact reporter John G. Edwards at jedwards@reviewjournal.com or 702-383-0420.