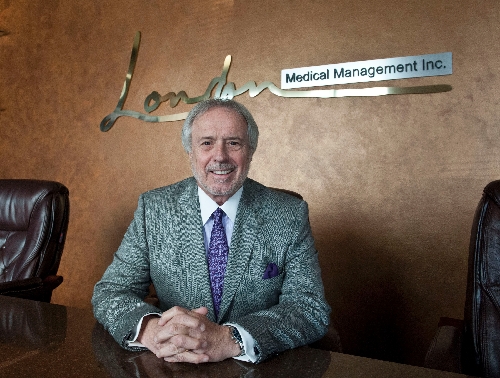 Jack G. London is looking to grow his medical management business at a time when small-business loans are hard to get in Southern Nevada.
The recession has damaged so many real estate and construction company balance sheets that in most cases banks need to see a few quarters of sustained profitability before they'll consider a business loan.
But London's fortunate, his business is in a growing industry — health care.
The U.S. Department of Health and Human Services has projected that U.S. health care spending will hit $1.1 trillion this year, accounting for 18 percent of gross domestic product. The agency also projects that the spending will grow to 20 percent in the near future.
Bankers estimate that health care lending accounts for almost 25 percent of their commercial loans.
But Nevada health care spending in 2012 will be just 12 percent of state GDP. The difference in those numbers makes London and others like him attractive candidates for loans from Plaza Bank, City National Bank and Bank of Nevada. All three have enhanced their services to doctors, clinics and medical specialty groups looking to meet growing local demand.
"Health care is a growth industry with increased demand in 2012 and continuing into the foreseeable future," said John Guedry, president and chief operating officer with Bank of Nevada.
London's 20-year-old Medical Management Inc. provides assistance with health care-cost containment programs for companies, while also employing doctors, nurses and health care specialists to assist patients. The company is based in Las Vegas and operates a call center in Branson, Mo.
London said the company has grown from four employees in 2007 to 24 last year as he's added nurses and bought equipment. He expects to have 40 employees by year's end.
When it comes to financing his growing business, he likes to go local.
"We sell a service, not widgets," London said. "This is a relationship business. I have a national bank for some business, but for loans, I use Plaza Bank."
WELCOME CALLS
London said he appreciates being able to "pick up the phone and talk to a banker" when he needs to.
Ali Rizvi, chief banking officer with Plaza Bank, is happy to answer his phone. He's looking for more loan opportunities in the health care industry. Rizvi took over the bank's management team in Las Vegas in August and has been focused on health care ever since.
"The question we asked ourselves was, 'What kind of products do we need to differentiate ourselves from other banks?' " Rizvi said. "So, we asked our prospective clients. 'What would it take to move your account to Plaza Bank?' "
He said a number of physicians requested a simplified loan application and revolving lines of credit of as much as $100,000, a large cap considered crucial for physicians and medical groups needing to "bridge any shortfall."
In response, the bank introduced its HealthPro product with a simple loan application and a $100,000 revolving line of credit, Rizvi said. It also gives clients access to payroll service, online banking, courier service, and a single point of contact with a manager assigned to the client.
Plaza Bank Executive Vice President Erich Bollinger said every bank in Las Vegas wants medical business because of the decline of real estate.
Medical business is also attractive to Bollinger and his colleagues because physicians and administrators are typically serious about financial matters – in other words, they have a lower default rate.
Of the nearly $3 billion in loans the Small Business Administration guaranteed to physician practices in the 2010-11 fiscal year, less than 1 percent were written off. That compares with about 3 percent for most SBA loans.
Bollinger said SBA products (504/7A loans) have become the cornerstone of this bank's health care business and are preferred when financing a practice or equipment.
In fiscal year 2011, 25 SBA 504 loans were made in Nevada, totaling $9.95 million. That compares with 12 loans in fiscal year 2010 worth $10.48 million. SBA 7A loans in Nevada in fiscal 2011 totaled 37, for $13.88 million, up from 17 totaling
$9.32 million in 2010.
Neither Rizvi nor Bollinger would comment on their banks' medical loan numbers.
A GROWING, UNDERSERVED MARKET
As an industry in Las Vegas and Southern Nevada, health care faces some challenges in new federal regulations, which are expected to affect traditional business models. However, said Larry Charlton, Nevada regional executive with City National Bank, this is a market long underserved.
"People still get sick and hurt," Charlton said. "It's a product that people still consume in bad times."
In Las Vegas, it's hard to find any industry other than health care that is growing, bankers told the Las Vegas Review-Journal. As people age and need more health care, there'll be more demand for it in Southern Nevada, where the U.S. Census Bureau says the share of residents 65 and older is growing. In 2000, 10.7 percent of Clark County residents were 65 and older. Last year, it was 11.3 percent.
"We want to support the growing medical community in Nevada by providing the funds and financial expertise needed by both new physicians coming to our area and the existing physicians who are expanding," Bank of Nevada's Guedry said.
Guedry added that the bank has even more loans on its books to companies in related industries such as medical suppliers, researchers and other medical service providers. He said Bank of Nevada was "actively looking" to fund quality loan requests.
As of Dec. 31, Bank of Nevada listed 337 direct loans to medical groups and physicians totaling $169 million. The average loan was approximately $448,000, bank figures show.
City National Bank has been having employees participate in its certified health care banker program for the last three years, and has 12 certified bankers in Nevada with six more in process. The program educates bankers on new health care laws, rules, patient rights and other issues affecting the industry .
The bank aims to provide loans to support both new physicians coming to Southern Nevada and existing practices that are expanding.
The bank lends to dentists or doctors looking to expand their practices or buy capital equipment, and to those acquiring practices. City National also offers services for podiatrists and ophthalmologists, among other medical specialties.
Startup practices present some challenges, but most banks will approve loans if the borrower has some experience in the industry and an ability to service the line of credit.
"Medical has a cash flow that is pretty stable and even growing," Charlton said.
Contact reporter Chris Sieroty at
csieroty@reviewjournal.com or 702-477-3893.