BANKING LOOK AHEAD: Local bankers see improvements on horizon, but pitfalls remain
December 9, 2013 - 8:49 am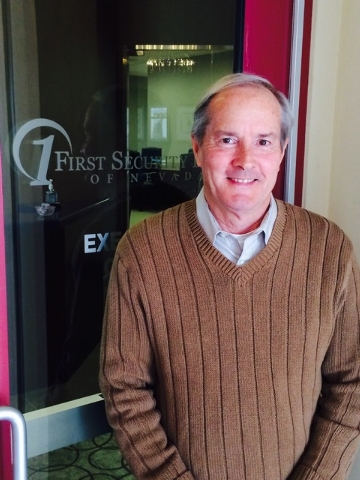 There is good news for the Las Vegas economy, as the region is finally showing some moderate signs of life with balance sheets stabilizing and consumer confidence on the rise. Even credit availability for businesses is easing.
That said, 2014 will likely include some similar challenges for local banking executives.
Margins remain under pressure from low interest rates, new technologies are transforming the industry and regulatory concerns remain.
Other local challenges remain as companies are cautiously hiring and housing price appreciation slows as supply levels rise.
Bruce Hendricks, CEO of Bank of Nevada, said he expects the economy in 2014 to continue its "slow recovery," a sentiment shared by other banking executives surveyed by the Las Vegas Business Press.
"What will really move the dial in our economy is employment," said Terry Shirey, executive vice president and CFO of Nevada State Bank. "We hope to see not only continued declines in the unemployment rate, but also more new full-time positions. As with the broader U.S. economy, the region's economic health is closely tied to, and dependent upon, quality job growth."
Hendricks expects the slow recovery to force "continued consolidation in the banking industry."
There also appears to be several hurdles with the nation's economy. In the United States, real gross domestic product is expected to remain below 3 percent until 2016, according to the 2014 Banking Industry Outlook by the Deloitte Center for Financial Services.
The report stressed the political gridlock in Congress and unresolved fiscal issues could dampen the current recovery.
"Despite overall improvement in business conditions, the slow pace of the recovery and future uncertainty will mute demand for loans as borrowers remain cautious and hesitant to incur debt till future prospects become clearer," said Arvind Menon, president and CEO of Meadows Bank.
The result is banking executives in Las Vegas are mostly cautious about 2014.
Question: What trends are likely to affect the local banking industry in 2014?
John Sullivan: The very slow but steady recovery in the national, as well as the local economy and the improving employment levels are likely to be reflected in the performance of the local banks in 2014. I see a low growth rate in loans being provided to local business customers and a slightly higher loan growth to individuals and households, who are recovering faster than small businesses. We are already seeing the local improvement brought about nationally in the visitor traffic and sales tax revenue in Las Vegas. These are national trends and they point to a brighter 2014 for the local banks. In addition, we are seeing much lower past-due and charge-off levels as compared to the last three years. This factor speaks to the local banks being well on their way to healing.
Scott Emmer: I think we'll see a continued move toward mobile banking as a dominant part of bank business plans. I also expect additional increases in bank capital requirements.
Erich Bollinger: There could be consolidation and/or new competition in the Southern Nevada market. There has been enough recovery here to demonstrate opportunity. Banks will be trying to find good loans to make and should continue to focus on client retention.
Arvind Menon: The primary driver of banking is always the general condition and performance of the local economy. The improvement in the housing market and pickup in job creation will assist further improvement in our economy and will drive demand for banking products and services.
James York: The local banking market has stabilized and is clearly in recovery, which will continue to attract out-of-state lenders to enter the market and increase competition through expansion or merger and acquisition.
John Wilcox: As we continue to see businesses' and individuals' financials reflect less debt and more cash, additional growth is expected. With more cash available, more investment in equipment, real estate and jobs can occur. All of this is good for the banking industry as we can become a catalyst for helping growth happen by providing the necessary financing, cash management and financial advice that is so badly needed in our current economy.
Question: What do you expect from Chairman Ben Bernanke's expected replacement Janet Yellen as chairwoman of the Federal Reserve?
John Sullivan: More of the same, along with the recognition that the Federal Open Market Committee will be forced to extend the time frame for the reductions of QE 3 stimulus. I don't see real increases in the discount rate and prime rate until well into 2016 or even 2017, as any increase in short-term rates will have a chilling effect on the economic recovery, which … likely will remain far below historical levels in a recovery.
Arvind Menon: In her confirmation hearings before the U.S. Senate, Yellen clearly indicated that under her, the Federal Reserve will continue the accommodative monetary policies in effect and does not see any tightening till 2015. That said, interest rates will remain low resulting in excess liquidity in banks and financial institutions. This will continue to propel investment in the stock market and real estate as the pressure to improve returns continues to drive behavior.
John Wilcox: Chairwoman Yellen will bring much of the same philosophy that Chairman Bernanke did to the position. This is positive. Bernanke's policies have contributed in a large part to the recovery that our nation is experiencing. In addition, uncertainty is detrimental to our markets. With Ms. Yellen at the helm, this should bring a level of reliability and stability to the market. That, in and of itself, should lend itself to further growth.
Question: How will more stringent regulations affect the local banking industry?
Terry Shirey: Clearly, there is an increased cost of regulatory compliance due to Dodd Frank and other post-recession regulatory enhancements, and these regulations and their related costs certainly aren't making the business of banking easier. However, I don't believe we'll see a long-term trend of consolidation within the banking industry as a response to the enhanced oversight. Community banks will adapt to the new regulations and continue to serve their target markets, notably small businesses.
Erich Bollinger: The strong regulatory environment is with us and will continue well into the future. Of course banks will need to put a material amount of resources toward meeting regulator expectations, but our business is still about clients. We can't lose sight of what is important.
James York: In the past, the lack of regulatory pressure at the nation's largest banks has been the catalyst for giving them a competitive edge over smaller banks. The new Dodd Frank and the new Basel III capital rules will likely impact the medium-sized regional banks most of all. This is because many of the new capital rules will apply only to larger banks over $1 billion. Smaller banks under $1 billion will not be affected by the new capital rules but will be affected by the Dodd Frank and Consumer Protection Act with respect to truth in lending mortgage and consumer lending applications and the limit on interchange income.
Question: What's in store in 2014 for commercial lending?
Scott Emmer: In Nevada, commercial lending will depend on job growth. We are not growing at a pace that helps all banks in the market find quality deals and quality borrowers. There are good deals out there. But it takes a skilled lender to provide the client with a structure that makes sense for both parties and a bank with a higher risk appetite to take on the risk in a very risk-averse regulatory environment.
Erich Bollinger: Banks that have been on the sidelines now want to do more commercial lending. We have never stopped doing commercial loans. We have added loan programs that are complementary to our core lending business. Banks that respond quickly to changing business needs will do well. As a community business bank we are a flat organization and have the ability to deliver loans more quickly than some of the competition.
Bruce Hendricks: More opportunities as property values and businesses continue to improve, (a) competitive lending environment.
Terry Shirey: We've seen an uptick in the percentage of qualified applicants in 2013, and expect this trend to continue in 2014 as companies continue to strengthen their balance sheets and economic conditions slowly improve. In addition to over $200 million in new consumer loans in 2013, we will lend over $40 million to small businesses and another $200 million to other businesses in 2013, and we think we'll exceed those business lending totals in the coming year as the demand for credit increases incrementally with improvements in the overall economy. The banking industry as a whole remains very liquid, and competition among banks for high-quality commercial loans remains very strong.
Question: What do you expect for the region's economy next year?
Erich Bollinger: With portions of the real estate market doing better, there is an optimism that may translate to continued recovery. Hospitality, gaming and conventions are bright spots and should do well in 2014. While I wouldn't expect every aspect of the economy to improve, many will. With that we see some great opportunities.
Bruce Hendricks: Continued slow recovery. Job creation is key to continued economic expansion.
John Sullivan: Slow growth in general, led by small increases in visitor traffic, which will expand the job base in the businesses that cater to tourists, including hotels, casinos and restaurants. I don't see continuing strong price escalations in housing as has been the case for the last year to 18 months.
James York: Job growth is expected to be around 3 percent and the unemployment rate is expected to improve around 1 percent. Strong recoveries in the Phoenix and Southern California markets should spill over into the Southern Nevada market over the next couple of years. We are still dependent on gaming and construction, both of which are recovering.
Terry Shirey: We expect the economy to continue to improve, although it will probably be a little slower than what we've seen the last couple of years. After seeing strong growth in the housing market recently, we expect housing price appreciation to slow as supply levels rise, the product mix shifts, and economic conditions moderate. What will really move the dial in our economy is employment. We hope to see not only continued declines in the unemployment rate, but also more new full-time positions. As with the broader U.S. economy, the region's economic health is closely tied to, and dependent upon, quality job growth.
John Wilcox: Consumer confidence is key to continued growth in our valley and for banks. When local leaders and businesses see major projects coming out of the ground like we do today, that confidence will continue to grow. We expect to see a slow but steady improvement in 2014. Jobs were up about 2 percent in the past year, which is an improvement. Job growth will be the key to getting our local economy growing at a significantly higher pace.
Contact reporter Chris Sieroty at csieroty@reviewjournal.com or 702-477-3893. Follow @sierotyfeatures on Twitter.