Bankruptcy trustee OK'd to operate Klondike Sunset Casino
November 30, 2017 - 3:21 pm
Updated November 30, 2017 - 5:14 pm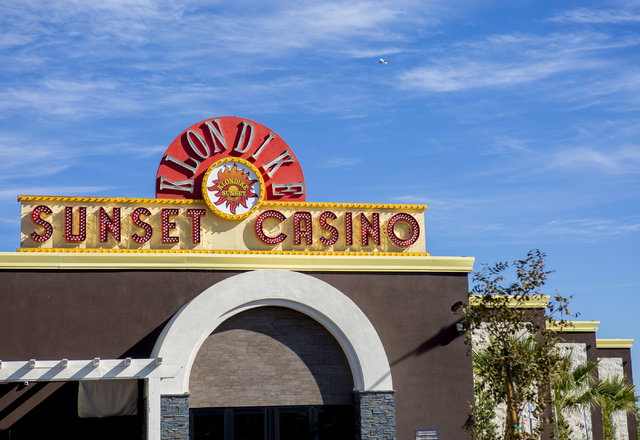 The Nevada Gaming Commission on Thursday unanimously approved a bankruptcy trustee to take over operation of the Klondike Sunset Casino in Henderson, preventing about 50 casino workers from joining the unemployment line.
Without the action taken in the emergency meeting, the recently renovated all-slots locals property would have been forced to close Thursday night.
Las Vegas attorney Brian Shapiro, who has experience as a trustee and is an expert in bankruptcy law, was approved to continue operations of the property on 2.2 acres on Sunset Road near Boulder Highway.
Shapiro on Wednesday petitioned the U.S. Bankruptcy Court in Nevada to continue the operation of the casino. Shapiro and owner Bruce Familian are preparing to sell the property in an auction, but wanted to keep the casino open during that process.
The Klondike, which first opened in 1989, closed in 2014 when its former owner, John Woodrum, died.
Familian and a partner, Jon Athey, 17-year veterans of the gaming industry, bought the property in 2015 through their company, Nevada Gaming Partners, and spent more than eight months refurbishing it.
Familian was licensed to run the property in August 2016 and regulators praised him for the work that went into transforming the casino. In addition, Familian's wife, Sarah, was required to sell her 8 percent stake in GB Sciences Nevada LLC. The business was awarded one of 18 medical marijuana dispensary licenses by the Clark County Commission, but commissioners would not license Familian as long as his wife was associated with the marijuana business.
The Klondike reopened in August 2016, but Nevada Gaming Partners filed for Chapter 11 bankruptcy protection in October less than three months after the reopening.
Initially, the bankruptcy was categorized as a reorganization of finances, but last month, it was converted to a Chapter 7 liquidation because of an impasse in a dispute among creditors over Familian's continued operation of the property.
Chapter 7 bankruptcy law allows for the continued operation of the casino while steps are taken to sell it.
Las Vegas attorney Matthew Zirzow, who filed for the conversion on behalf of the estate, said Dec. 11 is the deadline for qualified bids to be submitted for acquiring the Klondike and an auction is scheduled Dec. 19.
Contact Richard N. Velotta at rvelotta@reviewjournal.com or 702-477-3893. Follow @RickVelotta on Twitter.