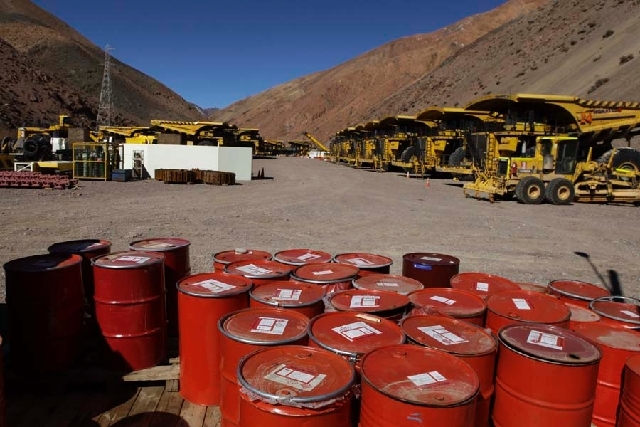 SANTIAGO, Chile — Chile's environmental regulator blocked Barrick Gold Corp.'s $8.5 billion Pascua-Lama project on Friday and imposed its maximum fine on the world's largest gold miner, citing "very serious" violations of its environmental permit as well as a failure by the company to accurately describe what it had done wrong.
After a four-month investigation, Chile's Environmental Superintendent said all construction work on Pascua-Lama must stop until Barrick builds the systems it promised to put in place for containing contaminated water.
The fine is 8 billion pesos — about $16 million — the highest possible under Chilean law.
Barrick is Nevada's largest gold miner, with seven mines in Northern Nevada that churned out more than 3.1 million ounces in 2012. That included 1.4 million ounces at Barrick's Cortez operation, one of the world's largest gold mines. Barrick produces more than half of the 5.5 million or so ounces in gold the state yields each year.
The Chilean regulator noted that while Barrick itself reported the failures, a separate and intensive investigation by the agency's own inspectors found that the company wasn't telling the full truth.
"We found that the acts described weren't correct, truthful or provable. And there were other failures of Pascua Lama 's environmental permit as well," said the superintendent, Juan Carlos Monckeberg.
Monckeberg described the Barrick sanctions as the first since his agency was given enforcement power in December, and said they were based on a thorough investigation by agency inspectors as well as government experts in mining, farming, and water.
"This is what we have always been hoping for," said Maglene Camillay, a Diaguita Indian leader whose community downstream from the mine alleges its river has been contaminated by the construction work. "This makes us very content. Finally the state is showing its power. They never investigated this and now they're doing their job. Our valley is fragile but we're strong. The strength we get from the earth, the water and the mountains.'
———
Henao reported from Vallenar, Chile.