Barrick in $6B deal to become world's largest public gold producer
September 24, 2018 - 6:17 pm
Updated September 24, 2018 - 6:59 pm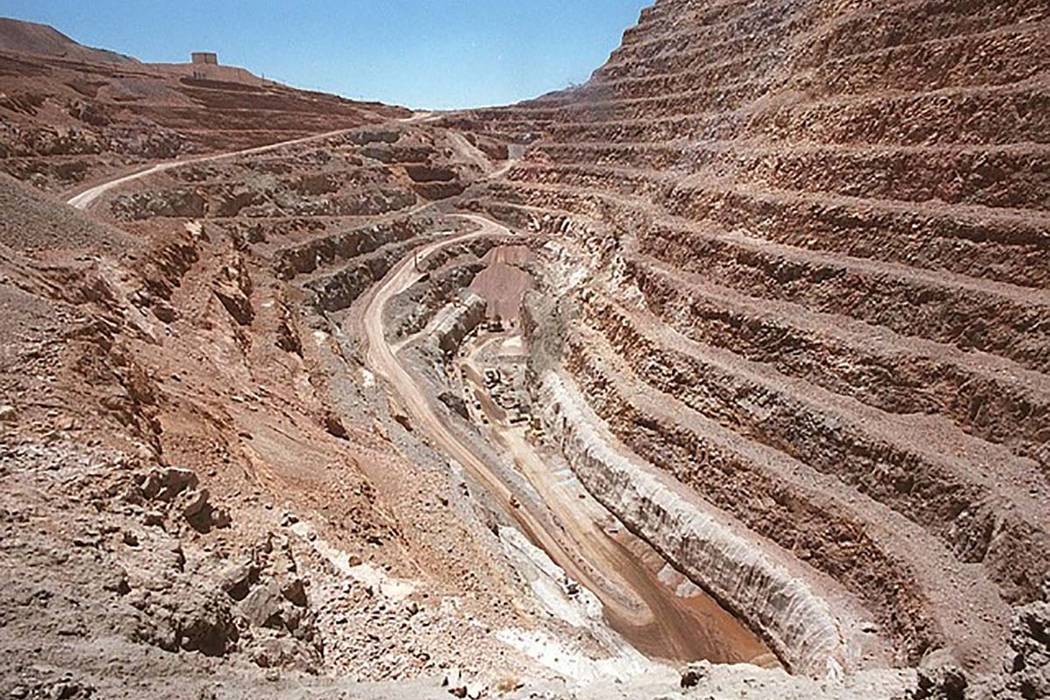 Nevada's largest mining employer, Barrick Gold, is purchasing African peer Randgold Resources for$6.05 billion in stock to form the world's largest publicly traded producer of the precious metal.
The acquisition, announced Monday, would create an $18 billion mining company with combined annual production of 6.5 million ounces of gold, about a fifth more than its closest competitor, Newmont Mining Corp. The companies had a combined net income of $1.85 billion last year.
Randgold CEO Mark Bristow would take the reins of the combined company, which would be called New Barrick Group. Bristow said it plans to expand production in Nevada, which "comes with enormous potential." The state is home to gold mines with some of the world's lowest production costs, an online company presentation showed.
Barrick shareholders would own 67 percent of the combined company, with Randgold shareholders owing the rest. The transaction is expected to close in the first quarter of 2019.
Investors cheered the acquisition Monday. Randgold shares rose 6.6 percent to close at $68.14, while Barrick jumped 5.4 percent to $11.04.
Largest reserves
New Barrick would possess 78 million ounces of gold reserves, the largest among publicly traded companies, across mines in North America, South America, Africa and the Australia Pacific.
Its average cost of producing one ounce of gold would be $611, among the lowest levels for large-scale, publicly traded miners. With gold prices currently hovering around $1,200, that implies an earnings margin of just under 50 percent.
Barrick Gold Executive Chairman John Thornton said last month that it is boosting investment at its mines in Nevada, where the company's average production cost is just $426 an ounce.
"There's a lot of interesting geology still around those assets, and that's why in the last 18 months you've seen us pivot more towards Nevada," Thornton said at a town hall meeting in August. "As we have looked at it more carefully, we have realized there is a lot there still."
About one-third of New Barrick's gold production would come from Nevada, while a quarter would be generated in Africa. The acquisition would not generate much in costs savings, said Jefferies mining analyst Alan Spence.
"While direct operational synergies are unlikely to be significant and increased Africa exposure is a clear risk, the addition of Mark Bristow as president and CEO is a positive," Spence said in a note Monday. "All things considered, this transformational deal should be good for Barrick shareholders."
Asset sales
The deal comes amid tough times at Barrick Gold — which employs 3,000 people in Nevada — as its global gold output declines amid depressed mine sales, and as its stock price sinks.
From November 2008 to September 2011, the price of gold rose nearly threefold to $1,875 an ounce as investors bought the metal as a safe haven during the financial crisis and a hedge against surging global money supply. The price frenzy pushed Barrick to scoop up more mines.
However, the precious metal has tumbled by more than a third since then as the global economy has recovered and inflation has remained tame. By 2014, Barrick had a $13 billion debt burden. Thornton has aggressively sold off assets over the past few years to reduce that figure to about $5 billion.
Barrick's production has fallen from a high of 8 million ounces to 5.3 million ounces last year. It forecast gold production to decline further this year to 5 million or 4.5 million.
Newmont, which also operates in Nevada, was set to overtake Barrick as the largest publicly traded gold producer in 2018 with a projected output of 4.9 million to 5.4 million ounces.
New Barrick would continue to sell off less attractive assets, Thornton and Bristow said on a conference call. The enlarged company would concentrate investment on the best-performing mines, like Cortez in Northern Nevada, and return more money to shareholders, they said.
Barrick and Randgold's share prices have each fallen 37 percent over the past 12 months through Friday's close, compared with a 20 percent gain for the Dow Jones Industrial Average, as gold prices have continued to falter and political turmoil in Africa had stymied production.
Contact Todd Prince at 702-383-0386 or tprince@reviewjournal.com. Follow @toddprincetv on Twitter.
China Relations
Barrick also announced Monday a mutual investment agreement with Shandong Gold Group, the owner of publicly traded Shandong Gold Corp., as it seeks to boost ties with China, the world's largest producer and consumer of gold.
Barrick and Shandong Gold will buy $300 million worth of each other's stock in the open market, the companies said in a statement.
The companies have an existing relationship. Barrick and Shandong both own 50 percent stake in the Veladero mine in Argentina. Barrick sold half its stake to the Chinese company last year for nearly $1 billion.
"Barrick has been building relationships with depth and trust with China, which we believe offers financial and political risk mitigation," Thornton said during a conference call Monday.
Toronto-based Barrick has faced problems with governments in Argentina as well as the East African nation of Tanzania.
Bristow said Barrick and the Chinese will be able to team up to explore and develop large gold deposits in South America and Africa.
The Chinese "are key stakeholders in the Barrick vision," Bristow said.