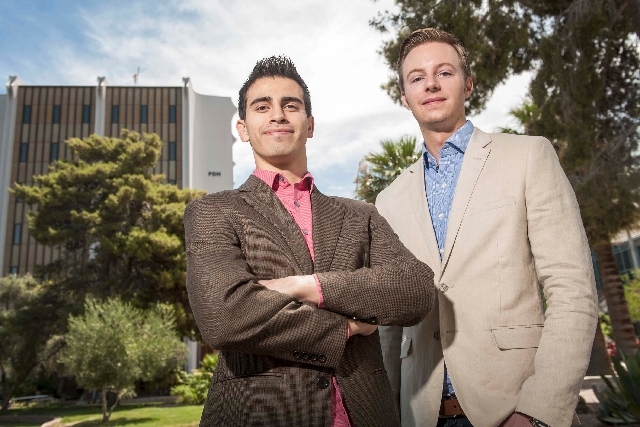 For Ryan Kennelly, it's the numbers that tell the story.
"Especially when they pertain to economics, you can really describe what's going on in the market and how it's going to look in the future," said Kennelly, an economic analyst with the Center for Business & Economic Research at the University of Nevada Las Vegas' Lee School of Business.
Kennelly, 23, who earned his master's degree in economics from UNLV in May 2012, said his job is to provide analysis of general economic conditions in Southern Nevada.
For you and me that means answering one question over and over again. Is Southern Nevada's economy still in recession?
"Right now we are in a recovery," Kennelly said. "It has been a slow recovery, but it will probably continue for a while longer at this slow pace."
But for sustainable growth, economic diversification is crucial.
"We have to create and environment that invites new business here," Kennelly said. "Right now, we basically have two sectors, tourism and real estate. For the future, diversification is key for Nevada and Las Vegas."
A similar question was asked of Luis Arturo Lopez, a data analyst with the Lied Institute for Real Estate Studies at UNLV's Lee School of Business. Is the Las Vegas real estate market recovering?
"Right now we want to say that Nevada's real estate market is headed toward a recovery stage," Lopez said. "We are seeing prices going up. We are seeing that affordability is still very high, and the negative equity levels are going down."
Lopez, 25, said a reduction in negative equity levels was key to a sustainable recovery because it removes the incentive for borrowers to stop making payments.
What makes Kennelly and Lopez unique is that they were both born and raised here, went to high school at Boulder City and Sierra Vista, respectively, and have both pursued advanced business degrees at UNLV.
Lopez earned his master's degree in December. During a recent interview with the Review-Journal, both Kennelly and Lopez were quick to defend as well as promote UNLV and the Lee Business School.
"We send a lot of students to the casino and hotel industry," Kennelly said. "What we are able to do is provide high quality (graduates), ready to work for the casino industry to help them grow and to help all of the Las Vegas community grow."
Lopez said what most people don't realize is that UNLV business students are in demand.
"Most of the graduate student show are looking for jobs have already found them," Lopez said. "I think one of the problems is the economics program is having to make sure students finish the program first. Most of them see multiple job offers before they finish."
Kennelly spent four years in Tucson at the University of Arizona pursuing a math degree, while Lopez got his undergraduate degree in economics from UNLV.
"I ended up here because my family is here and I grew up here, and after graduating from Arizona, I wanted to come back and be closer to my parents," Kennelly said.
Kennelly said his career began when Dr. Stephen Brown, director of the Center for Business and Economic Research, offered him a graduate assistant position. He said upon graduation he took over as economic analyst.
"I wasn't sure what I wanted to do when I finished my master's," Kennelly said. "I knew I had an interest in economics. I wasn't sure if I was going right into the private sector or get my Ph.d. It just happened I met Dr. Brown and ended up here."
Lopez said he "kind of fell into" his position with the Lied Institute.
"When I was going for my degree I was working for Nasser Daneshvary as a faculty assistant and towards the end of the course sequence … a position as a data analyst opened us," Lopez said. "Nasser, who was the director at the time, liked my work and thought I would make a good match for the position."
Contact reporter Chris Sieroty at csieroty@reviewjournal.com or 702-477-3893. Follow @sierotyfeatures on Twitter.