Bicycle industry embraces easy riding aboard the e-bike
September 23, 2016 - 3:34 pm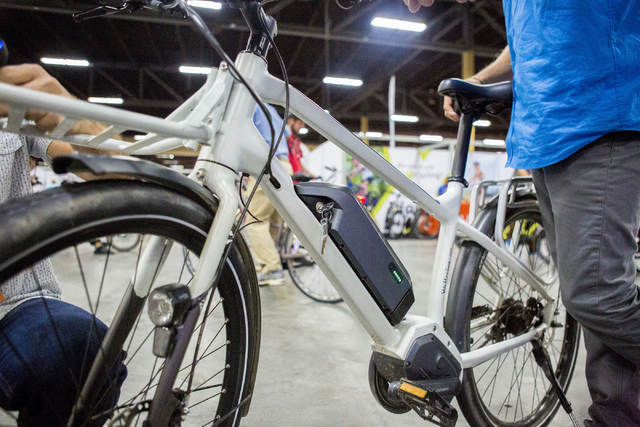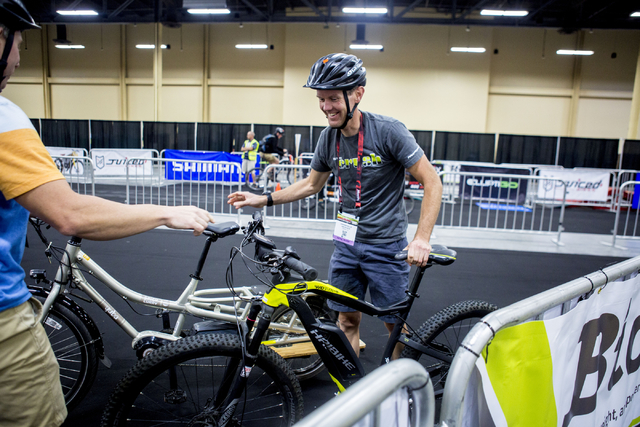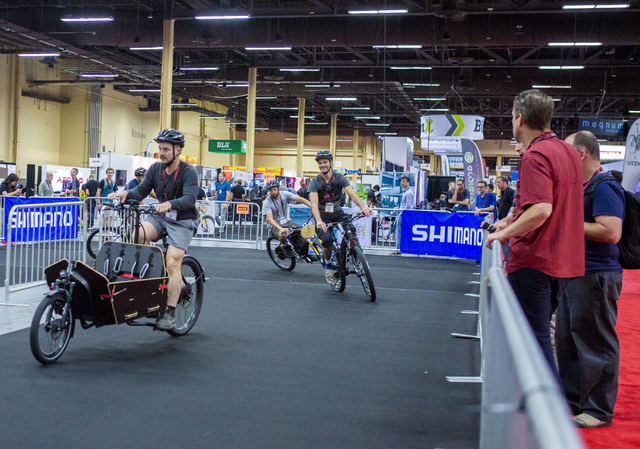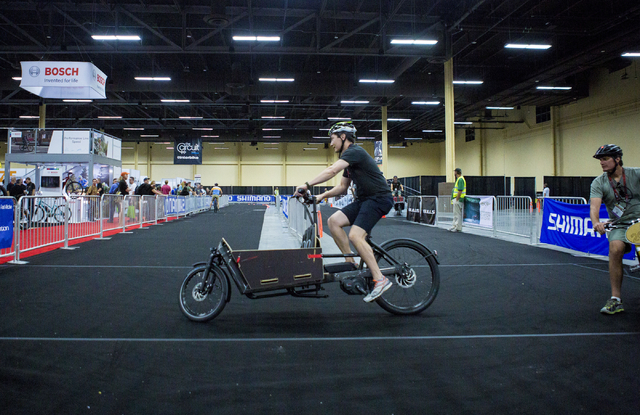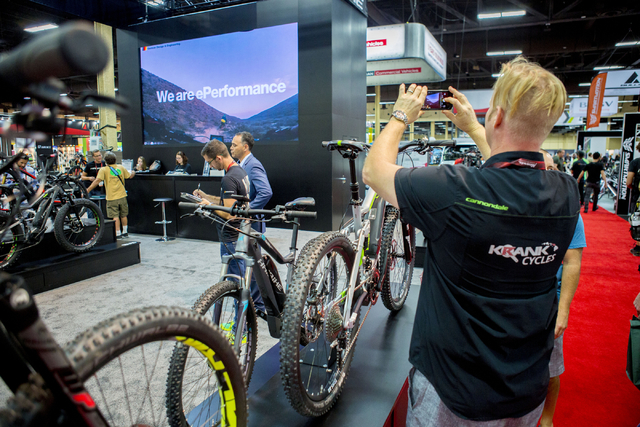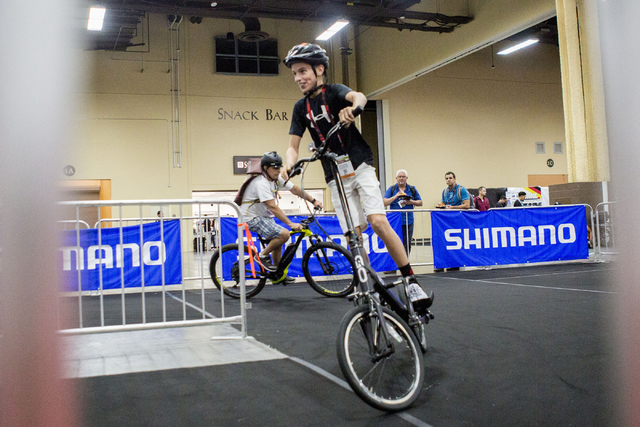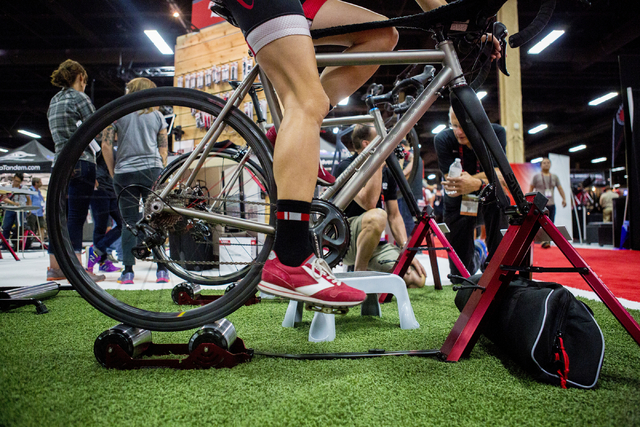 The future of bicycling rolled toward a clear trend this week, gaining speed throughout the 34th annual Interbike Exposition in Las Vegas with only a light push of the pedals.
Once aboard the electric bike, that's all the effort it might take.
Imagine you're riding a bike, come to a hill and slow down as you climb. The e-bike's sensors can tell you're struggling. All of a sudden it feels like you have a hand on your back, pushing while you barely peddle.
That's the new rage in biking, though some traditionalists consider an electric motor cheating. But the industry, which has seen bicycle shops in the U.S. decrease from 5,000 to 4,000 over the last decade, sees the e-bike as a product that could reverse the trend.
Three years ago, the trade show had 10 to 12 companies that sold the e-bike. An entire section was dedicated to e-bikes for this show, and for the second consecutive year a test track gave people an opportunity to sample the product.
"In the last three years, it has really started to take off," said Justin Gottlieb, director of communications for Interbike. "Overall, the bike industry has been flat to slightly declining and segments like road bikes have been down for quite a while. The bright spot is in the e-bike world. They have been tremendous in Europe and Asia are just starting to come to a head here."
The expectation is that millennials will appreciate bikes that can go up to 28 mph, compared to the 20 mph they might reach on a traditional bike. The biggest market, however, may be baby boomers, many of whom have trouble riding bikes because of problems with their knees, hips, backs and other ailments. On an e-bike, someone can go 12 to 15 mph without peddling much at all.
It's going to change the demographics, said Ray Verheist, director of the Electric Bike Association, a 1-year-old Las Vegas nonprofit that educates consumers about e-bikes. Forty percent of the association's attendees at seven expos so far this year were between 45 and 65, he said. Many hadn't ridden bikes in months or years.
"This bike allows them to get back into a recreational mode and it takes the hills out of the ride, which helps if they have a bad knee or hip," Verheist said. "If you have an ailment, after an hour's worth of riding that's debilitating. Electric bikes will take that out of the equation and allow you to ride longer."
Verheist said 60 percent of consumers want e-bikes for commuting, many living less than five miles from their job. They can do 20 mph without peddling hard and without sweating, he said.
Verheist said he knows residents of Seven Hills in Henderson who use cargo-style e-bikes that have room in back to strap in their children. Parents will drive a mile or so to take their children to the front door of the school. By car, they have to drop them off along the street, he said.
The average person on a consistent ride does 10 to 12 mph on a traditional bike; on an e-bike they average between 15 and 17 mph, Verheist said. If the e-bike is in its top mode, the rider can go 20 mph without a problem. The bikes, with full pedaling and in top mode, are limited to 28 mph by California state law, the industry standard followed. New York City has banned the bikes because of accidents involving businesses using them for deliveries.
The e-bikes aren't cheap. Many start at $2,000. German manufacturer Haibike, which touts itself as the pioneer of the e-mountain bike, touts its most expensive model at $17,000.
The e-bike industry recently found a home in Las Vegas with Electric Cycles moving here from Arizona. The company, which has five employees, develops and manufactures conversion kits that turn traditional bikes to electric ones. The kits sell for $1,500 to $2,500, said Mitch Hallstrom, operations manager.
BIKING'S FUTURE
Jimmy Martinez remembers when every kid had to have a bike.
With a sluggish industry facing competition from internet sales and kids wanting to spend more time indoors than out, Martinez said he hopes e-bikes will help boost sales in the future.
Martinez is the owner of two Bike World shops in Las Vegas, part of a family-owned business started in 1969 by his dad, Jim, who's now retired. Martinez started working in his dad's store in 1985 when he was 15 and it's a different industry today.
"Back in the day, every kid wanted a bike for Christmas and now it's all iPods and anything they can sit on the coach and not exercise and get fat," Martinez said.
E-bikes aren't geared for kids because parents are reluctant to spend $1,000 for the cheapest e-bike in his store compared to $350 for the cheapest traditional bike, he said. Martinez said retirees have been his biggest customer.
The e-bikes have been around for years, but people aren't aware of that, Martinez said. They were even more expensive and their batteries didn't last long enough. That's changed with improved technology driving up interest, although he doesn't see it surpassing traditional bike sales anytime soon because of the cost.
"It's definitely going to be the next wave. Our e-bike sales have gone up and a lot of new companies around town are coming into town," Martinez said. "But I think the cost limits sales. It's like the e-market for vehicles are never going to surpass gas vehicles because of the price. If the price would come down, then it might have a chance (to surpass traditional bikes), but then again people still want to exercise, too."