Big road work project in downtown Las Vegas angers small-business owners
January 16, 2016 - 4:42 pm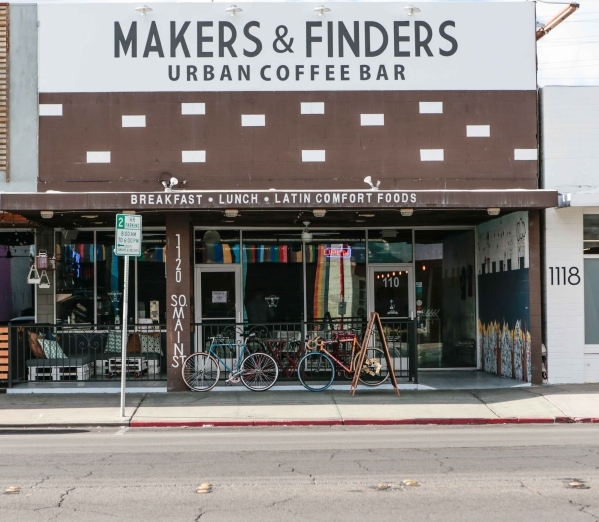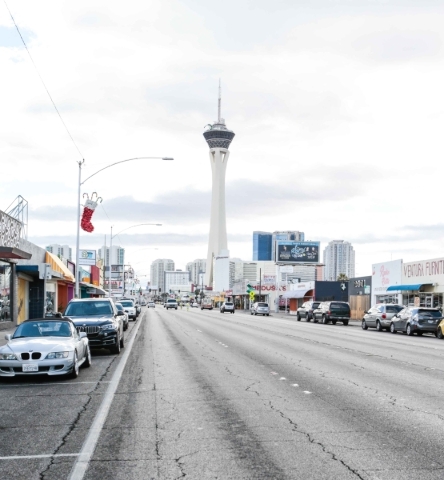 Josh Molina knows the Main Street road construction in front of his coffeehouse will have a brutal impact on parking, so he's already making plans to dip into his wallet to rent a parking lot near his small business.
Molina, like many other Main Street merchants in the city's downtown Arts District, is bracing for the financial hit that the loss of parking, the flying dust and road construction will have on their small businesses as part of the city's $51 million road project that is creeping its way south.
Las Vegas is turning a section of two-way Main Street into a one-way Arts District thoroughfare, complete with bike lanes, wider sidewalks, foliage and benches.
Traffic will flow north on Main Street between near Oakey Boulevard (near the Stratosphere) to where Commerce Street branches off Main Street. It will be coupled with Commerce Street, where one-way traffic will flow in the opposite direction, southbound, across Charleston Boulevard. Commerce branches off Main Street south of Bonneville Avenue and City Hall.
The road construction's second phase will start March 1 and continue a 24- to 27-month overall Main Street project that began about a year and a half ago, said Jorge Cervantes, Las Vegas executive director for community development.
The city's thinking was the road project would be "accelerating the transition of the Main/Commerce area from a somewhat run-down inner-city neighborhood into a more vibrant mixed-use community," according to a federal grant application submitted by the Regional Transportation Commission of Southern Nevada.
Molina, co-owner of Makers & Finders coffeehouse at 1120 S. Main St., said he supports the project but also noted, "I think people will be hit. It will be invasive and obtrusive."
He's concerned about the dust flying and the loss of street parking from 30-foot-deep storm drain construction right in front of his coffeehouse.
Ventura Garibay, owner of Ventura Furniture, a few stores down from Makers & Finders, doesn't know if his 20-year business will survive the construction, which can take anywhere from three to six months.
Molina said the city told him construction will be three months, but he is expecting it to last closer to six months.
'Where will customers park?'
"It's going to screw me," Garibay said. "Business is slow as it is. I don't know if I will survive. It's supposed to beautify the road, but what's the point of them beautifying if I can't survive?
"Where will customers park? That's what this store lives off — people seeing the store and parking," Garibay said. "I have three employees, and I told them I might have to cut their hours or let them go."
Amy Ortiz, owner of the Rockin Bettie retro reproduction clothing store, said she fears the road construction in front of her mom-and-pop shop at 1216 S. Main St. will extend into this year's holiday season and wipe out a big chunk of revenues.
"Once people get here and see the mess, they won't try to stop and come in," Ortiz said. "My fear is that this will go through Christmas, and there goes our holiday rush. Six months will make a big impact on me. I'm a small business, not a chain."
Marc Abelman, CEO of Insidestyle, a home and design business at 1119 S. Main St., is more concerned for his business neighbors who rely on foot traffic, such as Makers & Finders, the Hop Nuts microbrewery and Buffalo Exchange.
"We'll see how quickly they will get it done," said Abelman, former president of 18B The Las Vegas Arts District neighborhood association. ""I guess we can only hope and pray."
A city spokesman said Las Vegas officials will work with business owners to minimize the impacts.
"The city and the contractor on this job, Las Vegas Paving, will keep access to all the businesses open during construction," spokesman Jace Radke said.
"I would also point out that no businesses were forced to close due to construction during phase 1 of the project, which has now been completed," he said.
The city's Cervantes said he will meet merchants every Monday at 7:30 a.m. to answer questions and will give the business owners updates on what was built each past week and what is expected for the following two weeks.
'A real adjustment for people'
Abelman said motorists will have to be informed about the new one-way streets, especially drivers heading southbound on Commerce trying to reach businesses on northbound Main Street.
"That will be a real adjustment for people," Abelman said.
The one good thing that could come out of the road construction is that streets such as Commerce that have little activity could be "activated," he said.
But Mari Gonzales, owner of the Koolsville Tattoo shop at 1223 S. Main St., has accepted her fate that her business will lose money during construction.
"There's no choice," Gonzales said.
— Contact reporter Alan Snel at asnel@reviewjournal.com. Follow him on Twitter: @BicycleManSnel