Big screens a big lure as holidays approach
December 3, 2011 - 2:00 am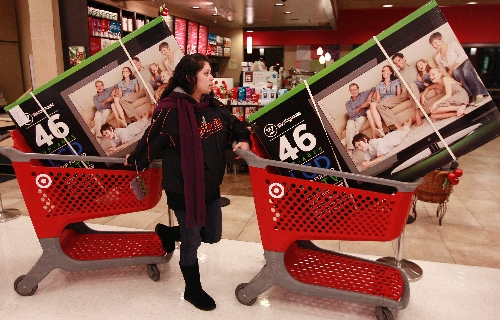 NEW YORK — In an unexpected twist, TVs are topping many Christmas shopping lists this year.
Wal-Mart officials said TVs are among the top gifts people are putting on layaway at their 3,000-plus U.S. stores this holiday season. The Westinghouse 46-inch LCD HDTV that was on sale for half-off at Target for $298 was a top seller during the start to the season last weekend.
Heading into the holiday shopping season, TVs seemed so two Christmases ago. Sales had slowed as consumers tightened their budgets in the weak economy and technologies like 3D failed to spark their interest the way tablet computers and smartphones have.
But now shoppers are responding to the deep discounts.
Most chains don't break out TV revenue, but overall unit sales are up 15 percent this year through October, according to the latest data available from research firm NPD Group Inc. That compares with a 2 percent rise during the same period in 2010.
Meanwhile, prices have dropped 7 percent to an average of $597, compared with $647 last year and $734 in 2009.
Best Buy has slashed a 55-inch Samsung LED TV by $400, to $1,099.99. A Sony 40-inch Internet-enabled LCD HDTV at Target is marked down by $200, to $599.
"There's definitely a large number of people coming in," said Andrew Seamore, sales specialist at the Best Buy at 2050 N. Rainbow Blvd. in Las Vegas.
Seamore said his store has definitely experienced more TV sales this shopping season than in the past few years. And, people are buying them primarily as gifts. Most TV sales were for personal use the past couple of years.
"It has been easier this year for people to spend money on TVs. The large-screen models also are more affordable now," Seamore said.
A 60-inch Sharp, for instance, was priced at $800 at Best Buy.
Ron Martin, owner of Las Vegas-based Acoustic Design, said it's no surprise that television sales are up, because buyers constantly watch for deals.
"TV prices are incredibly volatile," Martin said. "It's amazing how much the prices fluctuate."
Samsung, which boasts about 18 percent of the market share in the TV segment, offers dealer rebates every week or two. So, dealers constantly are able to offer discounts.
"It's just the nature of the market because it's so competitive," Martin said.
At his own business though, Martin hasn't seen an uptick in TV sales.
"We remain fairly constant during the holidays," he said.
The reason? Martin's small business doesn't operate a retail storefront. Acoustic Design specializes in designing and installing complete Surround Sound systems, and offers TVs at prices competitive with the big box retailers. That helps keep its TV business stable year-round.
For brick-and-mortar retailers, though, low prices make a huge difference.
"Great prices on TVs are a proven method of getting people into stores," said Stephen Baker, an NPD analyst.
That TVs are turning out to be a hot item gives retailers some unexpected good news during the holiday shopping season. It's a time when they can make up to 40 percent of their annual revenue.
Manufacturers won't get much of a boost from the uptick in demand, however, because margins on TVs are low because of price competition. So the low prices that benefit buyers make things more challenging for manufacturers, even if they sell more units, according to NPD's Stephen Baker said.
Retailers long have depended on electronics to build buzz over the holidays. (Think: smartphones last year.) And consumer electronics are expected to account for a third of all purchases over the holidays, according to the Consumer Electronics Association trade group.
But merchants weren't expecting TVs to be hot this season because Americans rushed out to buy flat-screen TVs two years ago. Indeed, tablets like the iPad are expected to be the second most wanted gift this year behind clothes, while TVs didn't even make it in the top five most-desired products this holiday season, according to the trade group.
Dan de Grandpre, editor-in-chief of deal aggregator Dealnews.com, said TV sales are unexpectedly strong because consumers who'd put off buying them before the holidays suddenly are attracted to the deals. According to Dealnews.com, there were 77 major deals on TVs during the Black Friday weekend, and consumer interest in those deals rose 28 percent.