Bike equipped with Intel box can track crash G-forces
January 8, 2016 - 6:11 pm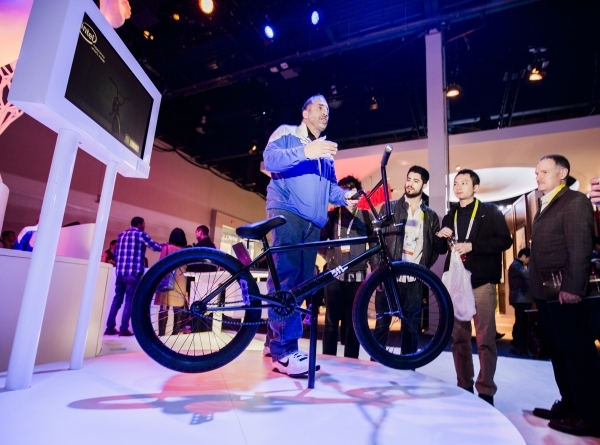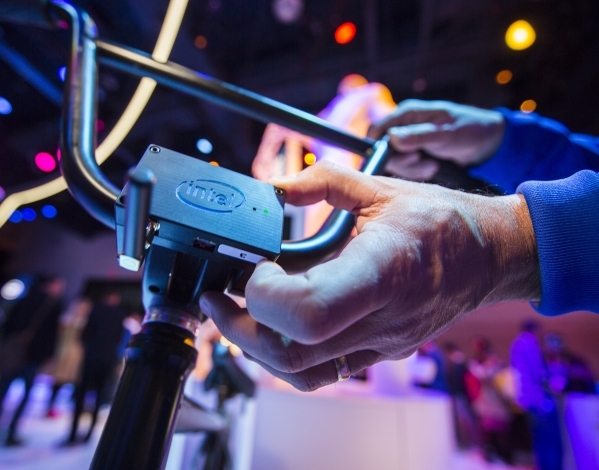 Before you shove your way through the thick Consumer Electronics Show crowds to reach the latest gigantic TV screen and other whiz-bang gadgetry, there's Gary Klein and his BMX bicycle at Intel's sprawling exhibit area in the Las Vegas Convention Center.
The bike doesn't look very high-tech and you're probably thinking Klein should be at the Interbike national bicycle show and not at CES, one of the most high-profile trade shows in Las Vegas.
But take a close look and you will see an Intel box no bigger than 5 inches wide mounted to the handlebar with high-powered Curie technology tracking all types of rider activity, like jump heights, bike speed, angular acceleration and even crash G-forces.
For professional BMX athletes competing in the ESPN X Games Aspen, all that Intel sensor data could come in handy when trying to draw high judges' scores and the fastest times.
The Intel technology is not available for the weekend warriors yet, but the recording data devices will be deployed when the snowboarders appear on ESPN this winter, Klein said.
In a statement this week, Intel Corp. wrote, "This access to new data will provide athletes with greater insights into their performance, provide additional metrics for on-air analysts, and change the fan experience both at home and in the stands."
Even the G-force data will be useful for the athletes to understand the impacts and implications of their crashes, Klein said.
"They're thinking, 'If I can control that (the G-forces), I can avoid injuries and have a longer career," Klein said Thursday.
Intel's sports exhibit drew some high-profile visitors, such as U.S. Sen. Mark Warner, a Democrat from Virginia, who listened to a quick lesson from Intel's Colin Daymude about the Recon smart eyeware that offers a "distraction-free" experience.
Intel CEO Brian Krzanich used the show to announce partnerships with not only ESPN but also Red Bull Media House, Oakley and New Balance.
Contact reporter Alan Snel at asnel@reviewjournal.com Follow him on Twitter: @BicycleManSnel