Bike shop owner pedals to the beat of a different drum
September 19, 2013 - 9:40 pm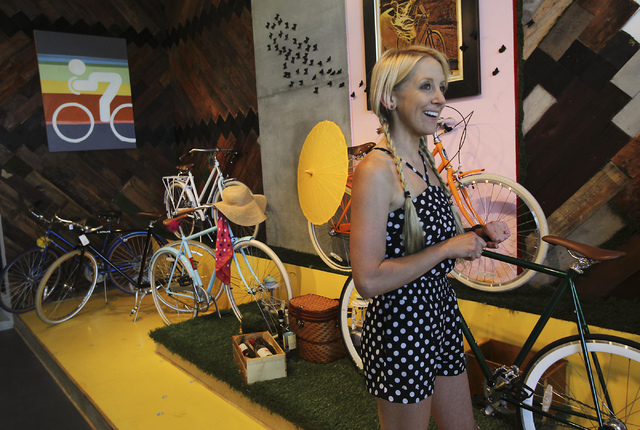 Imagine Paris Hilton opening a downtown Las Vegas bicycle store.
Sure, there are bicycles on the floor, but they were picked because they look pretty. And besides the two-wheelers, frilly sundresses hang from a rack greeting patrons, and cute dog toys and bow ties sit in one corner.
Now you're getting a feel for Las Vegas' most unusual bike shop, more boutique than traditional bicycle store, more whimsy than wheels.
Thirty-year-old Amie Pellegrini debuted the shop this month, pouring $40,000 into opening The Town Bike, an unorthodox bike store on the street-level floor of The Juhl Lofts on Fourth Street at Bonneville Avenue. She lives above her store.
Laid off from her operating room medical device sales rep job, Pellegrini sold her Lexus for $10,000 and created a bike shop she hopes will serve downtown residents, tourists and commuters.
She might be on to something with downtown Las Vegas evolving into a redeveloped hip hub with more bicycle lanes and new blue bike racks in the shape of blue bicycles. Bike commuting is also a national trend, increasing by 9.6 percent in the past year, including an 11 percent increase in women bike commuters.
The University of Nevada, Las Vegas graduate with a degree in hotel administration has a limited, if not varied, business résumé. She spent time working at Mandalay Bay and as a wedding planner before losing her medical device sales job.
So, why not open a bike shop?
"When I find something I like, I just go for it all the way. My mother hates that," Pellegrini said. "I have the attention span of a gnat. I painted the shop three times. I redid the floors three times."
And she went all the way with creating a bike shop with an ultraboutique ambiance? The store's bicycle element is realized thanks to 20 bikes, including lovely Linus brand urban commuter two-wheelers and rugged Brooklyn Cruisers for downtown biking.
The boutique part includes 500 paper butterflies adorning a main wall — and no bike tube or tire to be had.
"I don't even know what bike shops are supposed to be like," Pellegrini said. "There was a shop in New York I loved. I loved the way the bikes were put on display. It almost was like a runway for models. It was a cute store."
Last Saturday morning, Pellegrini greeted a visitor while she was wearing a long pink dress and smoking a cigarette — not the conventional bike shop garb usually worn by lean, angular 20-something guys with bushy beards and tattoos, with Navy blue shirts bearing the store's logo.
She admits she doesn't know much technically about bicycles. She bought three old bicycles, including a Schwinn Le Tour road bike and a beach cruiser.
"I took apart the bikes, but couldn't put them together," Pellegrini said. "I wanted to find out how they worked. I called a friend who helped me put the bikes back together."
The fact that Pellegrini is an outsider to the bicycle industry is just fine with the Linus sales representative who sold her the bicycles and was manning the company's exhibit space at the Interbike trade show in Las Vegas this week.
"She's been refreshing. She brings a new perspective. She's not coming from a techie bike background, so she relates to our customers," said Jason Latty, sales director of Linus, based in Marina Del Rey, Calif. "She can help us bridge the gap to the new and returning cyclist."
This week, Pellegrini ventured onto that strange land of Interbike's vast exhibitor floor at the Mandalay Bay Convention Center, where 800 bicycle companies representing 1,200 brands drew 25,000 bicycle industry attendees.
Pellegrini strolled the show Thursday, the self-proclaimed girlie girl with the blonde hair and 5-inch heels talking shop with velo guys with the long sideburns who like to use the word "gnarly" in every third sentence.
Pellegrini enjoyed looking at Nutcase bike helmets because of their colorful and creative designs and stopped by the Linus exhibit space, where she connected with her sales rep, Latty. She enjoyed looking at colorful accessories at the Nirve bike exhibit station, too.
"There's a lot of products out here," Pellegrini said.
Her uncle, Jeff Pellegrini, drove three hours from Big Bear Lake, Calif., to walk the Interbike floor with his niece.
He said she picked a good location in downtown Las Vegas, near the Las Vegas arts district, where people will appreciate her boutique-theme shop.
"It's very artsy down there," Jeff Pellegrini said. "You have people thinking outside the box."
While Pellegrini's bike shop is unique, it's also part of a national wave of bicycle shops that are mixing other retail elements into the store. For example, a bike shop in Asheville, N.C., sells beer from the tap and hot sauces along with bicycles. A Denver bike shop has teas on the shelf besides bicycle gear and two-wheelers.
Fred Clements, executive director of the National Bicycle Dealers Association, said bike shops that offer alternative products such as coffee and yoga are popping up.
But dog toys and sun dresses? That's a first, Clements said.
"There seems to be a trend toward bike shops that are not mainstream. They cater to various specialty niches, such as urban, single-speed, women-focused products or electric bikes. Some offer spin classes or yoga," said Clements, in Las Vegas for the Interbike national show.
"The goal seems to make them gathering places for their target customers and express a given lifestyle, customer demographic or specialty interest. Ladies' dresses and dog gear seem pretty unique as offerings though."
Contact Alan Snel at asnel@reviewjournal.com or 702-387-5273. Follow @bicyclemansnel on Twitter.