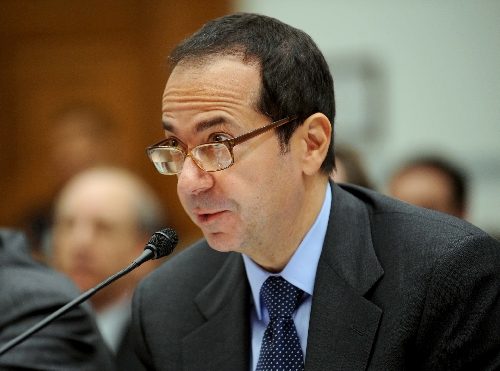 The long-term intentions of New York billionaire John Paulson, whose hedge fund is now the second-largest investor in casino giant MGM Mirage, were unclear Tuesday, although the news of his investment in the casino company helped lift the share prices of much of the gaming sector.
Paulson & Co. disclosed its purchase of 40 million shares of MGM Mirage and 4 million shares of Boyd Gaming Corp., in a filing with the Securities and Exchange Commission late Monday. The gaming investments were lumped among the stock purchases of 60 companies by the hedge fund. The purchases totaled $21.15 billion.
The casino company acquisitions were made in the first quarter, which ended March 31. The MGM Mirage purchase gave Paulson 9.06 percent of the casino operator's 441.27 million outstanding shares.
According to the SEC filing, Paulson paid $12 a share, or $480 million.
Los Angeles billionaire Kirk Kerkorian, MGM Mirage's founder, is the company's largest shareholder, controlling 37 percent of the company through Tracinda Corp., the 92-year-old financier's privately held investment arm.
Armel Leslie, a spokesman for Paulson, who founded his hedge fund in 1994, said there wouldn't be any comment beyond the SEC filing, which disclosed investments in banks, home builders, hotel companies and pharmaceutical companies.
However, in a conference call with investors and analysts earlier this month, Paulson said he was bullish on the U.S. economy.
He thought the American housing markets would have a "V-shaped recovery" throughout the year. Paulson speculated that housing prices could climb 3 percent to 5 percent this year and 8 percent to 12 percent in 2011.
"We're looking for a very strong period of corporate earnings growth," he said on the conference call.
Paulson's hedge fund made $15 billion betting on the decline in subprime mortgages in 2007. Paulson oversees $35 billion in hedge funds, which are loosely regulated private partnerships that can bet on rising or falling prices of any securities.
"Most of the gains from distressed investing have been realized," Paulson said on his conference call. "Once a bond goes to par, all the incremental increase in the value of the enterprise will flow through the equity. That's where we're positioned."
Analysts speculated that Paulson's investment in MGM Mirage and Boyd could be a signal that he believes a recovery in the housing market will be a boost to the gaming industry, which saw revenues decline 5.5 percent nationwide in 2009.
On Tuesday, shares of MGM Mirage and Boyd Gaming initially rose on the New York Stock Exchange following news of Paulson's investment.
Boyd Gaming closed at 13.78, up 54 cents, or 4.08 percent, after initially climbing more than 11 percent in value. MGM Mirage, which had been up as much as 2 percent, closed at $12.98, down 34 cents, or 2.55 percent.
Paulson's acquisition in Boyd Gaming gave the hedge fund 4.6 percent of the company's outstanding shares, the fourth-largest ownership stake. Paulson paid $9.88 a share, or $39.52 million.
Boyd Gaming operates casinos in Nevada and several Midwest regional markets. MGM Mirage has 10 resorts on the Strip and casinos in Northern Nevada; Detroit; Biloxi, Miss.; and Macau. The companies have 50-50 ownership in the Borgata in Atlantic City, but MGM Mirage has put its share of the resort up for sale.
Independent gaming analyst Frank Martin speculated that Paulson, who was required to report the acquisition, already could have flipped the shares in MGM Mirage. The company hit a high of $16.64 on April 26.
Neither investment would demand Paulson to seek licensing approval from Nevada gaming regulators. State gaming law requires passive investors to file an application if their investment exceeds 10 percent.
Leslie said he didn't know whether Paulson had spoken with Kerkorian, whose stake in MGM Mirage shrank last year when the company restructured a portion of its $13 billion in long-term debt by issuing additional shares on both the open market and through a private placement.
The investment in MGM Mirage by Dubai World, the business arm of the Persian Gulf emirate, shrank to 5.9 percent and the entity is MGM Mirage's fourth-largest shareholder. Dubai World also owns 50 percent of CityCenter, the $8.5 billion Strip development in which MGM Mirage owns the remaining 50 percent.
Spokesmen for MGM Mirage and Boyd Gaming separately declined comment on the Paulson investment.
Contact reporter Howard Stutz at hstutz@reviewjournal.com or 702-477-3871.