Biodermis' Pro-Sil scar ointment stick wins prestigious award
November 29, 2013 - 9:57 am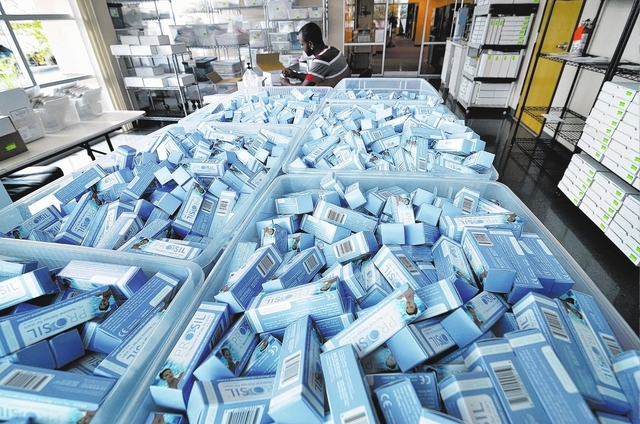 Biodermis, a Henderson skin care products company, scored a prestigious international award recently when its just-patented scar treatment stick called Pro-Sil won recognition at the MyFaceMyBody Awards ceremony in London.
The award was a major deal for Biodermis because the recognition is determined by consumer votes. They are the only aesthetic and dentistry awards that allow consumers to vote for their favorite health and beauty brands, products and services.
Biodermis introduced Pro-Sil in 2006 as a glide-on alternative to ointments for people who wanted a cover for their scars after surgeries or lacerations. The Pro-Sil stick stores easily in a purse or pocket, without the drip and leak problems associated with silicone ointment.
For more than a quarter century, Biodermis has been a leader in developing skin care products that manage scars, offer liposuction compression foam therapy, help post-operative conditions and hydrate the skin. The company moved from Santa Barbara, Calif., and has 13 employees at its Henderson facility.
Jeff Schleuning, a Biodermis partner, said patients who said they didn't want to wear bandages covering scars on their faces and bodies sparked the quest to create the silicone stick delivery system.
"It started this long eight-year journey of applying for a patent," Schleuning said. "It's a convenient way to treat your scars from lacerations or surgical procedures."
He noted Biodermis was the sole company to offer the solid silicone stick. It's no longer a prescribed product, Schleuning said. The company enlists 75 distributors who sell the product to doctors' offices and retailers in 55 nations, he said.
Sean Mahoney, who handles Biodermis public relations and marketing, said the Pro-Sil stick is available online and through some physicians' offices. Mahoney said the product retails for $20 for a 4.25-gram stick and $52 for 17-gram stick.
With the patent and national award in his hip pocket, Schleuning plans for Biodermis to conduct a market awareness campaign to broaden the product's commercialization.
"Silicone does not play well with others. To offer it as a solid and deliver it in a stick to encompass the scar is unique and we're proud to to have this patent," Schleuning said.
Plastic surgeon Michael Edwards said he has been using the product for at least four years.
"Patients like it. The ease of use is great for patients. It's a simple but elegant design," Edwards said. He noted the Pro-Sil stick also doesn't stain patients' clothing.
"I wish I would have invented it," Edwards quipped.
Alan Snel can be contacted at asnel@reviewjournal.com or 702-387-5273. Follow Snel at @BicycleManSnel on Twitter.