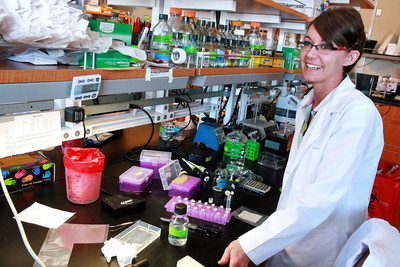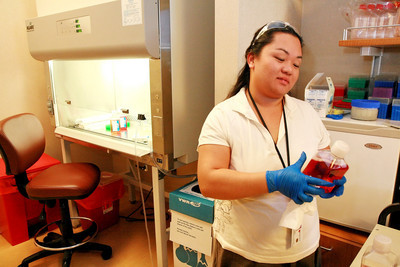 As New Jersey stumbled through one of its episodic bouts of dysfunctional state budgeting two years ago, the Nevada Development Authority sensed a chance to pounce on a wounded animal.
The state's business recruiting agency launched a $100,000 ad campaign touting Las Vegas' indulgent business environment, followed by direct mailers to 265 of New Jersey's biotechnology companies and in-person visits with those that responded. The blitz yielded "serious inquiries" from 40 companies, authority Chief Executive Officer Somer Hollingsworth said at the time, including eight "hard leads" among the prized biotechs.
How many companies actually moved west? Zero.
About five years into its thrust to build Las Vegas into "a leading destination" for the biotech industry, the authority has done little better on other fronts. The roster of companies, even by the broadest definition of biotech, numbers about a dozen, including some with ideas or patents but little or no money to take them through the federal approval process and others that have nothing to do with discovering new drugs.
Hollingsworth now characterizes the New Jersey foray as "testing the water and doing research," he said. "They were 3,000 miles away and we had no cash incentives for them to move. It was too hard for them to come to Nevada."
Having learned that lesson, the authority refocused its efforts on the rich vein of biotechs in California, a much shorter haul.
More than physical distance, however, Las Vegas must surmount the industry's tendency to stick together in places that have already grown communities of scientific talent and financiers, as well as major research institutions cranking out discoveries that can be commercialized. Against that backdrop, the traditional Nevada appeal of cheap land, no state income taxes and little governmental red tape does not draw much of an audience.
"Most of the pharmaceutical manufacturers, research and development labs and device makers are located in a few clusters," said David Cantwell, an executive vice president in the Reno office of the commercial real estate brokerage Jones Lang LaSalle, which specializes in life science companies. "There has not been an area in the last 20 years without a presence that has developed a major one."
When Reno economic development officials asked him a few years ago about pursuing biotech, Cantwell recalled, "I told them to put their money somewhere else."
In a 2002 report for the Brookings Institute, economist Joseph Cortright identified nine regions that accounted for three-fourths of the biotech companies in the United States, headed by Boston, San Francisco and San Diego, with New Jersey and the Research Triangle in North Carolina in the second tier. That concentration has grown even larger since then, said Cortright, vice president of the Impresa consulting firm in Portland, Ore.
To break the self-reinforcing cycle that has frustrated numerous other aspirants — qualified people gravitating toward companies and companies gravitating toward qualified people — Las Vegas boosters will try to build on the emerging tripod of the Nevada Cancer Institute, the Lou Ruvo Brain Institute and the beefed-up research programs at the University of Nevada, Las Vegas' science and engineering colleges. If diagnostics or therapeutics emerge from their laboratories with commercial potential, the hoped-for pattern that has been set elsewhere would involve local people bringing them to market and enlisting more people from other cities to help.
"We're still early into it and need to make the community more aware of what we have," said John Laub, executive director of the Regenerative Medicine Organization, who last year helped launch the Nevada Biotechnology and Bioscience Consortium, the area's first trade group.
"It's a challenge, but I am an optimist. The opportunity is there and, with preparation and luck, it could come together."
Hollingsworth already senses accelerating momentum. "It's very tough to open doors in this industry," he said. "But the Nevada Cancer Institute has proved that you can recruit people to Las Vegas and people who are the best in the world. So when we go out and make our case now, people know who we are."
At the same time, whatever success boosters score may be modest and will have to come against the more than 40 states that now have some sort of formal program to lure biotech investment, by the count of the Biotechnology Industry Organization. "We don't have delusions of grandeur," said Hollingsworth. "We don't think we're going to get a major corporation to pack up and get over here. Maybe we'll be doing onesies and twosies (companies). Maybe we'll get divisions or a specific operation."
Las Vegas' name recognition may not help either.
"The only thing that comes to mind in relation to Las Vegas is entertainment," said Dr. Ivor Royston, a managing partner of the San Diego-based Forward Ventures biotech investment firm who pioneered that city's development of a biotech industry in the 1970s. "I'll go there to watch 'Jersey Boys.' But biotech is something I've never connected with Las Vegas."
Moreover, experts in the industry counsel patience. Kevin Klowden, a managing economist with the Santa Monica, Calif.-based Milken Institute, which annually ranks states by their technological prowess, said it could easily take a decade and perhaps three to build a true biotech hub. "You have to look at it as a long-term project because Nevada is coming from so far behind," he said.
Because of the talent shortage, Las Vegas might be more successful focusing on drug manufacturing than research and development, he added.
Biotechnology, at its root, involves creating something from a life form. In that sense, the industry has been around for centuries in ways such as using yeast to brew beer.
Since the 1976 founding of Genentech in South San Francisco, the term biotech has come to mean creating diagnostics or therapeutics to treat diseases from microscopic building blocks of biology such as enzymes, antibodies and DNA instead of the inert chemicals that underpin the traditional pharmaceutical industry. Although less glamorous than human health research, biotech also encompasses applications as far-flung as growing heartier tomatoes to cleaning up oil spills.
Although biotech has not lived up to much of its initial hype, such as creating the "magic bullet" to cure cancer, it has progressed enough to keep alive the dream that it will eventually revolutionize medicine and produce some blockbuster prescription drugs. Because of the potential status of hosting a company that scores a huge breakthrough, plus the industry's clean-room image and payrolls that run well above any community's median, politicians and government officials across the country have swung into action to snag a piece of the industry.
In some cases, governments have committed huge war chests to the effort. State and local agencies in Florida have granted awards and concessions exceeding $600 million to San Diego-based Scripps Research Institute to build a campus in Palm Beach County. Massachusetts recently approved a $1 billion incentive fund for biotech. California has $3 billion to spend on stem cell research. Other states not usually associated with biotech, such as Indiana and Texas, also have financial incentives ready to go.
"It's kind of a fad in the business development world, that everybody is doing it, in part, because everybody is doing it," said Cortright. "Whether it's worth it kind of depends on your objective. If you want a research facility in the community, it can work. If you are expecting a big commercial function with lots of new jobs, it's highly unlikely."
Against that competitive crowd, Nevada can offer almost nothing in the way of hard cash or indirect incentives. The swelling state deficit appears to leave no room to change that.
In addition, the long-standing Nevada selling point of no state taxes carries little appeal to a lot of the biotech industry because companies often run nothing but losses during the research and development phases which generally can last at least a decade. Typical of that pattern, Las Vegas-based CardioVascular BioTherapeutics, which is trying to commercialize a drug to stimulate the growth of blood vessels, has posted $79.4 million in cumulative losses from its founding in March 1998 through the end of the first quarter this year. Company financial filings indicate the losses will continue for several years at an even greater pace.
Nor does the no-tax mantra help much at the personnel level, said Gautam Jaggi, a senior manager at Ernst & Young's Global Biotech Center in Boston. "You can say quality of life and no taxes and that might be nice at the beginning," he said. "But what really counts is being in an area with a lot of biotech activity."
The principal reason for that, according to Jaggi and others, is the industry's inherent instability. Biotech companies can spend as much time pursuing funding as they do peering through microscopes. Layoffs when the bank account runs low or shutting down completely if a centerpiece drug fails are all facts of life in the industry.
"When biotech people lose their jobs, they want to know they can find another job somewhere else," said Klowden. "Nevada is a very business-friendly state, but in this case it is very hard to recruit talent because they would have so few alternatives."
While UNLV has had a science program for five decades, only in the last couple of years has it pushed to bolster its graduate research in biotech and boosted its ties with the Nevada Cancer Institute. "The long-term goal is to create a place for companies to work collaboratively with faculty and students," said UNLV President David Ashley. "Ruvo and the cancer institute give us focus."
He also has a template to follow in the buildup of the research capability in renewable energy that now has more than 100 faculty and students.
As part of the push, UNLV created an office of technology transfer in January, not only to generate commercial royalties from discoveries in school labs but also to define projects to pursue. Technology transfer director Dr. Robert Sweitzer cited an example of seeking outside advice on designing radioisotopes that would detect or destroy particular tumors, then seeking grants to fund it based on a demonstrated market demand.
In the southwest corner of Las Vegas, the university has also started negotiating development agreements for the 114-acre Harry Reid UNLV Research and Technology Park. Executive director Bud Pittinger declined to detail the two proposals he currently has on the table, except that one has come from a developer that would build for several tenants, including a biotech company that would not come up with original molecules at the site but seek U.S. Food and Drug Administration approval to use ones discovered elsewhere.
In tandem with its patient treatment programs, the Nevada Cancer Institute has been building a new drug development division. Under Dr. Giuseppe Pizzorno, who was recruited here from Yale University, the institute is pursuing a two-pronged approach of conducting phase 1 and 2 clinical trials of new drugs developed by others, as well as seeking new molecules in its own labs.
The testing will not only bring income but, he hopes, scientific credibility for the institute, which opened three years ago.
"We don't just want to do clinical trials," he said. "We want to add research."
In that regard, he emphasized the ties the institute has developed with UNLV, including filling a substantial number of positions with school graduates.
The Lou Ruvo Brain Institute, which expects to open its architecturally distinctive downtown center later this year, will not only treat patients with Alzheimer's, Parkinson's and Huntington's disease, but seek cures for them as well.
Daniel Montano, chairman and CEO of CardioVascular BioTherapeutics, believes that research institutions are important but that biotech prominence will ultimately result from for-profit companies that make it big.
No matter the route, Cantwell of Jones Lang emphasizes the need for commitment. "The questions are how much do you want it, how much are you willing to spend and how long are you willing to wait," he said.
"Nothing is impossible," added Dr. Royston, who has been advising Montana on its biotech program. "Look at Florida. Florida is on a mission to build its biotech (industry). Why not Nevada?"
This story first appeared in the Business Press. Contact reporter Tim O'Reiley at toreiley@lvbusinesspress.com or 702-387-5290.
Company: Varian Medical Systems, based in Palo Alto, Calif.
What it does: Manufactures equipment for treating cancer and neurological disorders as well as imaging machines for medical and industrial uses.
Las Vegas presence: 160 people. Builds linear accelerators for cargo screening. Also conducts training for clinicians in use of medical equipment, warehouses spare parts and provides software support.
Company: NeoStem, based in New YorkWhat it does: Setting up national network of locations where adults can bank their own stem cells. Central facility in Los Angeles.
Las Vegas presence: One physician who draws blood for processing. Company has said it receives little revenue from this source and will shift strategies in expanding its branch network.
Company: DSX Therapeutics, based in Las VegasWhat it does: Owns rights to a drug designed to treat sepsis.
Las Vegas presence: Six people. Does not have funds to undertake clinical testing.
Company: CardioVascular BioTherapeutics, based in Las VegasWhat it does: Testing a human protein designed to spur growth of new blood vessels for use in cardiac, wound and organ treatment.
Las Vegas presence: 20 people. At the end of first quarter, current assets had dropped to $189,000 compared to $4.2 million in accounts payable. Since then, has received commitments for at least $1 million each from three investment sources.
Company: Phage Biotechnology, based in Las VegasWhat it does: Manufactures protein-based pharmaceuticals through a process it claims significantly reduces the cost compared to other methods. Has targeted generic drugs but has said it wants to develop its own.
Las Vegas presence: Some common management and ownership with CardioVascular BioTherapeutics. Has about 10 people in Las Vegas, with another 10 in San Diego and about 35 in the Ukraine.
Company: Samaritan Pharmaceuticals, based in Las VegasWhat it does: Concludes development agreements for other companies for its compounds, and secures marketing rights in eastern Europe and the Middle East to existing drugs. Accumulated loss of $45.5 million in 14-year existence.
Las Vegas presence: 2,100-square-foot headquarters office. 20 employees at the end of 2007 but not specified by location.