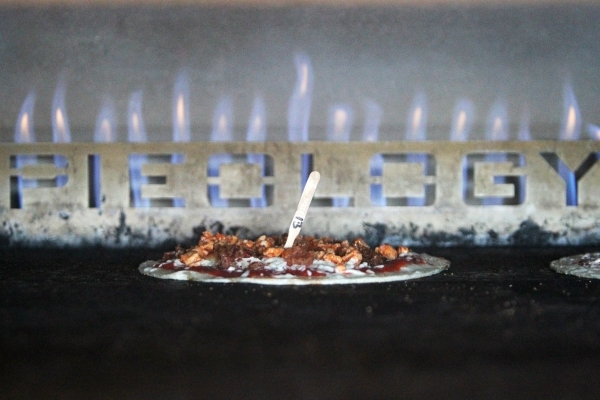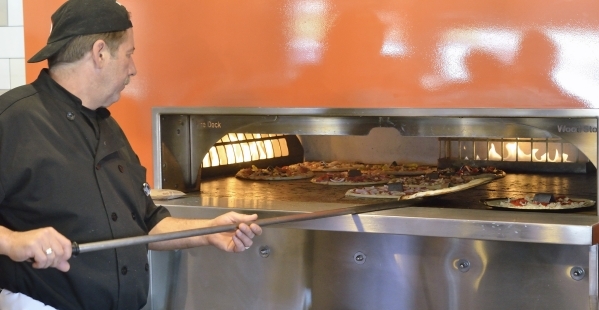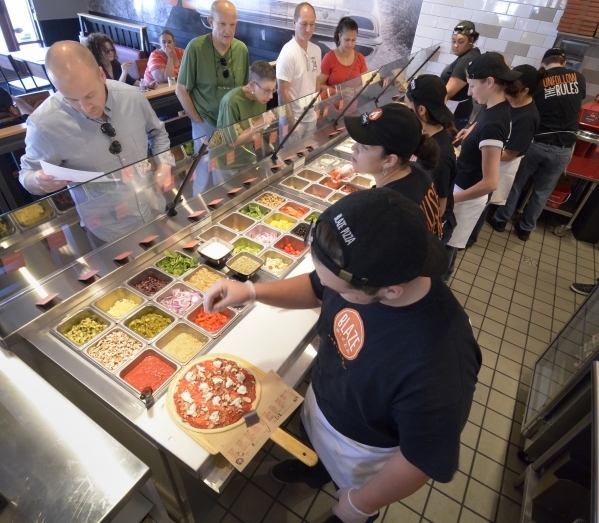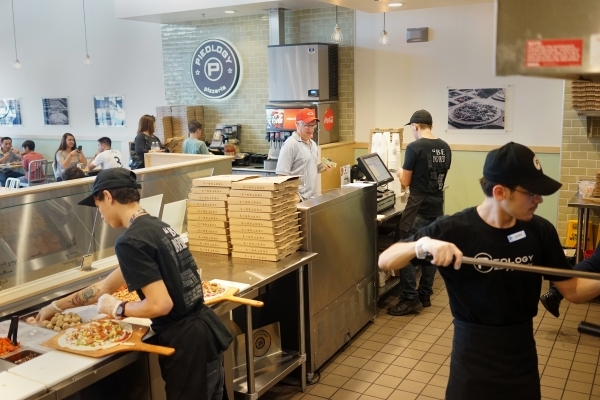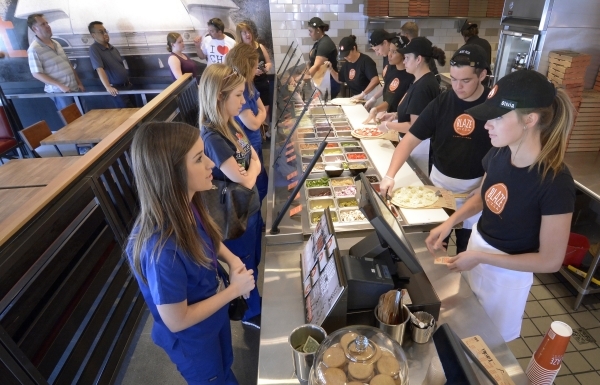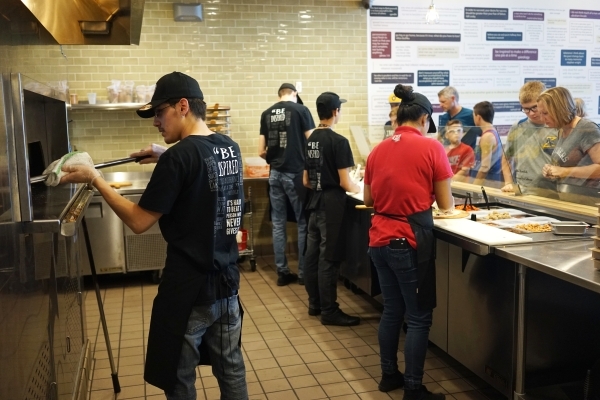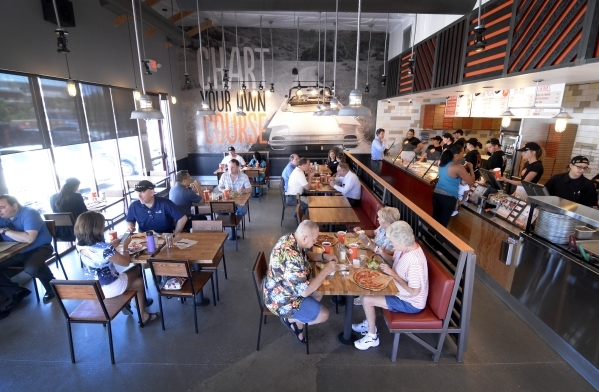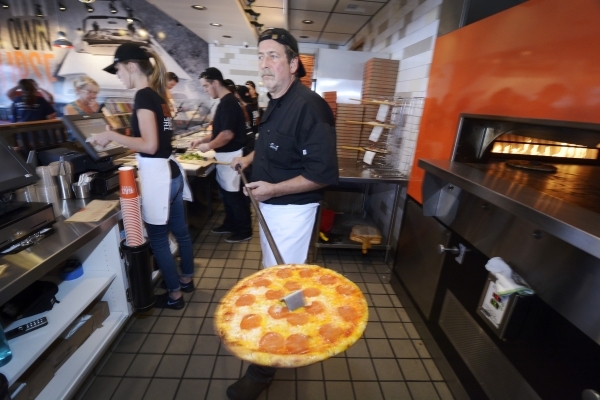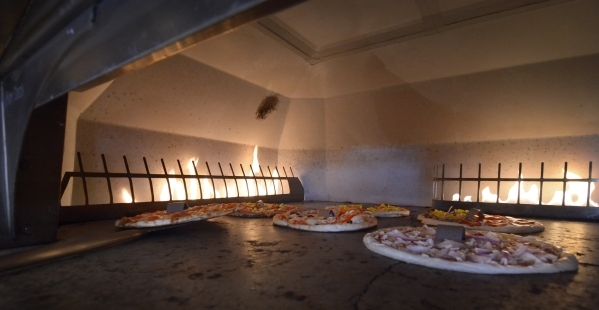 Two Southern California fast-casual pizza chains are invading the Las Vegas market for a heated mano-a-mano battle in the "make-your-own" custom pizza category.
Pasadena-based Blaze Pizza has placed a crust-and-cheese stake in the ground in Henderson, with a second area location set to open at 6211 N. Decatur Blvd. in mid-August.
Meanwhile, Rancho Santa Margarita-based Pieology opened a pizza site in Downtown Summerlin (the third pizza restaurant in that shopping center), with another store that was set to open at Hughes Center at Flamingo and Paradise roads Friday.
Both Blaze and Pieology follow a Chipotle-style make-your-own meal method, where customers order a crust, sauce, cheese with vegetable and protein toppings along a counter with the price point in the $7.95 range. The pizzas are cooked in about three minutes, with Pieology's pie measuring 11½ inches and Blaze 11 inches. Pieology workers bring the pizza to customers' tables, while Blaze workers call customers' names to pick up their custom-made pizza at the counter.
Customers can also order pizzas from a menu at both brands.
Blaze has 72 stores in 20 states, with a plan to have 112 by the end of 2015. Pieology has 62 stores in 11 states, with plans for 110 by the end of the year.
Elise and Rick Wetzel, Wetzel's Pretzels co-founders, founded Blaze, which is backed by investors such as NBA star LeBron James and TV personality Maria Shriver. Meanwhile, Carl Chang, brother of former tennis star Michael Chang, founded Pieology and is CEO. Michael Chang is a franchisee.
Both Pieology and Blaze are tapping into several popular trends, said Mary Chapman, senior director of product innovation at Chicago-based Technomic, a research company that tracks restaurant and food trends.
A driving trend is that pizza used to be mostly a dinnertime meal where people had to share a single pizza with toppings that everyone might not want. Now, Pieology and Blaze allow customers to build individual pizzas without having to agree on toppings with other people, Chapman said.
"Both are growing quickly nationwide. I'm not surprised to see them open in Las Vegas," Chapman said.
The fast-casual restaurant category is also growing faster than other restaurant types, with pizza a popular entry into that fast-casual niche, she said. The $7.95 price point — plus a drink — also fits into the $8-$10 cost range for fast-casual, she said.
And the 800-degree oven is a factor, too, she said.
"It's hitting on a lot of things that are popular right now," Chapman said.
Dan Abfalter, Piology franchisee in the Las Vegas market, said the valley is fertile for fast-casual concepts because young people and families are looking for a good deal.
"Each person can order their pizza. I can have 1,000 people in my store and make 1,000 different pizzas, and they walk out happy," Abfalter said.
The build-your-own model taps into a theme of giving customers more control over their selection, said Jim Mizes, Blaze chief operating officer and president.
"It starts with the millennial generation and technology and being in control of your life," Mizes said. "The guest decides."
Mizes said Las Vegas is a good market to expand in because "it's on a rebound and there's a nice disposable income."
Abfalter said he's negotiating for other locations in the area.
Other make-your-own-pizza brands across the country are Mod Pizza, Pizza Studio and Uncle Maddio, Chapman said.
The concept is also not new to Las Vegas. A local brand called Novecento has two build-your-own pizza restaurants in the area.
Tony Gemignani, owner of Pizza Rock who has recently opened other pizzerias and restaurants in the valley, said, "Everybody is trying to copy the Chipotle model. Chipotle is doing so well, and they want to jump on the bandwagon."
Even though Blaze and Pieology say their pizzas are "artisanal," Gemignani said didn't believe the chains' pizza should be described that way.
"Words like, '€˜artisanal,' are hot right now," he said. "Like, '€˜organic.' " Pieology's Abfalter disagreed, insisting his pizzas are artisanal. Abfalter said make-your-own pizza concepts and traditional pizzerias offer different experiences and both can survive.
"You hope that everyone does well, but it's another concept in the industry and the strong will survive,"Gemignani said.
Contact reporter Alan Snel at asnel@reviewjournal.com or 702-387-5273. Find him on Twitter: @BicycleManSnel