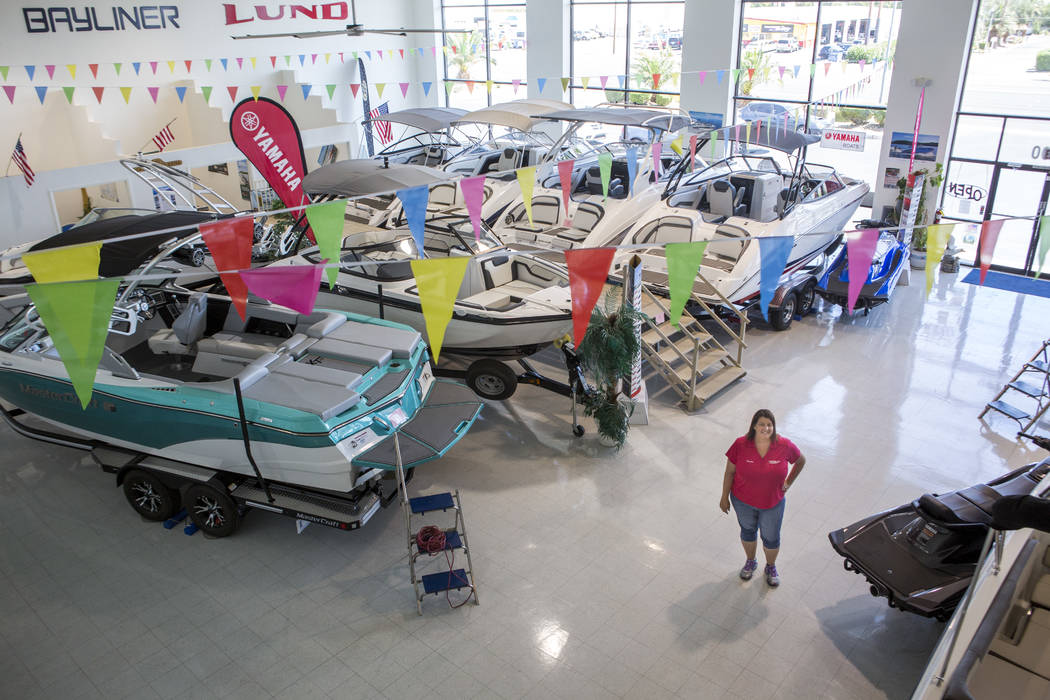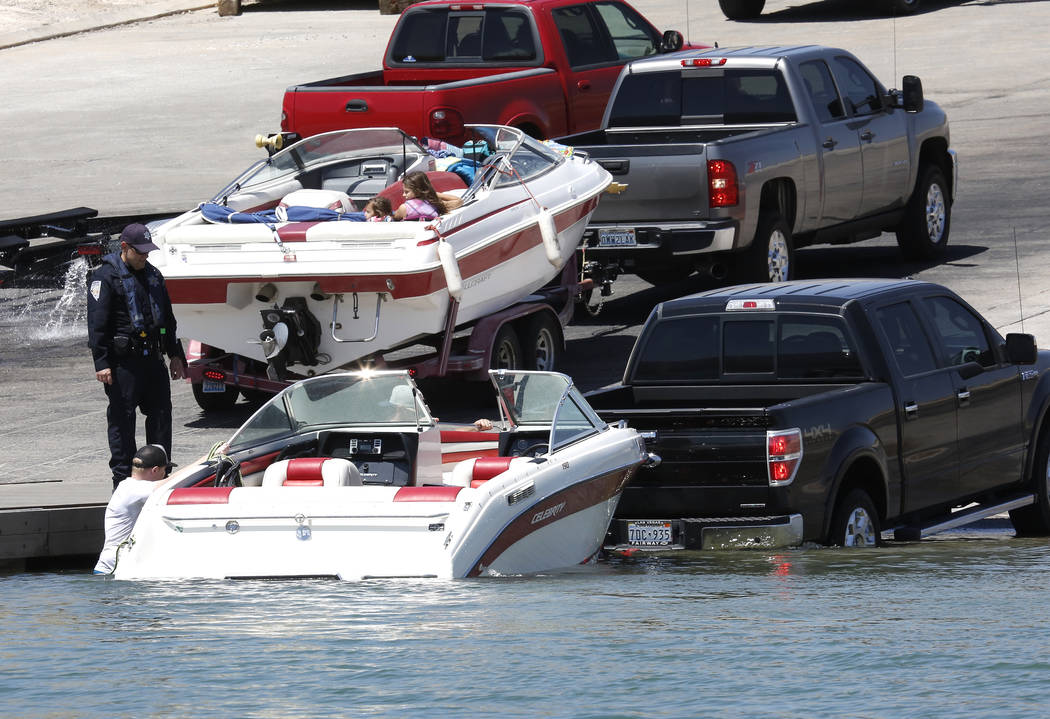 After struggling during the Great Recession, boat sales are surging again in the U.S. and Southern Nevada.
Recently released data from The National Marine Manufacturers Association and its 2016 recreational boating statistical abstract said the $36 billion U.S. boating industry is at a post-recession high.
"The industry has been growing 6 percent each year for the past four, five years," said Thomas Dammrich, association president. "We're not completely back to where we were before the recession, but we're the highest we've been at since."
The resurgence is being felt in Southern Nevada.
Candice Hayes, sales manager at Boating Lake Mead's Dry Dock Boat Sales in Las Vegas, said the recession was one of the biggest challenges the family business has faced.
"Our 50th anniversary was 2007, and that was kind of the end of everything being great," she said of the company that launched in 1957. "It was a lot of work … there were a lot of dealers across the country that didn't make it."
Lately, though, Hayes has seen a major upswing in boat sales. One of the most popular segments are tow boats, which can pull gear like wakeboards or water skis.
"We've been on the upward trend for the past couple years, but this year's been the biggest jump," she said. "We're definitely at a high of where we were over the past 10 years."
Similar trends can be found all across the country, according to The National Marine Manufacturers Association.
New powerboat unit sales increased 6 percent in 2016, and are expected to continue to increase at this rate throughout 2017 and 2018. New ski and wakeboard boats were up 11.5 percent in 2016, and jet boats increased 8.7 percent. Yacht sales saw a 3.5 percent increase in sales, reaching 1,715 units in 2016.
Dammrich said the industry's comeback can be attributed to high consumer confidence and low unemployment. While unit sales still need to catch up, dollar sales in the boat industry are back to a pre-recession high.
"All the economic signals are confident," Dammrich said. "It's very likely that in 2017 we'll be back in pre-recession high as far as unit sales."
Demographics
Although baby boomers are still the primary buyers of new boats, Dammrich said, younger generations are starting to invest in the market.
"We're starting to see some increase in (Generation X) and millennials," Dammrich said. "We expect to see those two segments grow pretty quickly over next decade."
Dammrich said boat manufacturers are making changes to attract millennial buyers, 83 percent of whom have "a strong propensity toward boating."
These changes are making boats easier to use, Dammrich said, with features like joystick docking, communication systems and more ways to integrate technology.
"You have manufacturers that are building boats with more outlets and USB ports for electronics," he said. "Millennials aren't going to go anywhere without their electronics."
The fastest-growing boats in popularity, according to the study, are pontoons, saltwater fishing boats and ski and wakeboard boats.
Hayes said she's seen a shift from cruise boats to sport boats in the past few years at Dry Dock Boat Sales and attributes it to younger generations entering the market.
"The buyers have changed," she said. "It used to be the parents. Now, the tow boats are driven by high-income millennials or Gen Xers, or they're pushing their parents to buy it … while our typical buyer (at Dry Dock Boat Sales) is not the millennial, I think they're definitely an influencer for the family."
Local trends
Stuart Litjens, owner of the dealership Boulder Boats in Henderson, said he's seen a similar trend among his customers. Litjens said tow boats and pontoon boats have grown in popularity in recent years, with water sports like wake surfing driving sales.
With boating, Litjens said, the whole family has something to do — whether you're a parent who wants to pilot and relax or a younger family member who wants to wake surf.
"With boating, you're all involved, you're all together," he said. "In that sense, it's not uncommon that we have a middle-aged professional family with younger children be brand new to this sport."
While Nevada boat sales have closely followed national levels in overall growth, the state trails other areas.
Nevada was 44th among the states in sales of new powerboat, engine, trailer and accessories in 2016, according to the NMMA.
Hayes said even though their business sells year round, the city simply doesn't have a large boating market.
"Las Vegas, obviously there's a ton of stuff to do here. So boating is not a priority … there's not a lot of places to boat here," she said.
Yet many still have an optimistic outlook for the boating industry in Las Vegas. Nathan Yates, director of research at the research and consulting firm Forward View, said in an email that Las Vegas offers a rare large inland boat market with man-made reservoirs, excellent weather and an abundance of affluent buyers. Because of this, the market has potential to grow along with the national boating industry.
"We do believe that the boating industry will grow more quickly than the overall U.S. economy through the end of the decade," Yates said. "While boat demand is at a post-recession high, sales remain below the likely cyclical peak … both the RV and marine industries are seeing strength."
Hayes expects the growing trend in boat sales to continue.
"If you look at boat sales trends over the past 30 years, absolutely … I would definitely see that we have a nice upward trend for a few years," she said. "There's a lot of ground to make up."
Contact Bailey Schulz at bschulz@reviewjournal.com or 702-383-0256. Follow @bailey_schulz on Twitter.
By the numbers
Statistics show boat sales have increased rapidly in Nevda.
Boat manufacturers saw a 64 percent growth between April 2016 and April 2017 for runabouts, jet boats and deck boats, according to registration data in the Las Vegas area.
A survey said the Las Vegas tow boat market saw a 24 percent growth between 12 month-rolling periods ending in January 2016 and January 2017.