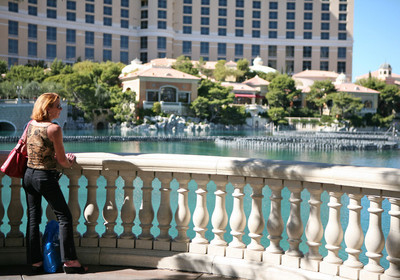 Las Vegas does a fantastic job of attracting tourists and has positioned itself as a world-class city with extensive foreign connections, a UNLV report on economic diversification said.
But now the city needs to use that power to bring businesses and creative people "from all walks of life and destinations" to strengthen the region's economy, the recently published report concluded.
"Southern Nevada has an enormous opportunity to capitalize on the strength, natural resources and capabilities of our region by diversifying our economy," the Lied Institute for Real Estate Studies said in its 21-page report. "We cannot rely upon the success and progress of the gaming industry alone for a vibrant future."
Participants of roundtable discussions held in August said Southern Nevada residents should "engage in a visionary process" to determine what needs to be changed to strengthen the economy through diversification.
They cited a lack of awareness among residents of the need to diversify.
In a sense, it was felt that civic and business leaders need to do a far better job of selling Las Vegas as a sophisticated and diverse community to its own residents.
"There's a need for consensus in the region," said Scott Adams, director of business development for the city of Las Vegas and one of about 80 roundtable participants. "The idea is to pull it all together to create one regional vision that everyone gets behind."
One of the things he's trying to do is bring higher-income employment downtown through regional and corporate offices. That's happening to some extent at Union Park, which has plans for a major medical center, Molasky Corporate Center and the World Market Center.
"Clearly, diversification is important so the region becomes more sustainable," Adams said. "Diversification creates a different type of job and good wages. We need to move toward knowledge-based industry, things that would create a different work force and different income."
Las Vegas must overcome several obstacles to successfully diversify its economy. The Lied report cited lack of available land for development; an underperforming educational system; stagnant income levels and explosive growth in minimum-wage jobs relative to other cities; and the image and reputation of Las Vegas as a gaming city.
"The notion is how do we sustain our community long range when all our bales of cotton are in one barn," participant Robert Fielden of RAFI architecture said.
He said some people talked about the role the Las Vegas Convention and Visitors Authority plays in attracting convention business and how that role could be extended to attracting foreign trade.
"We need activity that would require us to broaden our business community to accommodate foreign trade and look at the convention center as an international trade center," Fielden said. "Visitors are one thing, but if we can be as strong in international trade as we are in tourism, we'll have new demands for new and different kinds of business."
Las Vegas needs to attract and develop new economic clusters and core industries that will provide high-paying jobs and a better quality of life for the metropolitan area's ever-growing population, the Lied report said.
"We simply cannot grow at this pace and thrive without sustainability, affordable housing and a well-educated and paid work force," the authors wrote. "There are exciting opportunities in education, renewable and sustainable energy, research and development, health care and homeland security that await a comprehensive and enlightened commitment to develop."
Another subject that surfaced at the roundtable discussions was quality of life, Fielden said. It seemed everyone agreed that it was plummeting in Las Vegas.
"We've done a great job of building our economic engine, but we've done a lousy job of building our quality of life and sense of community or place," he said. "Now we have people assaulting each other and shooting people on the Strip. Those are new things and we need to stop that through meaningful employment and education. We've allowed ourselves to get into that position because we haven't placed our focus on building that sense of community with all sectors of society."
Rick Myers, president of Thomas & Mack Development group and moderator of four roundtable sessions, credited Lied Executive Director Debra March for picking a pertinent program each year and assembling a diverse and talented group of participants to talk about the issues.
"It's interesting and often surprising what direction the conversation goes," he said. "A great deal of time this year was spent on quality-of-life issues in attracting talented people and talented organizations to Las Vegas. It's a terrific program."
With respect to the general feeling about the need for economic diversification, 84 percent of Southern Nevada's citizens agreed that diversification should be promoted, according to a poll conducted by the Center for Business and Economic Research at University of Nevada, Las Vegas.
Furthermore, 73 percent agreed that it was "very" important to the future of Las Vegas' economy to attract new, nongaming businesses.
Most participants mentioned lack of affordable housing as a primary reason for greater economic diversification. For years, it was a pillar of the local economy, they said.
Only 14 percent of families with a median income of $56,550 could afford a home in Las Vegas in 2006, compared with 78 percent in 1999, according to an analysis by Restrepo Consulting Group.
Another problem is falling or stagnant median income levels. Seven of eight new jobs created in Las Vegas are minimum wage, according to the Lied report.
"We need to raise the median household income level by 50 percent," one participant said. "Seventy-five thousand dollars should be the median income level."
Contact reporter Hubble Smith at hsmith@reviewjournal.com or (702) 383-0491.