Boulder City's 'green' power push
December 25, 2008 - 10:00 pm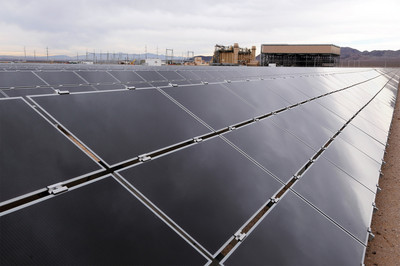 Boulder City, the community established for the builders of Hoover Dam, is securing its claim as a hot spot for renewable energy, including solar power.
Sempra Generation, a subsidiary of San Diego-based Sempra Energy, has announced the completion of the 10-megawatt El Dorado Solar Project, a second utility-scale solar plant there.
Acciona Solar Power, a majority owned subsidiary of Spanish giant Acciona Energy, started commercial operation of a 64-megawatt solar project called Nevada Solar One in June 2007 in Boulder City.
Hoover Dam, which straddles the Nevada-Arizona border, ranks as the state's biggest renewable-energy project. The dam, which was completed in 1936, generates 2,074 megawatts of hydroelectric power from the Colorado River.
Sempra's project is in the Eldorado Valley, which also is the site of Acciona's project. Acciona's plant, however, uses the sun to heat a fluid that boils water, spinning generators that create electricity.
Sempra's plant uses solar photovoltaic technology that converts sunlight into electricity. The energy from sunlight is transferred to electrons that become part of the electric current.
In addition to bragging rights, Boulder City gets revenue from the solar projects. The city uses lease revenue from land occupied by the power plants to boost its budget, Mayor Roger Tobler said.
The city has established an energy zone in the Eldorado Valley, which offers both abundant sunlight and access to two power substations.
"We can have a clean energy source that's good for us and the West," City Manager Vicki Mayes said. "We see this as our little niche."
Tobler agreed: "We're kind of leaders in the country (in solar power). We've got a lot of exciting things out there."
City officials have received proposals for developing additional solar power plants on 1,100 acres in the energy zone, a 2,000-acre solar energy expansion area and potentially a 2-megawatt solar project that would go up at a wastewater plant. The last project would provide electricity for the municipal electric utility.
Boulder City is reviewing proposals for both solar thermal projects and photovoltaic projects, but the mayor favors solar photovoltaic technology, because it requires virtually no water. Solar thermal plants do consume water, a limited resource in the valley.
In addition, Sempra Chief Executive Michael Allman said photovoltaic technology is a less-expensive source of power than solar thermal projects.
Sempra Generation next year may start expanding its photovoltaic plant to 60 megawatts, Allman said.
Acciona also has been discussing expanding its solar power generation capacity in Boulder City.
Nevada Solar One sells all of its current output to NV Energy, but Sempra's solar project at Boulder City calls for selling all of its current power production to Pacific Gas and Electric.
California state law requires utilities to obtain 20 percent of their electricity from renewable sources, such as solar power, by 2010.
"(California utilities) are hungry (for renewable power). No doubt about it," Allman said.
Solar energy developers face one big hurdle, the credit crunch. Although most large-scale projects have long-term power sale contracts with utilities, it's become increasingly difficult to secure financing because of the credit crunch, Allman said.
"It's gotten worse," Allman said. "It's very difficult generally to obtain financing for anything in the current market."
Contact reporter John G. Edwards at jedwards@reviewjournal.com or 702-383-0420.