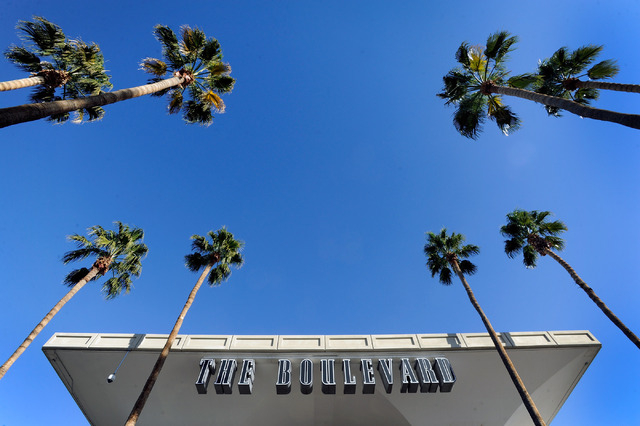 The announcement that owners of the Boulevard mall are planning a $25 million face-lift couldn't have come at a better time for transportation planners.
For those who missed it, developer Roland Sansone bought the mall in November and is working to sign tenants that will expand the retail profile to include new entertainment offerings. Sansone wants to add restaurants, a movie theater, a miniature golf course, a bowling alley and an ethnic supermarket.
He wants to pour some money into function and aesthetics, resurfacing and restriping the parking lot, putting in new landscaping, improving the food-court area with big-screen televisions and free Wi-Fi and making plans for a farmers market and a fenced playground.
Although indoor shopping malls no longer are the traffic magnets they were pre-2000, they maintain a place in Southern Nevada's retail scene, if for no other reason than they're a comfortable place to window shop on those brutally hot summer days.
The Strip's Fashion Show is still going strong, the Forum Shops at Caesars, the Grand Canal Shoppes at The Venetian, the Miracle Mile Shops at Planet Hollywood and Crystals at CityCenter rank among the highest in retail sales per square foot.
Henderson's Galleria at Sunset mall also recently announced plans for a $7 million face-lift that includes a new wing due in 2015.
It's clear that, at least in Southern Nevada, the indoor mall is here to stay.
But the Boulevard is in a great position to be a part of a major transportation transformation.
In the months ahead, we'll be hearing more about plans for a major transportation initiative emanating from what will be called the Las Vegas Global Business District, the current campus of the Las Vegas Convention Center. Unveiled more than a year ago, the $2.5 billion project will include a World Trade Center and a multimodal transportation center as well as a refurbishment of the convention center.
One exciting piece of the transportation component is that a number of shareholders have a seat at the table and have expressed their views about what would best accommodate not only tourists and conventioneers, but local employees who someday could park in a remote lot and take public transportation to their Strip workplaces.
The Las Vegas Convention and Visitors Authority is at the center of the planning because the transportation center would be on the convention center campus. Also involved are the Regional Transportation Commission of Southern Nevada, the Las Vegas Monorail Co., representatives of the Nevada Taxicab Authority and taxi company owners.
The RTC has commissioned a study to develop transportation options. It's not expected to be completed until the end of the year, but executives promise regular updates on its progress.
The RTC already views Maryland Parkway as one of the key north-south transportation corridors for the city and public meetings have begun to gather citizen comments on how the street can best meet the needs of the traveling public.
On one end of Maryland Parkway is the outskirts of downtown Las Vegas. At the north end is Cashman Center, a small convention, theater and stadium asset that's been shopped for better public use. On the south en is McCarran International Airport's Terminal 3, the city's primary air transportation hub.
In between: Sunrise Hospital and Medical Center and a cluster of medical offices; the University of Nevada, Las Vegas' main campus; a variety of retail outlets ranging from student-centered shops to ethnic restaurants to fast food to supermarkets — and the Boulevard mall.
The RTC has taken note of UNLV's importance to the equation and has opened a campus bus terminal. One key route serving UNLV is an express bus from Centennial Hills into downtown, then south to UNLV.
RTC officials are conscious of UNLV's efforts to build an on-campus football stadium, which would regularly draw thousands of people to the area, not only for Rebel football games but for concerts and special events in what could become the city's largest performance venue.
Maryland Parkway also intersects with five east-west streets, four that lead directly to the Strip — Tropicana Avenue, Flamingo Road, Harmon Avenue/Spring Mountain Road and Sahara Avenue. Desert Inn Road also is important because it's the most direct link to the convention center.
So what does all this mean and have to do with the Boulevard mall?
Plenty.
One of Sansone's plans is to repave and restripe the parking lot. The mall also has some small parking garages ideally located for shoppers.
There will be times when all that mall parking isn't going to be needed for shoppers, but would be ideally suited for parking for major conventions or special events at UNLV, whether at the Thomas &Mack Center or a new stadium.
Those attending conventions or special events on the Strip or at UNLV could benefit from the planned restaurants and entertainment outlets at the mall.
It's still too early to determine how Maryland Parkway will evolve as a transportation corridor. There's been talk of expanding traffic lanes, developing bicycle or pedestrian paths, incorporating special bus lanes, even building a light rail or trolley line.
It also hasn't been determined what would be the best way to connect the Maryland corridor with the Strip.
Many of those questions will be answered by the RTC.
But it isn't too late for mall developers and other retail leaders along the Maryland Parkway corridor to be invited to the table to coordinate the area's transportation future.