Boyd conference offers a peek at airline plans
September 7, 2014 - 7:54 pm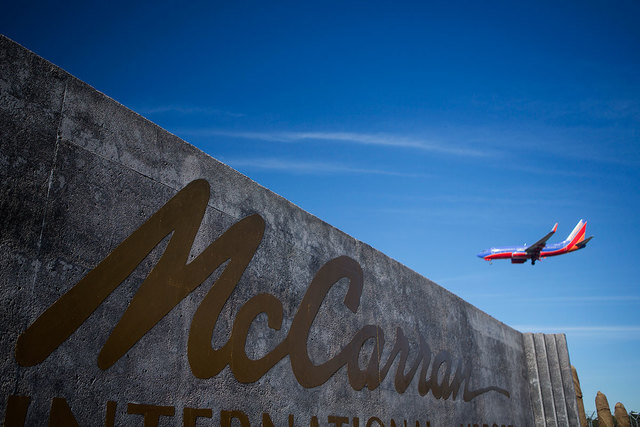 Airlines are notorious for playing it close to the vest when it comes to discussing plans consumers would be interested in. But when airline executives attend an event like the Boyd Group International Aviation Forecast Summit, they tend to open up.
Maybe there's a sense of competitive oneupsmanship in play. Whatever the reason, representatives of many of the airlines that serve McCarran International Airport talked up their companies and gave some hints about what's on the horizon when they spoke at last month's Boyd conference at the Wynn.
For several airlines, the big story is the effort to blend cultures and operating systems after a merger. Southwest Airlines, which gobbled up Air Tran, is in the midst of merger transition that will take months to complete.
For Southwest, the busiest commercial carrier at McCarran, the acquisition of Air Tran hasn't been a big event locally because Air Tran has had a small presence in Las Vegas. However, the absorption of Air Tran is setting the stage for bigger things in the future for Southwest.
Andrew Watterson, vice president of network planning and performance for Southwest, was short on details for what that means for Las Vegas, but if you read between the lines, it appears Southwest has some moderate growth planned.
Southwest is selling off all the Boeing 717s Air Tran flew to competitors and beefing up its own fleet of Boeing 737s.
"We have many points of strength in the United States, Las Vegas being one of them," Watterson said in an interview.
Southwest CEO Gary Kelly said in a recent earnings call that Southwest has identified 50 locations outside the United States that may be suitable for future Southwest growth. Some of those are in Mexico, Central America and northern South America as well as Canada.
"As we look at these new opportunities outside the continental United States, we evaluate which point of strength we want to plug into," Watterson said. "Once we open it up, adding other gateways is just a question of connecting the dots. For us, it's an exercise about evaluating each opportunity as they come and making that decision. So Las Vegas is not in a plan nor out of a plan per se, but it will be evaluated as we process each decision."
Unfortunately for Las Vegas, Southwest appears to have other priorities for international flying. Its initial Mexico flying, to Los Cabos, is through John Wayne International Airport in Orange County, Calif. In addition, Southwest is investing millions in an international terminal at Houston's Hobby Airport. The company's first international efforts have occurred from East Coast destinations to the Caribbean. Despite Las Vegas' efforts to expand international routes, Southwest appears to be looking at other opportunities.
McCarran will, however, be the beneficiary of the expiration of the Wright Amendment next month. When that occurs Oct. 13, Southwest will be able to fly nonstop between Las Vegas and Love Field in Dallas.
"We're very pleased with the advanced bookings for all of our Love Field flights, post-Wright Amendment," Watterson said. "Vegas gets some early and often flights. We're very pleased that after being big in Dallas and big in Las Vegas, we can finally connect them."
Ben Baldanza, CEO of Spirit Airlines, is bullish on Las Vegas and sees growth opportunities here.
"As we grow, we think Las Vegas is likely to get bigger for us," Baldanza said in an interview. "Some of it comes from creating customer bases in places we can fly to. So as we build other cities, it's logical to hook them up to Las Vegas. Also, there's some international potential out of Vegas for Spirit as well (to Mexico and Central America)."
Spirit has the quirky low-fare-high- fee model similar to Las Vegas-based Allegiant Air. Baldanza defends it as the way to go in leisure markets.
"One of the things that's true about customers who fly Spirit is that they spend less for their air travel, which means they have more money to spend where they're going and Las Vegas fits that perfectly," Baldanza said.
"Las Vegas is the vacation, getting to Las Vegas isn't so much the vacation. So this idea of spending less to get there, but when you get there, stay at a beautiful property or go to a higher dollar (limit) table because you save money on the airfare. Or maybe the difference of flying Spirit or not might mean whether you go to the show you want to see or not."
Allegiant, another disciple of the low-fare-high-fee model, has spent most of its efforts on the East Coast and in Florida lately, but it has a new city that appears to be a great fit for the airline — Cincinnati. When Delta downsized there and residents of southern Ohio and northern Kentucky took to their cars to get to lower fares, Allegiant swooped in with flights to four Florida destinations, Myrtle Beach, S.C., Phoenix and, in December, Las Vegas.
Allegiant President and Chief Operating Officer Andrew Levy said Cincinnati has been one of the best start-ups for the airline.
"It's a market that's just starved for low fares," Levy said. "Everybody there is so used to getting in their cars and going to Columbus and Dayton because that's where the low fares have been for so many years."
It will be interesting to see what happens when Frontier Airlines — which now uses the same model as Spirit and Allegiant — begins flying to Cincinnati, duplicating many of Allegiant's routes. Allegiant has a track record of early exits when competition arrives.
JetBlue Airways President and CEO Dave Barger all but guaranteed that as soon as his airline takes delivery of new Airbus A321 jets configured with flatbed seats in a service it calls "JetBlue Mint," it would put some of them on its flights between Las Vegas and New York's John F. Kennedy International Airport.
"There's definitely demand here for high-rollers," Barger said. "It's not a dense aircraft and most look to Las Vegas to 'dense it up.' That's not what this product is about."
Barger said in all likelihood, not every JFK-Las Vegas flight would have Mint service, but it would be an option.
Barger also had a conversation with JetBlue managers in Las Vegas about the prospect of nonstop service to and from San Juan, Puerto Rico. If that occurs, it would be the first nonstop service into the Caribbean from McCarran.
On the international front, Air Canada is ratcheting up competition with Las Vegas market leader WestJet by moving all its Las Vegas flights to its Rouge discount subsidiary.
WestJet was the first international carrier to fly more than 1 million passengers annually to Las Vegas in 2013 and in this year, WestJet is ahead of that pace.