BPS Partners tol build tri-level mall inspired by Times Square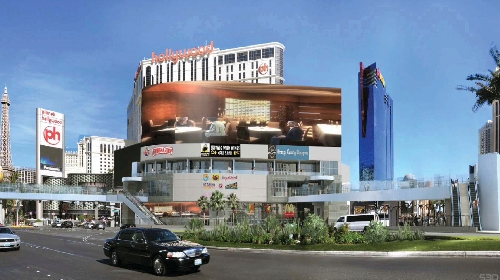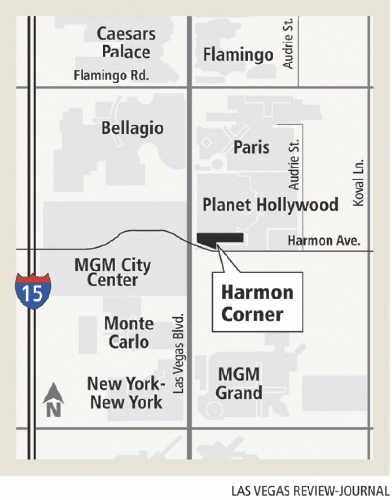 A $100 million retail and restaurant inspired by New York's Times Square complex is under way on the Strip.
BPS Partners is building a three-level, 110,184-square-foot enclosed shopping mall at the northeast corner of Las Vegas Boulevard and Harmon Avenue. The project's working title is Harmon Corner.
Real estate developer Brett Torino, who also is chairman of the Las Vegas division of FX Real Estate and Entertainment, leads BPS Partners. Penta Building Group is the general contractor.
BPS bought the 2.17-acre property from the county in February 2010; the development group paid $25 million cash for the land, or $11.57 million per acre.
"We looked at the corner strategically," Torino said. "It's immediately south of Planet Hollywood (Resort) and directly across from both CityCenter and (The) Cosmopolitan (of Las Vegas). An estimated 80,000 people per day will pass through the project."
The triangle-shaped center, designed by SH Architecture, will be anchored by a Walgreens. The 24-hour national chain drugstore has a 99-year lease to occupy 20,022 square feet over two levels. The steel-and-glass building will also feature 17 stores and boutiques, including three restaurants with outdoor patio dining. Venues will be as small as 725 square feet.
Harmon Corner seeks 10-year tenant commitments with average annualized asking rents of $230 per square foot, not including added common area maintenance fees.
"Preleasing has gone extremely well," leasing manager James Reding said. "We have 21 deals that we're evaluating for 17 spaces."
Harmon Corner connects to nearby CityCenter by an existing pedestrian bridge. Yet, construction plans call for building a second elevated bridge over Harmon Avenue for uninterrupted foot traffic along the east side of Las Vegas Boulevard.
BPS will donate the bridge to the county upon completion, along with median landscape and sidewalk upgrades. Both pedestrian pathways lead to a 2,400-square-foot sunlit atrium inside the second level of Harmon Corner. There are also 157 surface parking spaces.
"Foot traffic is substantial in and around that corridor, and the twin pedestrian bridges empty right into the mall," said Brian Gordon, principal with Las Vegas-based business advisory firm Applied Analysis. "There aren't a lot of retail amenities catering to the lower to mid visitor demographic on the Strip. Some tourists simply want a reasonably priced meal without the expense of being inside a higher-end property."
The 135-foot-tall center will also have $10 million video billboard that wraps around the building's crown. The 65-foot-tall by 320-foot long programmable sign functions like a high-definition flat-screen TV. It can display live feed video and three-dimensional images as well as paid advertising and video art. The sign, meant to mimic one like it in New York's Times Square, is Harmon Corner's signature design feature.
Harmon Corner is seeking a silver level Leadership in Energy and Environmental Design certification from the U.S. Green Building Council, a Washington, D.C.-based nonprofit advocacy group. LEED awards points for performance in different areas such as air quality, recycling and energy efficiency. The more points, the higher the grades, which go from basic certification to silver, gold and platinum.
The building will use adhesives and paints with low volatile organic compounds for better indoor air quality and low-flow plumbing to conserve water. The project will have recycled building materials, plus am energy-saving high-efficiency heating and cooling system. More than half of the center's interior will be illuminated by daylight, thereby reducing electrical costs.
"We knew what this project meant given its location, and we wanted to put our best foot forward," said Torino, who also designed and built Opportunity Village's Magical Forest. "It will be an absolute game-changer."
Harmon Corner began construction in February. The project, which is expected to open in time for Christmas, will create an estimated 120 retail-related jobs upon completion.
Contact reporter Tony Illia at 702-303-5699 or tonyillia@aol.com.
At a glance
• Cost: $100 million
• Size: 110,184 square feet
• Pedestrian Bridges: 2
• Levels: 3
• Acreage: 2.17
• Shops: 17
• Restaurants: 3
• LEED Rating: Silver
• Rents: $250 per square foot (average annualized)