Bulloch's big wheel long shot, and getting longer
October 12, 2013 - 5:38 pm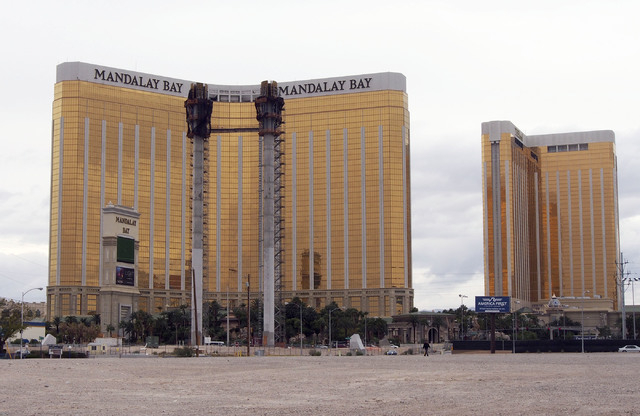 At the May 2011 ceremonial groundbreaking for the giant SkyVue Ferris wheel, Las Vegas developer Howard Bulloch displayed a 26,000-pound bearing, which he called an essential piece for making it go 'round.
By buying this bearing from a Beijing project that had foundered, Bulloch told attending dignitaries that SkyVue had more than a year's head start on anyone else — notably the High Roller in Caesar Entertainment Corp.'s Project Linq up the Strip — because the huge bearings take so long to custom-fabricate.
Industry analysts predicted that Las Vegas could support only one giant wheel, and the first to spin would be the sole survivor.
Fast forward to today. The High Roller is now a complete wheel a few months away from spinning tourists. The SkyVue site hasn't seen any activity in more than a year.
SkyVue has evolved into yet another unfinished Las Vegas project, alternately described as a giant concrete slingshot, an upside-down bicycle fork or two matchsticks. SkyVue faltered even as several other projects secured the financing to restart.
Ever the underdog, Bulloch's wheel appears to be an even longer shot now.
In January, SkyVue issued a statement through its former public relations firm that said all of the wheel parts would arrive in town "by May/June 2013 at which point a new crane will arrive as well for the final concrete pour and assembly of the wheel."
None of this happened.
Much of the work was supposed to take place at the plant of Kingman, Ariz.-based Laron Industries. That company's project manager, Ron Richards, did not return calls seeking comment.
There are neither equipment nor supplies now on the SkyVue construction site, across the Strip from Mandalay Bay. Some promotional wraps on the chain-link fence surrounding the property have become so ragged that they flap in the breeze. A lone security guard, watching over the otherwise empty office building that once housed the contractors, is the only person working there.
SkyVue did not return calls for comment. Seattle businessman Wayne Perry, who has kept the project alive through loans and equity investments estimated at $64 million, could not be reached for comment.
Unlike SkyVue, Caesars Entertainment landed financing for its wheel before construction started. The gaming giant's retail and entertainment district next to the Flamingo is scheduled to open in February; the High Roller is to start carrying riders in its gondolas around midyear.
On Twitter, SkyVue wrote in June, "Please be patient, news to come," in answer to someone who compared the project to the unfinished hulk of the Fontainebleau on the north Strip.
This followed a message two months earlier: "Looks like we still have something to prove. (Don't) worry exciting news is coming."
Also in June, one follower complained that the webcam focused on the site had gone off. "Just some minor technical difficulties. Back up soon!" SkyVue replied.
But the camera is still off.
County records show no new fresh financing for SkyVue since March, when Perry, through affiliates of his Shotgun Creek Investments LLC, injected a $4 million loan. This came after a $5 million loan in January, used to pay off contractors who had slapped liens on the property because of unpaid bills. One contractor filed a collection lawsuit in District Court.
Shotgun Creek is also ensnared in federal court litigation by businessman Tom Gonzalez, who was promised a $10 million payment as part of a Chapter 11 bankruptcy plan on the property a decade ago. Gonzalez was supposed receive the money after a sale of the property.
Shotgun Creek, a year-ago deposition by Perry states, has invested $15 million for a 6 percent interest in the project. According to the complaint Gonzalez filed in federal court against Shotgun Creek, this was enough to trigger the $10 million payment, called a transfer fee.
Shotgun Creek has moved for a verdict in its favor without a trial. It contends that as an outsider it has no obligation to pay Gonzalez.
Another lawsuit brought in 2011 by Gonzalez against Bulloch-related entities has gone against him to date, with part of it now in front of the 9th U.S. Circuit Court of Appeals.
Perry, a part owner of baseball's Seattle Mariners, made much of his fortune after AT&T paid $15.3 billion for McCaw Cellular Communications in the 1990s. Perry was one of McCaw's top executives.
In his deposition, Perry said he met Bulloch about five years ago, when both served on the Boy Scouts of America's national executive board. Perry is still the group's voluntary national president, and each of his four sons became Eagle Scouts.
In 2011, Perry said he asked Bulloch about buying a slice of SkyVue.
"I began to understand the scope and nature of the project, and I thought it would be an attractive investment," he said.
Because of his personal connection with Bulloch, Perry wrote the check on a handshake deal.
"(That was) probably not the first time I've made investments without documents but probably — definitely the first time I've ever made a $10 million investment without a document," he said.
In court papers, Gonzalez attorney J. Randall Jones alleged the investment was kept off the books to avoid triggering the payment to Gonzalez. But Perry testified that he did not know then about the circumstances that would force payment of the transfer fee.
At several junctures, Perry has bailed SkyVue out of trouble, notably in January and earlier to refinance a previous loan that had come due.
Besides the wheel, SkyVue's $300 million master plan included a two-story retail and dining building at its base plus a giant light-emitting-diode hub on the 500-foot tall wheel to generate advertising revenue. The design called for the wheel's axle to rest on the two concrete pillars, which now sit surrounded by scaffolding and temporary stairs and stand 247 feet tall.
SkyVue once talked about opening on New Year's Eve. But Bulloch partner David Gaffen told The Associated Press in September that the new opening date would be in mid-2015.
Contact reporter Tim O'Reiley at toreiley@reviewjournal.com or at 702-387-5290.