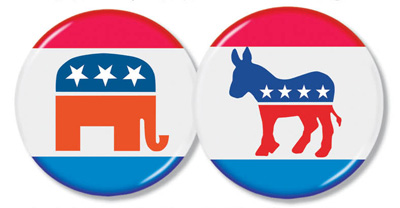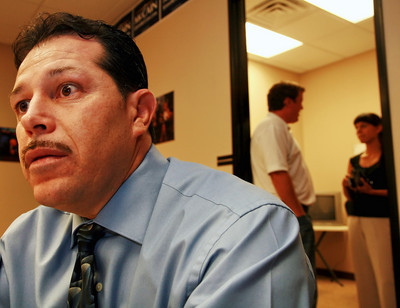 These days, there's no question whom Rose McKinney-James supports for president. On a recent afternoon she stood flanked by "Obama '08" signs and banners in the Democratic Party's campaign office on Martin Luther King Boulevard.
McKinney-James, a member of Sen. Barack Obama's Nevada steering committee, recalled how her support for the presumptive Democratic nominee began a year ago with a phone call.
"I got this call, and it was from somebody in Chicago. It was a woman on (Obama's) communities team," said the managing principal of renewable resources firm Energy Works Consulting. McKinney-James, a former Democratic candidate for Nevada lieutenant governor, was recruited by the Obama campaign to be part of the Illinois senator's efforts in the Silver State.
She had briefly met Obama's wife, Michelle, at the 2004 Democratic National Convention. But the Las Vegan was still not quite prepared for the next call from the Windy City.
"Then he called, which was really quite remarkable," she said of Obama. "He thought it would be helpful for me to get involved, so I agreed to do so."
McKinney-James became one of the first two members of Obama's local steering committee. Other local elites are among them: political consultant Billy Vassiliadis; Elaine Wynn; state Sen. Steven Horsford, D-Las Vegas; and Jenna Morton, co-owner of the N9ne steakhouse and Playboy Club at the Palms.
"I've been on the steering committee and been consulting for his national team," said Vassiliadis, who is providing his services as a volunteer.
Nevada is a battleground state, and business leaders are taking sides in what might become one of the most hotly contested presidential campaigns in generations. Groups are also coming together to back the presumptive Republican presidential nominee, Arizona Sen. John McCain. Among McCain's all-star lineup are Wynn Resorts Ltd. Chairman Steve Wynn, MGM Mirage CEO Terry Lanni, and Sig Rogich, a political and business consultant.
Agendas that help industries, cut or raise taxes, and spur the sagging economy seem to carry equal weight with plans to create a stronger foreign policy and the candidates' credentials and charisma.
Energy Works Consulting, McKinney-James' company, will benefit from Obama's plan to increase the use of renewable resources, and from the investment and access-to-capital programs the presumptive nominee has proposed for women- and minority-owned businesses, she said.
The business owner has already "maxed out" on personal contributions to his campaign, helped with debates, appearances and fundraising, and tries to drum up support for Obama at every opportunity.
"The production tax credits are crucial for making the financing for major (renewable) projects feasible," she said.
Across the valley, at a Republican campaign office on Pecos Road in Henderson, Steve Commander expressed skepticism about Obama's energy plans. The owner of the virtual mall company Quixtar said McCain is the only presidential candidate offering a timely answer to rising energy and gasoline prices.
"I think the American public is saying, 'We have more gasoline in the United States than Saudi Arabia has. Let's drill and drill now.' That will bring down the price by increasing supply," he said.
Commander scoffed at Obama's energy proposals, saying they are unrealistic and too far off.
"Mr. Obama is saying that it will take at least five years to do that, and it may be true, but wind power, solar power isn't going to power my car in five years," he said.
More than Obama's energy plan concerns Commander. He disagrees with what he considers a hard-line approach that President Obama would take with Canada and Mexico over the North American Free Trade Agreement. The 64-year-old also worries about the Illinois senator's proposal to increase the capital gains tax and how it would affect the economy and workers with 401(k) plans.
Obama has proposed increasing the capital gains tax above 15 percent for high-income investors. The candidate has said the increase would be more than 20 percent but less than 28 percent.
"When we get ready to retire, Senator Obama will say, 'Here, give me 28 percent of that.' That is not hurting the rich. That is hurting you and me, the lower class. They are the ones getting penalized," Commander said. "I don't think he knows what he is doing, economically."
Commander sends out e-mails and spreads the word to associates about the differences in the candidates. He gathered at the office used by the McCain campaign and other Republicans, with a group of local small-business people who have thrown their support behind the Arizona senator's "jobs for America economic plan."
Fely Quitevis, owner of Pahrump-based Precious Properties, is part of the local McCain business coalition. The Filipino immigrant thinks the economy could be strengthened by allowing skilled Filipino workers to come to the United States from the Middle East to take positions such as nurses and teachers. Quitevis, also 64, shares Commander's concerns about Obama's plan to raise the capital gains tax.
Not all businesspeople will say whom they'll vote for in November. Attorney David LeGrand is keeping his vote confidential, but said candidly that the Nevada business community's support for Obama's capital gains tax increase — and the candidate himself — may be hard to come by.
"Most business leaders believe Barack Obama is going to raise taxes across the board," he said, "and most business leaders believe John McCain will keep taxes low, which resonates."
LeGrand said tax fears could scare off Obama support.
"I think most larger companies and small- to medium-sized businesses are very tax sensitive," he said.
Nevertheless, there are plenty of businesspeople throwing their support behind Obama. Morton is one of them. Like McKinney-James, she received a call from Obama a year ago, asking for her support. She said she doesn't mind paying more taxes for education if it improves the community, and wishes more business leaders would look at it as an investment in the future.
"As a businessperson, I am educating future employees," she said. "I don't want to look six months down the road, but 15 or 20 years. This is my employee and my future patron. Without them, I wouldn't have a business to talk about."
Nancy Price, the manager of the Donald Pliner store, is backing Obama. Like Morton, she is a longtime Democrat. She has held fundraising events and mock caucuses at her home. She is in a lottery for the opportunity to attend the Democratic National Convention in Denver.
Price favors Obama's plan to make health care affordable for Americans if he is elected president.
"The price of health care here is outrageous," she said. "I would like to see an end to the war in Iraq and universal health care."
David Stone is mum on whom he is backing, but the president of the Nevada Association Services said that getting the federal deficit under control is crucial. Nonbusiness causes also drive Stone: He often visits Washington, D.C., to lobby for more support for Israel and sanctions against Iran.
Who the best candidate is for small business triggers debate between Obama and McCain supporters. Re/Max real estate agent and nonprofit group president José "Angel" Ortiz said it is McCain who will do better by small-business owners. The naturalized U.S. citizen was born in Mexico, and said he is breaking with many of his fellow immigrants by supporting the Republican candidate.
"One of his plans is to offer tax cuts to small businesses," said Ortiz, who is a member of the McCain small-business coalition. McCain, Ortiz believes, will make the paperwork requirements easier for those starting a small business and will strengthen the economy by promoting free trade.
Ortiz, who is president of the Las Vegas branch of the charitable nonprofit Federación de Clubs Unidos Zacatecanos, said that after every meeting adjourns, he discusses his support for McCain. He sends e-mails to associates hoping they will join him in voting Republican in November.
The Illinois senator's tax plans will help small businesses, countered McKinney-James. She said Obama will eliminate the "double taxation" faced by small-business owners who pay personal income tax and payroll tax.
McCain's regional communications director, Rick Gorka, said the Republican candidate is the one companies need when facing tough times.
"It's his pro-business stance," Gorka said. "(McCain) understands in tough economic time you don't tax small businesses."
McKinney-James, who was an Obama delegate for the state and county conventions, sees Obama as a friend to small firms.
"Big business gets all the attention, which I can appreciate because it drives the economy, but especially here, small business drives the economy, too," she said.
Contact reporter Valerie Miller at vmiller @lvbusinesspress.com or 702-387-5286.
John McCain on some key issues ENERGY: The McCain campaign says the federal moratorium on drilling on the Outer Continental Shelf blocks increased energy exploration and production. McCain's Lexington Project proposes cooperating with the states and the Department of Defense to "develop these resources" and lessen the country's dependence on foreign oil and to reduce the trade deficit, the Arizona senator's campaign Web site states. As part of the project, McCain would also offer a $300 million prize for anyone who develops the technology for a battery-powered car. He also would offer a $5,000 tax credit to every consumer who buys a zero-carbon emission car. HEALTH CARE: McCain calls for expanding the health care system beyond employer-based coverages. Workers would still have that option, but families would receive a refundable tax credit of $2,500 or $5,000 to offset the cost of insurance. The money would be sent directly to the insurance company of their choice. Families with cheaper policies can put the additional credit in a Health Savings Account. McCain also wants to make insurance more portable, when workers go from job to job. Barack Obama on some key issues ENERGY: Obama has proposed investing $150 million over the next 10 years to develop the next generation of biofuels and infrastructure, investment in hybrids and convert to a digital electricity grid. The candidate has also proposed creating a green technology fund with a $10 billion annual investment, according to the official Obama campaign Web site. HEALTH CARE: Obama's health care plan would allow small firms to buy into the low-cost plans similar to those offered to members of Congress. Employers would be reimbursed a portion of the health plans above the catastrophic costs if the employers use the savings to reduce workers' premiums. SMALL-BUSINESS TAXES: Obama promises to reduce the double taxation burden on small businesses, which pay both the payroll and self-employment tax. He also pledges to eliminate all capital gains taxes on business start-ups to encourage job innovation and growth.