Caesar's titanic debt will go on
October 20, 2013 - 12:53 pm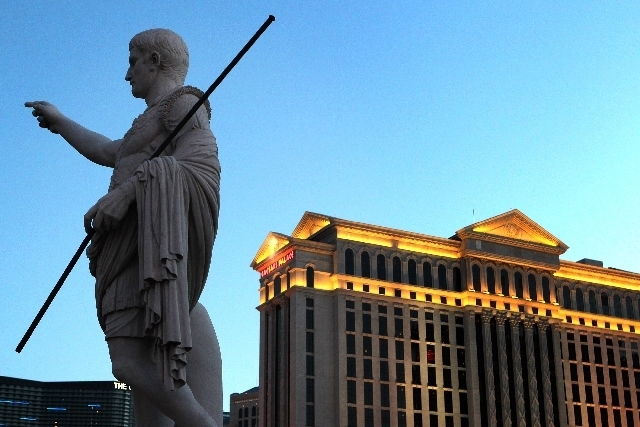 Caesars Entertainment Corp. has a bigger debt load than what Detroit owes its creditors.
And we all know what's happening in the Motor City.
In July, Detroit became the nation's largest municipality to file for Chapter 9 bankruptcy protection when its $18 billion in obligations finally became too cumbersome.
Several Wall Street analysts have opined that the U.S.' largest casino operator could be headed down a similar path.
Caesars carries a gaming industry high of $23.5 billion in long-term debt on its books, much of it accrued when the company was taken private in a $30.1 billion buyout by Apollo Global Management and TPG Capital in 2008.
The recession played havoc on casino operators nationwide. Caesars, with more than 50 casinos in 13 states, took on the full brunt of the storm.
The company felt the pressure in its major destinations, notably Las Vegas, where it owns 10 resorts on or near the Strip, and Atlantic City, where it operates one-fourth of the 12-casino market.
Despite several corporate moves in recent years to right the ship financially, Caesars is still taking on water. In 2012, the company collected revenue of almost $8.6 billion, but suffered a net loss of $1.5 billion.
Results aside, the company's debt is center-stage. Earlier this year, Moody's Investor Service called Caesars' debt "unsustainable."
At a Nevada Gaming Control Board meeting in July, Caesars Deputy General Counsel Michael Cohen admitted the company's debt — $10 billion higher than that of MGM Resorts International — was large, but a burden that could be handled.
"We think it's manageable, but others disagree," Cohen said.
Caesars took another step toward making the debt a little more controllable by raising $1.18 billion when it placed ownership of Planet Hollywood Resort, Caesars' interactive gaming division and an under-construction Baltimore casino into a new publicly traded holding company.
Caesars Entertainment owns 57 percent of the newly christened Caesars Acquisition Co. and holds an option to buy back the other 43 percent in three years. Caesars stockholders who chose to participate in the sale purchased one share of the holding company for each share they owned in the parent company.
The problem is that the new business, which will raise money for Caesars' development projects, such as new U.S. casinos and Internet gaming opportunities, does little to alleviate the $23.5 billion hanging over the balance sheet.
"While the deal structure (and) terms of the rights offering are complex, and questions about Caesars' capital structure will likely persist, we believe the near-term bias for Caesars equity shareholders is to the upside given the opportunity to own (the holding company) at a very attractive valuation," Eilers Research gaming analyst Adam Krejcik told investors.
As for the aforementioned debt, Caesars announced a restructuring plan in September for at least $4 billion that one company insider described as the "most significant" concern in the investment community. Maturity dates covering those loans are coming due.
The company is securing new debt — with maturity dates starting at 2020 — and backs the loans with some of its newer Strip projects, including the 668-room Octavius Tower at Caesars Palace and the under-construction $550 million Linq development.
A stock sale of more than 10 million shares that raised $200 million was part of the deal, which reduced Apollo and TPG's majority stake in Caesars from 70 percent to 64 percent.
On Tuesday, Caesars filed a 900-page document with the Securities and Exchange Commission explaining the debt restructuring. Just a little easy reading for the financial community.
"Kicking the can down the road," "putting things off for another day," or the time-tested, "rearranging the deck chairs on the Titanic," are idioms that could describe Caesars' actions.
The restructuring does nothing to reduce the debt.
Despite the enormity of its obligations, Caesars is expanding.
Last year, Caesars and partner Rock Gaming opened two casinos in Ohio and added a slot machine-only casino to a racetrack near Cleveland. Rock Gaming and Caesars are partners in the $400 million Horseshoe Casino Baltimore, which is expected open next year. Also, Caesars, in a partnership with the Suffolk Downs Race Track in Boston, is considered front-runner to win a lone gaming license and build a $1 billion hotel-casino in Massachusetts' largest city.
The Linq, which includes 300,000 square feet of outdoor retail, dining and entertainment attractions, and is anchored by a 550-foot High Roller observation wheel, embraces a belief that adding nongaming elements offers a vehicle to grow company revenue outside of the casino.
Newmark Grubb Knight Frank gaming analyst Brent Pirosch told Bloomberg News that Caesars was embracing "the new model in Las Vegas."
Meanwhile, Krejcik said the real growth area for Caesars is its interactive division, which operates the World Series of Poker, the pay-to-play wsop.com poker site in Nevada, and is seeking a license for real-money online gaming in New Jersey. The company plans to expand the brand as other states legalize Internet gambling.
The real moneymakers are the social and mobile casino games offered through Caesars' two wholly owned subsidiaries, Playtika and Buffalo Studios. In 2012, total interactive revenues were $193.3 million. Krejcik estimates division revenues could reach $283 million this year. Social gaming customers pay nominal fees to increase their "virtual" chip stacks.
"Caesars is generating nearly half of its social casino revenues from mobile and tablets, which we believe is crucial given the secular shift towards mobile gaming," Krejcik said. He sees Caesars collecting $407 million to $488 million from an estimated industrywide $3.7 billion in social gaming revenue by 2015.
But can social gaming help pay down Caesars debt? That's going to take a lot of tokens.
Howard Stutz's Inside Gaming column appears Sundays. He can be reached at hstutz@reviewjournal.com or 702-477-3871. Follow @howardstutz on Twitter.