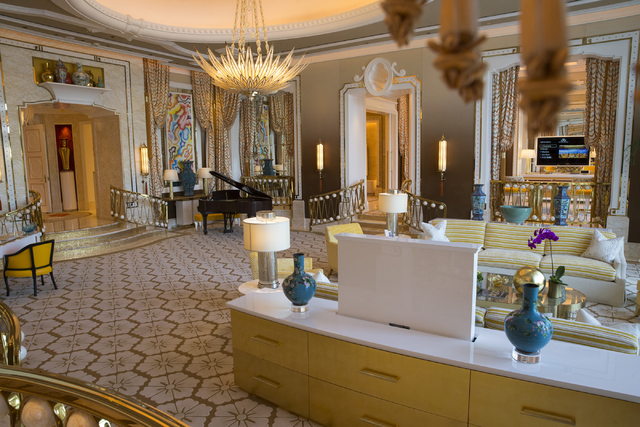 MACAU
Whenever your employer invests big resources in an out-of-town trip, it's important to come back smarter than when you left.
With that in mind, here are nine takeaways from the week photojournalist Erik Verduzco and I spent in Macau for Tuesday's opening of the Parisian Macao.
There's a lot to be said for "everything under one roof."
Las Vegas Sands Chairman and CEO Sheldon Adelson emphasized that there are 13,000 hotel rooms, 900 stores and more than 2.5 million square feet of meeting space connected and under one roof in his Macau Cotai Strip properties.
Think about that. Everything Cotai — the Venetian, the Parisian, the Cotai Central hotels — are linked together. Some are joined by unremarkable corridors with signs pointing in the direction of the next attraction. Others are joined by hallways filled with retail.
The Venetian, Parisian and Four Seasons are on the opposite side of the street from Cotai Central, so that link is an enclosed bridge over the Strip.
Erik and I often walked through those corridors to avoid either Macau's intense heat and humidity or a rain shower.
Great idea and a great amenity.
While Macau kicks Las Vegas' behind in gambling revenue, it has a long way to go to touch our entertainment product.
Three words: Cirque du Soleil.
While there are plenty of Cirque haters out there, it's hard to deny how successful some of the longtime shows have been for Las Vegas.
Macau doesn't have anything that touches them.
As for headliners, it's hard to compare Macau's and Las Vegas' offerings because it's difficult to determine just how big some of the Asian stars are.
Wynn Palace is the most spectacular resort in the world.
I didn't think I was going to like the cable car "SkyCabs" idea, but once on board, it seemed like a pretty nice way to see the property's fountain show.
Steve Wynn stole liberally from Bellagio, Wynn and Encore concepts at Wynn Palace but rethought them on a much grander scale.
It's hard to argue with that level of quality.
It's not light rail if it has tires.
I was thrown a little by my research about Macau's light rapid transit system because the American casino executives operating in Macau have always called it light rail.
They will be people-movers — driverless vehicles on tires, kind of a poor man's light rail.
Macau is working on mass transit. So what about us? The rubber meets the road on Macau's system, but they at least are going to have something in two years.
Isn't it about time that some action is taken on a light-rail system for Las Vegas? We've only needed it for about 15 years now. It looks like Macau's going to beat Las Vegas on this visitor amenity.
Will mixing in kids help or hurt Macau?
Remember Las Vegas' "kid friendly" movement in the early 1990s? A total disaster.
Thanks to government pressure, Macau is leaning in that direction today. While most of us love children and their presence, mixing kids with casinos is a bad combination Macau will soon realize.
The Chinese are coming.
One of my former editors often reminded me that I've been to Macau more often than most of the journalists in our market, and it's pretty astonishing how much things have changed there since my first visit in the early 2000s.
There's far more Chinese than English spoken there and in Hong Kong, a reflection of the transfer in sovereignty that occurred in Hong Kong in 1997. Macau underwent a similar transfer from Portugal in 1999.
It seems the tourism researchers are right — the Chinese are getting their bearings when it comes to travel. Expect to see that in Las Vegas after the launch of Hainan Airlines' Beijing-Las Vegas flights later this year.
MGM Macau's Grande Praca reminds me a lot of the Bellagio Conservatory.
Most of us love taking our visiting guests to the Conservatory at Bellagio because it's a fresh and unexpected surprise to what one expects to see at a casino.
The Grande Praca is a similar setting at MGM Macau, a replication of an old Portuguese square.
MGM has built a gigantic cylindrical fish tank in the center of the action, and in September butterfly art pieces were suspended from its ceiling.
It's lovely.
Is Macau retail oversaturated?
Many of the Sands Cotai properties are linked together with retail malls.
One of the highlights of the tourism experience in Macau and Las Vegas is shopping. Malls and strips are filled with high-end retail at Wynn and MGM properties as well. It's not much different here.
As Erik and I moved around, we asked each other: Does Macau have too much retail? Or is it one of those things that you can never have enough of?
Based on the number of customers we observed in many of the stores, we're leaning toward the former.
The Eiffel Tower is going to be a huge hit.
The first time I went to Asia, I toured Taiwan and was amazed that my host took me to a theme park — acres and acres of re-creations of the world's greatest landmarks. Within a few feet of each other one could see the Statue of Liberty, Mount Rushmore, the Sphinx and the pyramids, the Taj Mahal and, yes, the Eiffel Tower.
There seems to be some cultural phenomenon at play that compels the Asian visitor to want to see and touch the places they've only gazed upon in books.
I expect the Eiffel Tower at the Parisian will be no different.
One of the Sands public relations professionals in Macau, Mildred Wong, said she anticipates Macau's Eiffel Tower to be the site of many a wedding because of the romance the tower and the city of Paris evoke.
I've got to believe she's right.
The Review-Journal is owned by the family of Las Vegas Sands Corp. Chairman and CEO Sheldon Adelson.
Contact Richard N. Velotta at rvelotta@reviewjournal.com or 702-477-3893. Follow @RickVelotta on Twitter.
RELATED
Macau faces transportation issues similar to Southern Nevada
Fireworks greet opening of $2.7B Parisian resort in Macau