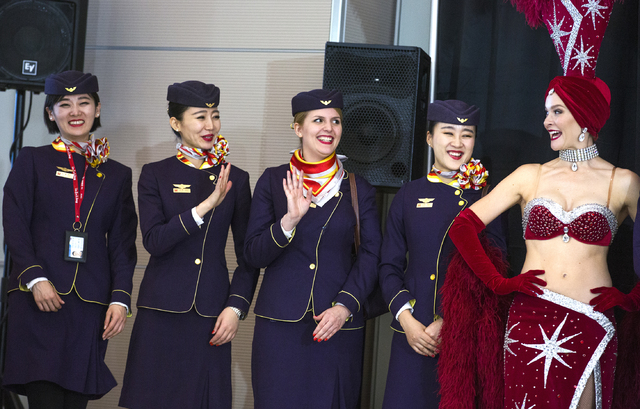 At the risk of tipping off Southern Nevada's tourism rivals, it's remarkable that Las Vegas' air service recruitment model hasn't been replicated by other communities across the country.
Efforts to persuade airlines to fly their planes on long-haul overseas routes is a never-ending challenge that came into focus last week when Mike Boyd brought his annual Aviation Forecast Summit to Las Vegas for the third time in four years.
In many destinations, it's either an airport or a destination-marketing organization that recruits airlines.
Las Vegas has pioneered a system in which the Las Vegas Convention and Visitors Authority and McCarran International Airport work together to make the city's case for nonstop air service from faraway places.
It's a high-stakes game with huge rewards. Airlines are being asked to make multimillion-dollar investments to put Las Vegas on their route maps. It's been well-documented that foreign travelers are the most lucrative guests to attract because they tend to stay longer and spend more.
But in the years ahead, the stakes will grow even higher as Las Vegas positions itself beyond being just the entertainment capital of the world but also as a sports hub with NHL hockey, NFL football and a second NASCAR race weekend and being the boxing and mixed-martial-arts center of the universe.
The business and convention piece is churning along with the upcoming major expansion of the Las Vegas Convention Center. MGM Resorts International, Wynn Resorts Ltd., Caesars Entertainment Corp. and maybe even up-and-comer Golden Entertainment are building or considering additional convention facilities.
Some properties are looking to make Las Vegas a must-see esports environment.
Whatever the attraction, the authority and McCarran will sell it to convince airlines that Las Vegas is the place to land their big airplanes.
Brig Lawson, who heads the authority's airline recruitment team, says it's becoming more challenging as rivals recognize the secret sauce Las Vegas has invented.
"You don't want to kick the tiger," added Chris Jones, Lawson's McCarran counterpart. "If they're going to sleep, let them sleep."
Some cities have gone the subsidy route, forming limited liability companies and 501(c)(3) nonprofits to guarantee profitability to a carrier leery of testing the waters.
Jones said Las Vegas hasn't and won't do that, preferring instead to sell the city for what it is — an entertainment and sports mecca that is centered nicely among a handful of national parks and, by the way, has a ton of casinos with nightclubs, restaurants and retail outlets.
One of the challenges on the horizon are joint ventures and relationships between U.S. legacy air carriers with Chinese airlines.
The danger to Las Vegas is that airlines like United, American and Delta, which have teamed with Air China, China Southern and China Eastern, might encourage overseas flights to their hubs at San Francisco, Los Angeles and Seattle and not Las Vegas.
Boyd said last week there is evidence that more foreign travelers are making Las Vegas their U.S. gateway and branching out to other destinations.
Lawson and Jones will make the rounds at World Routes 2017, a kind of airline-airport speed-dating event later this month in Barcelona, Spain.
Their mission: to persuade the Chinese carriers to follow the success of Hainan Airlines with its three-times-weekly nonstop service between Beijing and Las Vegas.
Stay tuned.
Contact Richard N. Velotta at rvelotta@reviewjournal.com or 702-477-3893. Follow @RickVelotta on Twitter.