Gulf Coast hospitality, charm can't be washed away
August 29, 2015 - 2:26 pm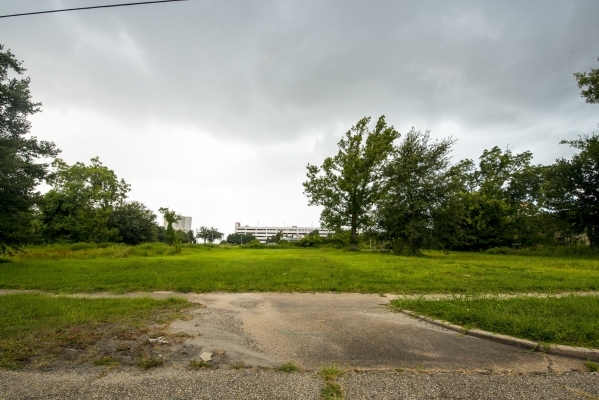 BILOXI, Miss. — Ten years ago, I learned firsthand about Southern hospitality in the most unlikely of settings.
Hurricane Katrina blasted the Gulf Coast on Aug. 29, 2005. Two months later, I found myself visiting the Barhanovich family at their Point Cadet, Miss., home — or what was left of it.
Much of the working class Point Cadet community was laid waste by the storm. About 1,000 homes were destroyed or damaged. The area resembled a war zone. There was little in the way of services. Bridges that connected Biloxi with the rest of Mississippi were demolished.
The Barhanovich home, behind St. Michael's Catholic Church, had been in the family for decades. The two-story house was knocked off its foundation and a wall collapsed. Relief workers deemed the building unsafe.
Just behind the home sat Casino Magic's gaming barge that had been carried by the 35-foot storm surge to the north side of Highway 90. It smashed into a small retail center before coming to rest next to the church's distinctive circular white chapel.
Hurricane Katrina took the Brahanoviches' home but not their resolve. The horror of the storm was still fresh, but the family befriended a visiting journalist and a photographer. They told stories of Point Cadet, which had been a mix of shrimp boat docks and seafood processing plants before the casinos arrived in the mid-1990s.
Their hospitality and candor were refreshing.
"Southern hospitality is real. It's not an act, especially on the Gulf Coast," said Beau Rivage General Manager Marcus Glover, a native of Aiken, S.C. He was general manager of Grand Biloxi (now Harrah's Gulf Coast) from 2006 to 2008. "There is resilience on the Gulf Coast. They want to control their own circumstances."
Caesars Entertainment Operating Co. CEO John Payne understands that resilience. Payne was Harrah's regional president when Katrina struck New Orleans and Mississippi. His weekend vacation home in Pass Christian, Miss., was lost to the storm. He didn't rebuild the house but has not ruled it out.
"People have a great passion for that coast," Payne said. "It's a special place."
The casino companies operating in Biloxi rebuilt the gaming industry. In turn, the area's tourism market was revived.
Now, they are committed to lead another rebirth, one that returns the character and personality to an area lost by the storm surge.
"Biloxi needs to be authentic to itself," Mayor Andrew "FoFo" Gilich said. "We're not New Orleans. We have our own look and feel."
This was my first trip to the Gulf Coast since the one-year anniversary of the storm in 2006. On that day, Beau Rivage reopened after spending 12 months repairing hurricane damage.
I drove by the empty Point Cadet lot where the Barhanovich home stood. A solitary oak tree remained in the backyard. Overgrown grass covered the the driveway. Similar scenes could be found throughout much of the Gulf. On some home sites, rusting mail boxes stood alongside driveways leading to nowhere.
"Some of these home sites were passed down through generations. They were family homes, and some didn't have insurance," said Mary Cracchiolo, regional director of communications for MGM Resorts International, which owns the Beau Rivage. She has lived on the coast for 27 years.
After Katrina, insurance companies required homes to be built 15 feet above ground.
"The building code changes added a lot of expense to the construction of a home and made it tough on residents," said IP Biloxi General Manager Duncan McKenzie, who has been involved in the casino industry and the community since the 1990s. "That's why we will see a lot more businesses develop on the beachfront that we will see residences."
Casinos changed the Gulf Coast landscape. The resorts brought hotels, restaurants and other amenities. They spurred development along Highway 90, a picturesque four-lane roadway connecting the Mississippi towns of Waveland, Bay St. Louis, Pass Christian, Long Beach, Gulfport, Biloxi and Ocean Springs.
Restaurants, shops, family attractions and other businesses sprouted during the pre-Katrina building boom. Stately Southern mansions — some dating to the 1800s — occupied sites along the roadway with spectacular views of the Gulf of Mexico.
Katrina destroyed much of that charm. The casino industry wants to bring back the personality.
"What will strengthen the Gulf Coast are great operators and great resorts," said Glover, who drove down Highway 90 this summer for the first time in seven years.
Many commercial areas still have gaping holes. There are at least half-dozen Waffle House restaurants between Bay St. Louis and Biloxi, but development is spotty.
Sharkheads Souvenir City, which opened in 1973, was destroyed by Katrina. It was rebuilt in 2012 with its familiar bright pink exterior and a 32-foot tall open mouth shark entrance. Beauvoir, the home of Confederate President Jefferson Davis and a Confederate history museum, was partially restored after the hurricane.
Meanwhile, home sites remain empty, overgrown with weeds and foliage.
"The last decade was about getting the casinos back," Payne said. "Now, we're moving into the next phase of the Gulf Coast's return."
Howard Stutz's Inside Gaming column appears Wednesdays and Sundays. He can be reached at hstutz@reviewjournal.com or 702-477-3871. Find on Twitter: @howardstutz