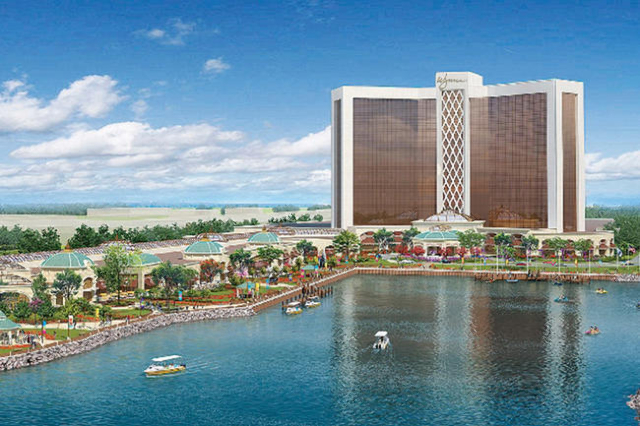 Steve Wynn has talked in glowing terms about his company's plans to build a resort complex along the Mystic River in the Boston-area town of Everett.
During a quarterly earnings conference call last summer, the chairman and CEO of Wynn Resorts Ltd. described the $1.7 billion waterfront development as "the largest single private investment in the history of (Massachusetts)."
The trouble was that Boston wanted a larger piece of the action.
Wynn already agreed to pay the city $1.6 million annually, a requirement imposed by the Massachusetts Gaming Commission. The package also included a potential $25 million toward helping alleviate traffic in the already bottle-necked Sullivan Square area, which is expected to become further congested once the casino opens across the river.
The hostilities ended last month. Wynn Resorts and Boston's mayor struck a deal in which the city would drop its legal challenges in exchange for $6 million over 15 years.
Company officials said the agreement was a small price to pay for a resort that could produce more than $845 million in annual casino revenue, which would translate into $260 million in yearly gaming taxes. The project is expected to generate 4,000 construction jobs and more than 4,000 permanent positions.
"Our agreement with Boston will unlock economic development and jobs for the entire region," according to a company statement.
Union Gaming Group analyst Christopher Jones said the deal ended concerns about the project. Once planned to open in 2017, Wynn Resorts says the 600-room, 24-story Wynn Everett will be unveiled a year later.
"It's a good deal because it removes the friction," Jones said. "Both sides kind of acquiesced."
Macquarie Securities gaming analyst Chad Beynon said the investment community was hopeful there would be a resolution. Massachusetts legalized three Las Vegas-style resorts and a slot machine-only casino in 2011. So far, just the slot parlor has opened.
"Most of us were somewhat sick of the Boston situation and knew that it be resolved for the right price," Beynon said. "This was a big step, but it was a long time coming."
Boston was spurned two years ago when state gaming regulators awarded the single casino license for the area to Wynn's project in Everett. The panel rejected a competing development adjacent to the Suffolk Downs Race Track in East Boston, which subsequently closed.
Boston Mayor Martin Walsh took office in 2013 and immediately focused on the casino issue. A state judge in December threw out a lawsuit that attempted to halt the Wynn project and the city ran up almost $2 million in legal fees and expenses.
Steve Wynn couldn't understand why the mayor was unwilling to accept the gaming regulators' decision.
"It may sound laughable at this point and in a perverse way it is a comedy," Wynn said during the company's third quarter conference call when asked about the Boston legal maneuvers.
"But it did cause us delays," Wynn said. "Happily, they're pretty much behind us now."
That same month, Wynn Resorts began a $30 million remediation effort to clean up the heavily contaminated 33-acre site, which housed chemical plants and was inaccessible to the public. The company is footing the bill without state help.
Jones said Wynn Resorts needs just a few more approvals before construction can begin in earnest.
"Overall, we believe that things should be more or less in full swing by April 1, or earlier," Jones said. "Despite this, the opening date still appears to be sometime in early 2018. At which point, it will be a major force within the regional gaming segment."
In January, Wynn hired Boston-based Suffolk Construction as the general contractor for the development, which will include restaurants, retail, convention space and other public attractions, including a river walk path and access to the harbor area.
"We build resorts that are much more extravagant and attractive than they would be were it not for the fact that somewhere down the hall there's a gaming room," Steve Wynn said in July.
Boston's mayor, in an interview with the Boston Globe, said he met privately with Wynn last fall. Before that sit-down, it was a war of words, with Walsh raising charges of corruption and Wynn threatening a defamation lawsuit.
All that is in the past.
"We are eager to turn the page in our relationship with the city of Boston and begin a new chapter that will culminate with a beautiful, five-star resort overlooking Boston Harbor," the company said in a statement.
Howard Stutz's Inside Gaming column appears Wednesdays and Sundays. He can be reached at hstutz@reviewjournal.com or 702-477-3871. Find on Twitter: @howardstutz