How will legalized recreational marijuana affect the gaming industry?
December 17, 2016 - 7:31 pm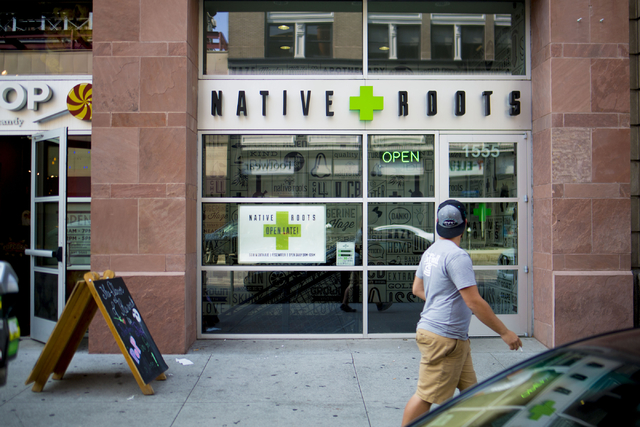 It's a cinch that if you're walking the Strip on New Year's Eve you'll come across at least one person — maybe dozens — who will be toking in the new year with a celebration of the arrival of legalized recreational marijuana in Nevada.
Not only will they be ushering in a fresh 12 months of 2017, but also a new chapter for our state's gaming and tourism industry.
Depending on which side of Question 2 you sat, you're either embracing Jan. 1 or dreading its arrival.
How we treat the arrival of recreational marijuana is going to be the subject of continuing debate through 2017 as leaders sort out all the regulatory details of public policy. And it's not a debate restricted to Nevada. Other states that generate tourism and gaming revenue are fielding the same types of questions.
The Nevada Gaming Control Board and Gaming Commission got the ball rolling with a pair of public hearings last month and it was clear from those sessions that there will be some interesting twists and turns on the horizon.
The line in the sand drawn by gaming regulators is based on federal law. The control board and the commission say that because the federal government views marijuana use as illegal, so do state gaming regulators.
The control board holds an enormous hammer over the heads of all gaming licensees — involve yourself with marijuana use and your privileged gaming license could be at risk.
Nevada Gaming Commission Chairman Tony Alamo, who's been on the periphery of the debate for years as a doctor when medical marijuana first appeared in Nevada, said workshop meetings by the control board and the commission were designed to give direction to the gaming industry and he thinks that mission was accomplished.
"The industry is looking to see what our general direction is," Alamo said after the meeting. "If you read the transcript or you were here in person, you'd see that there's a tilt here. And the tilt is that there's a federal law and we expect licensees to follow the federal law. It gives brick-and-mortar locations direction to do the right thing."
But what does doing "the right thing" mean? Does it mean busting guests who consume marijuana in hotel rooms? Does it mean zero-tolerance policies on the hiring of employees?
"If you knowingly break federal law or are aware of someone breaking federal law, they should be doing something toward that," Alamo said. "The board was clear and I think the conversation we had on that by the commission gave a tilt in that same direction. I think that's what people need to glean from the discussion."
While many resort properties already have policies against in-room smoking, the issue of how to deal with food-based consumable marijuana is different.
Will the resorts issue new policies discouraging in-room consumption? That, of course, opens the debate over what can or should be permitted in a rented room. Underage people drink in their hotel rooms. How closely do resorts watch for them?
In Colorado, where citizens have been dealing with recreational marijuana use since 2012, a new cottage industry has developed — pot-friendly rentals. If you go online, you can find travelTHC, Weed Rentals and guides to "420-friendly camping." (The number 420 and April 20 is significant in pot culture.) Some marijuana-friendly establishments are known as "bud and breakfast" inns.
At last month's meeting, a spinoff issue on rentals was raised by former Clark County Sheriff Bill Young, now a Station Casinos security executive. He told regulators of recreational vehicles parking in populated areas in Colorado and charging admission to the pot-smoking lounge on wheels. His concern is that such an industry could pop up and begin populating the resort corridor.
Nevada isn't alone on the question of how legalized recreational marijuana could affect the gaming industry. An article in Gambling Compliance tells of how Massachusetts gaming regulators have begun looking at the implications of legal pot when casinos developed by Wynn Resorts and MGM Resorts International open in the next two years.
The story quoted Gaming Commissioner Enrique Zuniga on one bright side in Massachusetts.
"The good news is that our casinos are non-smoking and they will continue to be non-smoking, regardless of what materials you are smoking," he said.
As for what happens in Nevada once the marijuana law takes effect Jan. 1, Alamo concurs that the entire regulatory process is a work in progress.
It's clear that we won't be seeing any marijuana smoke shops in resort retail areas similar to the cigar bars that have become popular in some establishments. Don't count on marijuana edibles being sold in any stores on resort property — they wouldn't anyway, since government officials are now sorting out how legal marijuana will be sold and distributed.
Each company will likely develop policies regarding pre-employment drug testing and how guests will be informed of marijuana use on property. Alamo said the obligation of informing visitors will be on the industry.
"They're going to have to start looking within themselves," Alamo said.
"No one knows their business better than they do and no one knows their employees better than they do and no one knows their business law better than they do. I think the industry will be fine."
Contact Richard N. Velotta at rvelotta@reviewjournal.com or 702-477-3893. Follow @RickVelotta on Twitter.
POT NEWS
To read more about marijuana issues in the Las Vegas Review-Journal, go to our Pot News page.