IGT selling once-controversial corporate jet
August 18, 2015 - 4:40 pm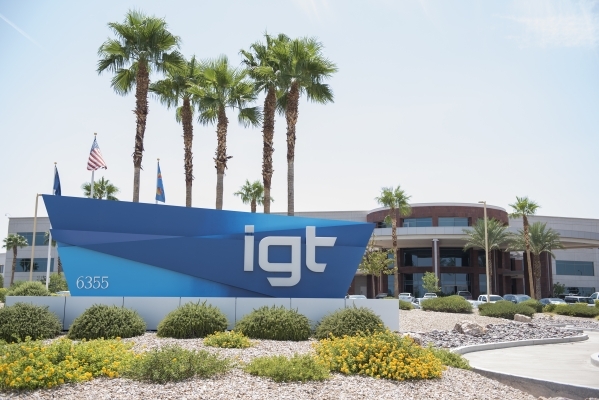 It looks like International Game Technology employees are learning to fly Southwest Airlines.
During last week's second quarter earnings conference call, IGT CEO Marco Sala said the slot machine giant — now headquartered in London following April's $6.4 billion merger with GTECH Holdings — made progress in disposing of several nongaming assets, such as 20 acres of "excess land" in Reno.
A letter of intent was signed to sell and lease back IGT's Las Vegas headquarters and warehouse, which was listed for $85 million in May by Colliers International.
And, the IGT corporate jet was "in the final states of the sales process," Sala said.
Yes, that jet.
The G5 aircraft became a contentious matter two years ago when activist investor Jason Ader waged a proxy fight against the IGT board.
A Forbes.com piece highlighted the jet and its use by then-IGT CEO Patti Hart during the heated shareholder battle with Ader, who ultimately got just one of his three candidates elected to the company's board.
Through FlightAware.com, which tracks the whereabouts of private aircraft, it was learned Hart utilized the jet for personal travel. She flew more than a dozen flights on the plane to the Bay Area — where she owned a home — took a trip to Grand Junction, Colo., and traveled to a technology conference in Nice, France.
The IGT board acquired the jet in 2012 for sales staff to use in closing business deals or for company officials to travel to state capitals while lobbying for gaming expansion.
The IGT G5 is now destined for a new owner.
The merger with GTECH, the Italian-based lottery giant, signaled a new era for IGT. The transaction is expected to result in $280 million in cost savings over a three-year period. The plane became obsolete. Meanwhile, Hart gave up the CEO duties to Sala, who was GTECH's CEO. She was named the company's vice chairwoman.
"I think it's certainly a change in philosophy with more of a focus on cost control and right-sizing the company to match current business levels," said Eilers Research founder Todd Eilers.
Also out of place is IGT's 610,000 square-foot offices on 6355 S. Buffalo Drive near the 215 Beltway. The sale wasn't a surprise other than how quickly a deal came together.
Sala announced in May IGT intended to sell the building and sought smaller office space in Las Vegas to house the sales force. The company is using its Reno manufacturing facility as the central hub for its slot machine business and intends to transfer the manufacturing of its North American lottery equipment to Northern Nevada by the end of the year.
The pending sale allows the company to negotiate a leaseback arrangement and retain a portion of building for its Las Vegas offices.
"We've said that we're committed to Las Vegas, and ideally, we've been seeking the right amount of space that works for us," said IGT spokesman Phil O'Shaughnessy.
On the earnings call, Sala said the company "completed the integration" of its IGT and GTECH sales forces. Because of a "modest overlap" in operations, he said the merged IGT was able to maintain a "high degree of sales force continuity."
Wall Street was upbeat on the gaming equipment manufacturer's prospects after viewing results from the quarter that ended June 30 — IGT's first as the combined company.
IGT grew revenue 36 percent to $1.29 million and reported cash flow of $427 million.
"Results were better than expected as the company's legacy IGT results rebounded after a poor first quarter," Eilers said.
IGT will also pay stockholders a 20 cents per share dividend in the quarter and intend to pay that amount every three months, representing 80 cents per share annually.
Wells Fargo Securities analyst Cameron McKnight termed IGT's management's tone as relatively positive.
"We think the new segment reporting is reasonably straightforward," McKnight said.
Union Gaming Group analyst Christopher Jones told investors the lottery business shows "continued stability" and improving regional gaming trends "offer some level of optimism." Jones initiated coverage this week of IGT and rival gaming equipment provider Scientific Games Corp.
Jones said IGT's "commanding" interactive gaming business is growing, highlighted by the DoubleDown Casino social gaming product.
"Encouraging trends are emerging from IGT's gaming hardware business along with early indications suggest stabilization within its gaming operations business," Jones said.
Howard Stutz's Inside Gaming column appears Wednesdays and Sundays. He can be reached at hstutz@reviewjournal.com or 702-477-3871. Find on Twitter: @howardstutz