INSIDE GAMING: Revival not fueled by gaming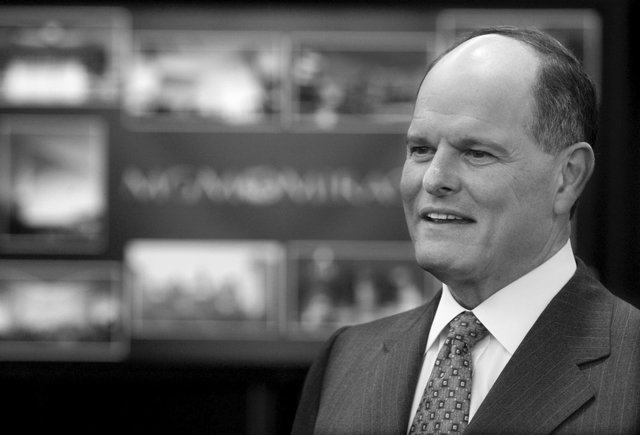 Just as the recession began to grip Las Vegas in 2008, gaming executive Terry Lanni made a prediction.
During an interview at his offices in the Bellagio, Lanni said a Las Vegas market recovery was not going to be like any other time tourism and gaming businesses experienced a downturn.
After the terrorist attacks of Sept. 11, 2001, it took 18 to 24 months for tourists to get comfortable with domestic travel.
The recession of the 1980s took a bite out of the tour and travel trade nationwide. An aggressive marketing campaign by the Las Vegas Convention and Visitors Authority, however, kept the Strip afloat.
But the newest economic downturn, Lanni said, was going to have a much firmer grip on the neck of gaming.
"A recovery is not going to be like turning on a light switch," said Lanni, who retired later that year as chairman and CEO of MGM Resorts International's predecessor, MGM Mirage Corp.
He likened the mending process to a dimmer, which varies a light's intensity at a measured pace.
Six years later, the Strip's lights are getting a little brighter.
In the first four months of 2014, new nongaming attractions and developments have been unveiled. Older hotel-casinos have been renovated. Tourism numbers are on pace to break the magical threshold of 40 million annual visitors. And the Strip's first new megaresort in nearly a decade should be under construction by summer.
In 2008, Nevada gaming revenue fell more than 9 percent. The year marked the first of three straight annual gaming revenue declines that sent state and Strip totals back to 2004 levels. Last year, gaming revenue statewide cracked $11 billion for the first time since 2008.
Through March, however, gaming revenue is down 3.6 percent statewide and 5.4 percent on the Strip.
Experts aren't too worried.
"The most important economic data points are all trending in the right direction," said Station Casinos Chief Financial Officer Marc Falcone, who spent more than a decade as a Wall Street analyst. "The only place we're not seeing it is in gaming revenue."
But is Las Vegas back?
Las Vegas Convention and Visitors Authority CEO Rossi Ralenkotter said in April that 2014 "is a big year for Las Vegas, and you can feel the energy and excitement."
Wynn Resorts Ltd. Chairman Steve Wynn told investors earlier this month the Strip was on the road to recovery. He said he is "feeling good about Las Vegas, better than I had in the past."
The change moving Las Vegas' recovery forward is not coming from casinos.
Caesars Entertainment Corp. spent $550 million to open The Linq, an outdoor retail, dining and entertainment district between the Flamingo and Quad resorts, which is anchored by the 550-foot-tall High Roller observation wheel. Enhancements were made to the two hotel-casinos, but it's the nongaming amenities that are the attraction.
MGM Resorts is spending more than $450 million to create The Park, an outdoor retail, dining and entertainment complex located between Monte Carlo and New York-New York. The project is anchored by a 20,000-seat sports arena and events center.
MGM Resorts Chairman and CEO Jim Murren said the plans "do not include one single slot machine or table game."
Wall Street likes the change in attitude.
"The amenities, which used to be complimentaries for gamblers, have become the highest growing and most profitable segment of the business," Macquarie Securities gaming analyst Chad Beynon said.
Southern and Midwest regional gaming jurisdictions have suffered because the recession kept lower-end gamblers at home. Not so Las Vegas.
"Las Vegas continues to grow visitation and wallet share through new and innovate concepts, and most importantly, some of the best entertainment, food and beverage and hotel options in the world," Beynon said.
In fiscal year 2013, gambling revenue accounted for 37 percent of all hotel-casino revenue.
That won't change anytime soon.
"The consumer is asking for creative entertainment concepts, and Las Vegas has responded," Beynon said. "The majority of the growth will help capture not only the gaming wallet share, but the overall consumer wallet share."
Gaming hasn't been pushed aside.
The Cromwell, a $185 million renovation of Bill's Gamblin' Hall, opened its small casino in April. The 188-room boutique hotel, a restaurant from television chef Giada De Laurentiis, and Drai's 65,000-square-foot rooftop pool/beach club/nightclub open later this month.
SLS Las Vegas, the $415 million renovation of Sahara, opens Labor Day weekend. The 1,600-room hotel-casino includes nearly a dozen unique restaurants and nightlife options.
The locals market hopes to copy the Strip's success.
Station Casinos is spending $55 million to add restaurants, nightlife and upgrade hotel rooms at its flagship Red Rock Resort and Green Valley Ranch Resort. Not much of the renovation budget will be spent on gaming areas. Boyd Gaming Corp. is considering retooling its restaurant offerings.
The $4 billion Resorts World Las Vegas, which will have 3,000 rooms and multiple attractions, is the most telling sign Las Vegas is coming back. The development, a reworking of the 87-acre former Echelon project, will clean up a major Strip eyesore. The first phase won't open for two to three years, giving additional time for the market to recover.
Advertising executive Sig Rogich, who directed the marketing campaign that kept Las Vegas in the game during the 1980s recession, said many of his East Coast contacts have asked him whether the Strip has recovered. Rogich, who is advising Malaysia-based Genting Berhad on Resorts World, said he's confident in the resilience of Las Vegas — with a caveat.
"I hope the town learns from the past and companies become more efficient and prudent in what they offer the guest," Rogich said.
Lanni died of cancer in 2011. He would have enjoyed seeing his prediction become reality.
Howard Stutz's Inside Gaming column appears Wednesdays and Sundays. He can be reached at hstutz@reviewjournal.com or 702-477-3871. Follow @howardstutz on Twitter.