Is LVCVA's Formula 1 ticket buy an investment or handout?
Updated March 26, 2023 - 9:29 am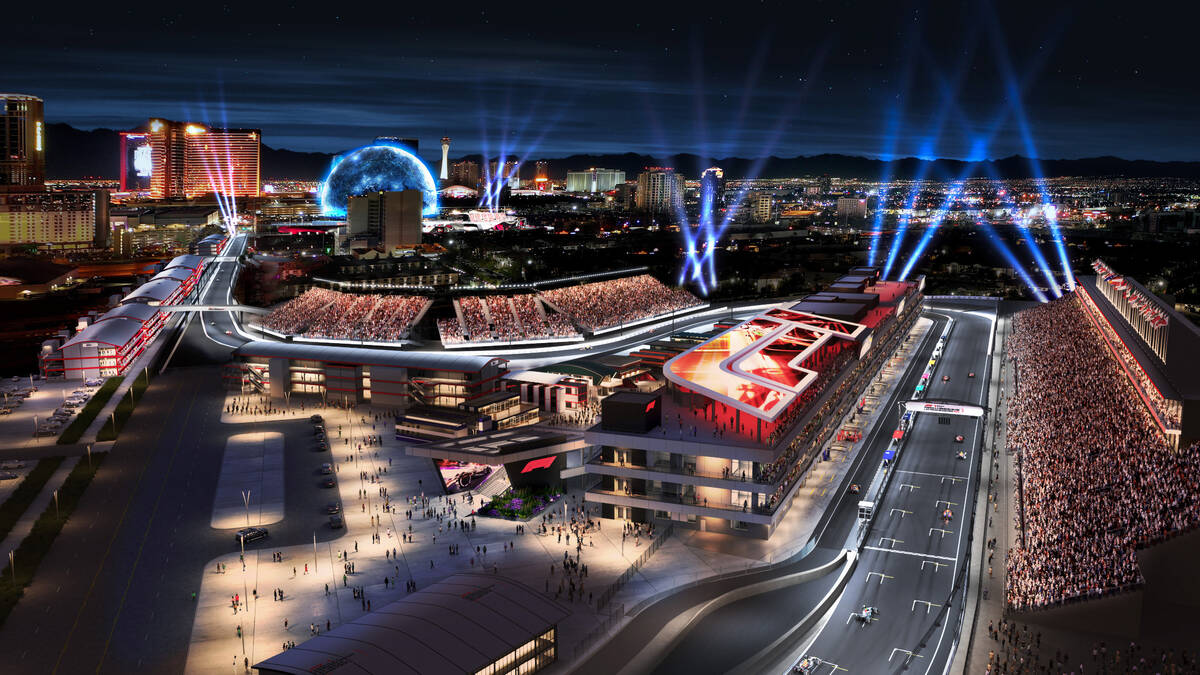 There's a sign on the wall of the Las Vegas Convention and Visitors Authority's meeting board room that describes its mission: "To attract visitors by promoting Las Vegas as the world's most desirable destination for leisure and business travel."
LVCVA President and CEO Steve Hill referenced the sign when he brought to the board an extraordinary request — to approve spending $7 million to purchase and hand out tickets to customers to attend November's Formula One Las Vegas Grand Prix.
The LVCVA spends around $140 million every year marketing Las Vegas, but this amount was high enough that Hill felt compelled to explain why it was important to approve the request.
To be clear, some of the $7 million will be reimbursed to the LVCVA, as $2.8 million worth of tickets will be made available to resort companies, who will buy tickets through the LVCVA for their own customers. But the rest is purely an investment in enabling present and future Las Vegas customers to experience what is expected to be the city's biggest sporting event of 2023.
As is usually the case on requests like this, the LVCVA board had little to question and had no problem unanimously approving the purchase.
The customers the LVCVA will be enticing with race tickets are travel and meeting organizers and corporate meeting intermediaries, who acquire hotel rooms in bulk.
"There is no better place to do that than to bring those buyers to Las Vegas to see what happens in Las Vegas," Hill said. "It's not a 20-minute meeting where you tell them what's going on. It's a four-day event where they see and experience what's going on. That week, when we have Formula One in Las Vegas, will be the best week in our history to ever bring all of those potential customers to Las Vegas to show them Las Vegas."
Hill noted there will be a similar push to show off the city three months after Formula One when Super Bowl LVIII is brought to Allegiant Stadium.
"With Formula One and the Super Bowl, Las Vegas has the opportunity to show off. We want those people here and they will have Las Vegas on their minds forever because of the experience they will have at that Formula One event that week," he said.
Many of the visitors expected to visit for Formula One are high-rolling jet setters who spend freely. Because many of Formula One's fans are international visitors, the hope is that they will stay longer and spend more than the average guest.
They will eat at the city's most expensive restaurants and stay in the Strip's best digs.
Many resorts sold out
Many of the Strip's resorts already are sold out for Nov. 16-18. If you look at hotels.com for a room during that time frame, you will see that properties such as Resorts World, The Venetian, MGM Grand, Bellagio, Wynn Las Vegas and Encore are sold out. Some resorts are requiring at least a three-night stay.
And there are some properties that normally rent rooms for less than $100 a night that are charging three to seven times that amount. A sampling: Circus Circus, $549 a night; The Strat, $439; the Motel 6 on Tropicana Avenue, $400.
Hill acknowledged that the plan could go badly if the wrong people are given the tickets.
"The concern here, and I understand it, is that these tickets we are going to be buying are potentially used inappropriately," he said. "Everybody who will be using these tickets has to have a business reason for being at this event. We will also invite airlines to come. They have to have a business reason for being there in order for us to pass along a ticket."
Airlines have been on the receiving end of the LVCVA's generosity when the group sponsored Routes 2022 last year with a $4 million tab.
But Formula One is bound to be the most expensive event ever staged in Las Vegas. Certainly the ticket prices are far higher than anything we've ever seen before. The cheapest seats for the race are $500 each, and you can bet that many of the tickets the LVCVA will be giving away are in the range of multiple mortgage payments.
Investment or handout?
There are two ways to look at the LVCVA's Formula One giveaway strategy.
It's an investment in a bid to raise millions of dollars in tax revenue that will be spent to improve services and facilities for all Clark County residents. Local economic experts at Applied Analysis estimate the Las Vegas Grand Prix will attract more than 100,000 people who will spend an estimated $1.2 billion.
The investment angle is similar to the effort to spend $750 million in public money to help build Allegiant Stadium. That has already paid dividends with big-time concerts and events that have drawn millions of people in addition to those who regularly attend Raiders and UNLV football games at the stadium.
Or, you can look at it as a potential handout to the wealthy who can easily afford the Lear jets and Gulfstreams to get here, the plush resorts in which they stay and the food they will consume while visiting.
Where do you stand?
Contact Richard N. Velotta at rvelotta@reviewjournal.com or 702-477-3893. Follow @RickVelotta on Twitter.