It's real and it's spectacular: Oak View Group arena plan wows officials
Updated June 25, 2023 - 8:00 am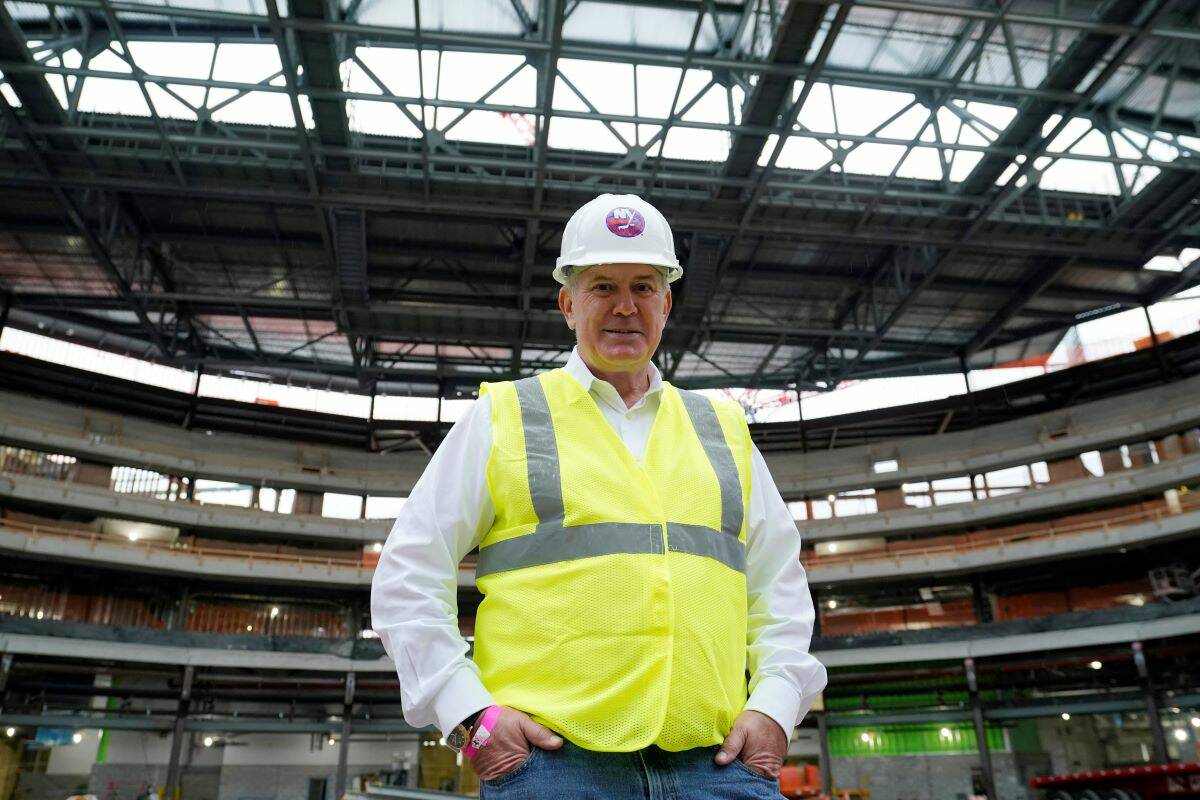 When Oak View Group developer Tim Leiweke addressed a gathering of about 850 people about the new resort he's building on the south Strip, the biggest cheers he received came when he affirmed he wouldn't be going to the government to help pay for it.
Oak View Group has been one of the most successful arena developers in the United States in recent years, and now Leiweke plans to build an arena within a resort campus that he hopes will attract an NBA team.
But let's not get ahead of ourselves. Drawing the NBA to Las Vegas seems like a slam dunk, but Leiweke explained to the Las Vegas Global Economic Alliance 2023 Perspective gathering what his strategy is. One of the best parts is that Leiweke has already done somewhere else — in Seattle — what he intends to do in Las Vegas.
You remember the Seattle Kraken, the NHL team that punched out the defending Stanley Cup champion Colorado Avalanche from the playoffs this year? Leiweke had a big role in getting that team to Seattle.
$10 billion project
Leiweke's plan is to build a $10 billion casino resort at Las Vegas Boulevard and Blue Diamond Road, which would be the most expensive development ever built in Las Vegas. Incorporated into that 2,000-room resort would be a 20,000-seat, NBA-ready arena.
If all goes according to plan, Oak View Group will wrap up its entitlement and permitting paperwork with Clark County by the end of the year and break ground in 2024.
In his presentation to the LVGEA, Leiweke cautioned not to put the cart before the horse.
Just as he did with Climate Pledge Arena in Seattle, Leiweke plans to build in Las Vegas without the commitment of a professional sports tenant.
Leiweke's presentation before the LVGEA was done in a Q&A format with LVGEA President and CEO Tina Quigley asking the questions. I asked her what her takeaways were from the presentation.
"Most importantly, this is a real project," she said. "You've been covering this genre of stories for many years. How many times have we had very exciting announcements made only to find out in a few years that they never quite got to fruition? I left feeling very confident that this project is going to happen. I also left kind of surprised that there's no ask for any type of state or local incentives."
Sustainability package
Another takeaway: Leiweke's commitment to sustainability on the project. He did that in Seattle with Climate Pledge Arena, and he gets that there has to be a solid sustainability piece here.
"He's very overtly and intentional about commitment to doing all that he can to create not only a sustainable facility, but operation as well," Quigley said.
"It's an important narrative for Las Vegas. We create an illusion of wretched excess while behind the curtain being very sustainable. He's sustainably focused."
Quigley wasn't aware of the applause Leiweke received for affirming he wouldn't seek public funds for the arena — she was too busy conducting the interview.
But it was pretty obvious that the event's attendees were paying close attention to what was going on in Carson City less than 24 hours earlier when lawmakers approved a $380 million financial package for the Oakland Athletics to build a $1.5 billion baseball stadium at the Tropicana Las Vegas site.
Quigley said the Leiweke appearance was scheduled months earlier, so the timing of the legislative action was a coincidence.
"We'd been talking with Tim for a few months about doing this, so it was complete happenstance that it happened within 24 hours of the difficult decision to fund the A's," she said.
What else could happen?
One of my takeaways from the day is that there's still a long time before Oak View Group breaks ground on what some are calling a sports campus. A lot can change between now and completion of the OVG project.
Others could step forward with their own ambitions of hosting what seems like an inevitability, the granting of an NBA franchise to Las Vegas.
Could T-Mobile Arena (which Leiweke helped build) make a play for hosting the team? Will Jackie Robinson and his All-Net Arena project be a factor? Will basketball star LeBron James enter the picture in some way? Could there be some kind of arena musical chairs game play out?
It seems the only thing we know for sure is that Oak View Group's project is for real, it's using a proven strategy to attract a team, and even if a team doesn't find its way there, the arena is expected to be a solid musical performance venue that will make the Las Vegas experience even better than it is.
Contact Richard N. Velotta at rvelotta@reviewjournal.com or 702-477-3893. Follow @RickVelotta on Twitter.