Las Vegas sees record airport passengers, but fewer visitors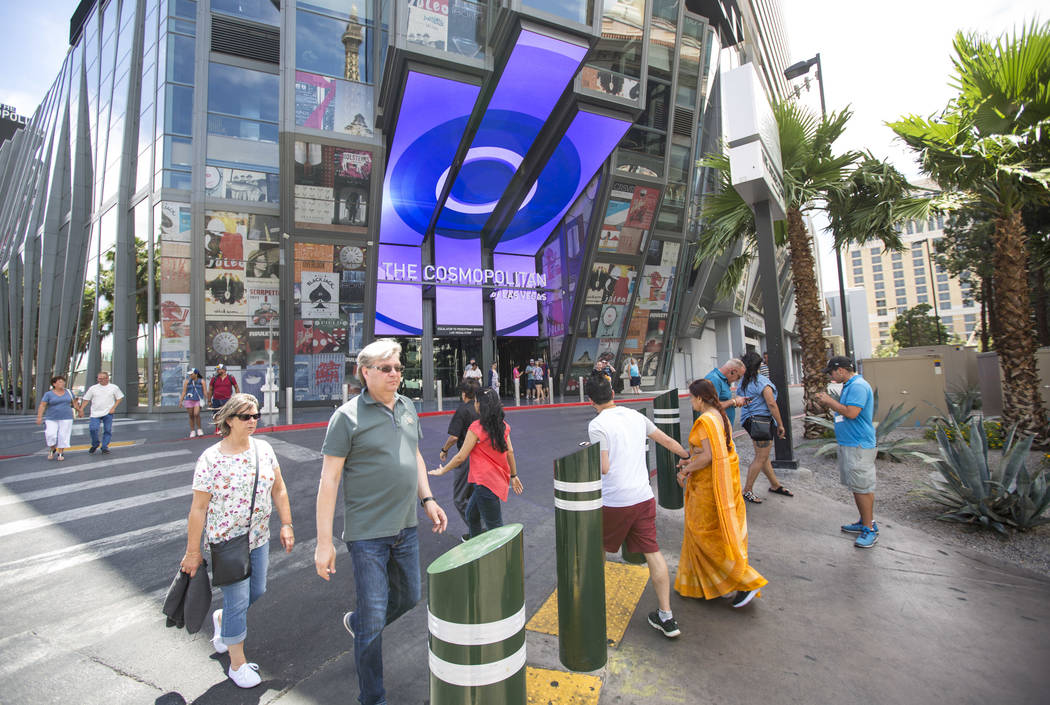 It wasn't until April that Southern Nevada visitors finally ended a 10-month streak in which total visitation volume was less than it was a year earlier.
It was starting to freak people out because, after all, Southern Nevada's economy is in a boom cycle, and higher gaming numbers are dependent on greater visitation.
The stakes are greater because it wasn't that long ago that Clark County imposed a higher room tax to help pay for the $1.8 billion Las Vegas stadium and the $1.4 billion expansion and renovation of the Las Vegas Convention Center.
How could we be seeing month after month of record passenger counts at McCarran International Airport while fewer and fewer visitors were showing up in the city's resorts?
You can file the answer under "sometimes the numbers don't always tell the whole story."
I asked representatives of McCarran and the Las Vegas Convention and Visitors Authority for an explanation, and the answer is really quite simple.
As for the stellar passenger counts, most airline arrivals get counted twice, once when they get here and once when they leave.
So when McCarran reports 4.19 million passengers as it did in April, cut that number in half and it comes out a little closer to 2.09 million.
Some of those passengers are locals, you and me traveling elsewhere. Another smaller group involve passengers changing planes in Las Vegas. Most airlines don't have a lot of connecting traffic through McCarran, but Southwest Airlines, the busiest commercial carrier at our airport, is one of those that does.
Similar accounting occurs with drive traffic. The Nevada Department of Transportation estimates car arrivals based on guessing the number of vehicles on highways leading to and from Las Vegas. Some of those are cars with local passengers making a trip to Southern California. Some of them are Southern Californians making a trip to Utah. They all get counted the same way.
Visitation numbers over the past year have been skewed a little by the concept known as the "tough comparison."
In essence, that means when you have a record month of visitation, it isn't particularly easy to match or better it a year later.
And, if you look at the raw numbers over the past 2½ years, there are plenty of tough comparisons to go around.
In April, when 3.55 million people came to Las Vegas, it was the best April count on record, and that's what ended the 10-month streak of declines.
But if you look at 2016, June was a record month. From then until March 2017 — a total of 10 months — record highs were achieved in eight of them.
So what happens a year later? The numbers come in pretty high, but not as high as the year before.
June 2017's total missed the June 2016 mark by about 75,000 visitors. July missed by about 39,000.
March 2018 was off by 34,000 compared with March 2017.
And that April record that broke the streak? It was only 2,906 people more than in April 2017.
The LVCVA's big takeaway from 2017, which fell short of 2016's all-time record of 42.9 million people in a year, was that 2017 was the best year ever for convention attendance, which is one reason why it's essential to get that Convention Center expansion done.
Are LVCVA officials disappointed that numbers aren't higher? Of course.
Are they trying to get them to improve every year? Yes.
But it's important to know that with visitor volume, the sky isn't falling.
Contact Richard N. Velotta at rvelotta@reviewjournal.com or 702-477-3893. Follow @RickVelotta on Twitter.