Macau's 34.3 percent decline in 2015 was just the beginning
January 5, 2016 - 1:16 pm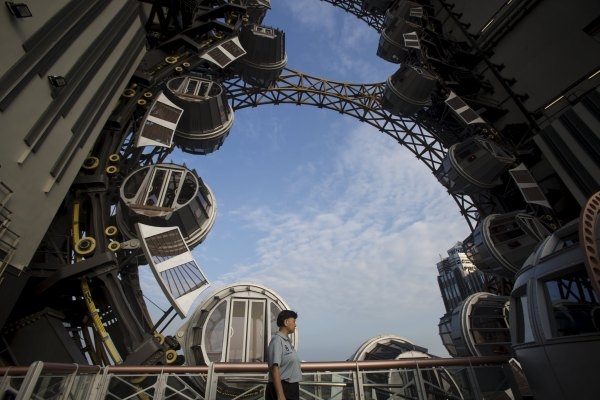 Now that Macau's casino market has hit rock bottom, the investment community might have a more optimistic opinion about the world's largest gaming market.
But what if the record 34.3 percent gaming revenue decline of 2015 was just another notch in the noose?
Most analysts are predicting Macau's casino market will fall anywhere from 5 percent to 16 percent this year.
"The structural growth of Macau gross gaming revenue won't come back in the next two years and the multiples do not look appealing," Hong Kong-based gaming analyst Kai Tan of Macquarie Securities told investors this week.
Wall Street's assessment on Macau was less than optimistic. Gaming revenue has declined for 19 straight months and 2015's overall total of $28.93 billion marked the first time since 2010 the casino industry failed to crack the $30 billion figure.
What's more daunting? The opening of the $3.2 billion Studio City development in October couldn't jump-start Macau's casino business. Meanwhile, Las Vegas-based gaming companies are ready to unveil a combined $9.9 billion in new resorts throughout 2016.
Tan had one piece of advice.
"Long-term investors should be patient and wait for better entry opportunities," he said.
Still, the most critical analysts aren't giving up on Macau, where nearly three dozen large and small casinos produce almost five times the gaming revenue collected by the Strip.
Last year was only the second-ever annual decline reported by Macau gaming authorities since Hong Kong kingpin's Stanley Ho's casino monopoly ended after Portugal returned the Special Administrative Region to Chinese control in 2000.
If there was any good news, it's that December's 21.2 percent decline was the lowest single-month dip since January's 17.4 percent drop.
In 2013, Macau gaming revenue reached an all-time high of $45.2 billion, and analysts had visions of a $100 billion a year market by 2020.
By the middle of 2014, the Chinese economy began to falter and the Beijing government began cracking down on corruption that ensnared operators of high-end junket businesses tasked with bringing big spending customers to Macau's private gambling salons. The VIP gaming market has weakened considerably. Casino operators and analysts also blame a partial smoking ban implemented at the end of 2014 with damaging casino numbers.
Concerns grew over table game allocations authorized by Macau gaming regulators to new casinos. Studio City, for example, wanted 400 tables and received just 250.
"We do not believe all of the bad/challenging news has flushed its way through the system," said Stifel Nicolaus Capital Markets gaming analyst Steven Wieczynski.
Now, Las Vegas Sands Corp., Wynn Resorts Ltd., and MGM Resorts International, which operate casinos in Macau, are planning to open multi-billion dollar resorts this year.
Wynn Resorts delayed its opening of the $4.1 billion Wynn Palace on Cotai until June because of construction issues. The Parisian, Las Vegas Sands' 3,000-hotel-room, $2.7 billion development with a faux Eiffel Tower, is expected to open in the second half of 2016. MGM plans to open its $3.1 billion MGM Cotai by the end of the year.
Wynn Resorts Chairman Steve Wynn slammed Macau in October over the table game allocations, saying the company had not been told how many of its requested 500 gaming tables would be approved. Las Vegas Sands Chairman Sheldon Adelson was more diplomatic a week later, saying the company has "always been respectful of the Macau government's desires."
Other large-scale and small scale Macau developments are underway, which, combined with the Wynn, Sands and MGM projects, total almost $16 billion in expansion projects.
The calendar could become the casino market's friend. The lucrative Chinese New Year is in early February rather than the middle of the month, but Union Gaming Group is forecasting a revenue decline of 12 percent this year for high-end play.
Deutsche Bank gaming analyst Andrew Zarnett told investors he still has confidence in Macau growth story but a quick fix is not in the offing.
"While the way of doing business in Macau has rapidly changed over the last 18 months owing to regulatory and macroeconomic factors, we continue to believe that the downturn is primarily cyclical rather than secular," Zarnett said. "We are cognizant that the recovery is going to be slow, especially due to the magnitude of incremental supply that is coming to the market in the next couple of years."
The Review-Journal is owned by a limited liability company controlled by the Adelson family, majority owners of Las Vegas Sands.
Howard Stutz's Inside Gaming column appears Wednesdays and Sundays. He can be reached at hstutz@reviewjournal.com or 702-477-3871. Find on Twitter: @howardstutz