MGM Resorts' plan to charge for parking draws swift, emotional response
January 19, 2016 - 2:23 pm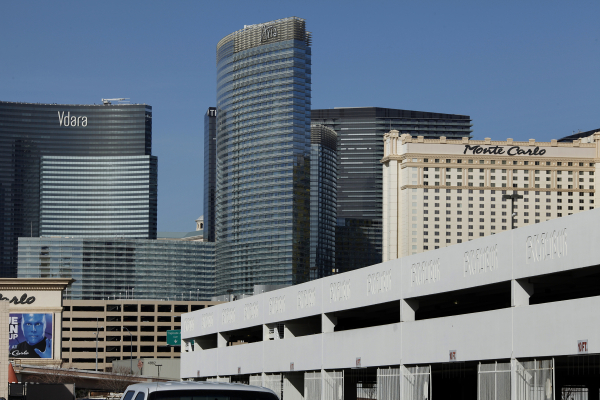 Corey Sanders and Gordon Absher drew the short straws.
Sanders, MGM Resorts International's chief operating officer, and Absher, the casino company's veteran public affairs spokesman, took the brunt of Friday's firestorm.
The gaming operator broke from long-standing Las Vegas tradition and announced plans to charge customers to park at MGM-owned Strip resorts.
The reaction was swift, visceral, volatile and poignant.
"It delineates the old and the new Las Vegas," wrote Randy Berger in one of the nearly two dozen emails and phone calls I received over the weekend on the subject. "Let me be the first to predict the MGM's new parking fees will not be successful."
Several Facebook groups formed to protest the fees. A Change.org petition was started to get MGM to reverse its position.
One would believe free parking on the Strip was engraved in the Constitution.
"I, for one, will not be visiting any MGM property to pay for parking," Stephanie Schwartz wrote. "I think they are making a bad mistake."
MGM's policy change is part of a $90 million strategy to enhance parking areas and expand infrastructure. The plan includes building a $54 million, 3,000-space parking garage behind Excalibur to serve the company's 20,000-seat T-Mobile Arena newest and other new entertainment venues.
Sanders said MGM didn't "take this change lightly," recognizing pay-to-park was "a significant departure from a long-established paradigm in the Las Vegas market."
MGM has explored a long-term Strip parking strategy over the last four years. Research and analysis are still underway.
Absher said the company anticipated a negative reaction but not the emotional outpouring from locals.
Friday's article on the parking change posted to the Review-Journal website drew almost 850 online comments by Tuesday morning — 10 times the average story. Most of the comments opposed the change. A survey at the bottom of the story had more than 5,400 votes with 70 percent favoring the option, "No free parking!? Never going there again."
MGM Resorts operates 37,000 Strip parking spaces and spends $30 million annually maintaining the facilities. The company will invest $36 million to add new technologies, such as systems that will guide guests to available spaces and mobile technology that allows visitors to check space availability prior to arrival.
Absher said MGM Resorts is "pro transportation" and the company's plans should be part of the overall discussion to improve Strip accessibility for some 42 million annual visitors.
MGM Resorts said the parking fees will go into effect after April. Overnight guests utilizing a self-park facility will pay $10 or less. Absher said the company is still working on a final fee schedule, including costs to park vehicles in valet. MGM employees and workers at non-MGM owned property locations, such as restaurants, will park for free.
The company will look at the different customer demographics at its Strip properties in implementing the fees. For example, Bellagio visitors will have a higher cost than Luxor patrons. Circus Circus will continue to have free self-parking but a fee for valet. The Signature Towers and the Crystals and Mandalay Bay Place shopping malls are exempt from the parking fees.
The company provided a list of average fees in other destination markets. In Los Angeles, valet parking averages $35 a night and self parking is $22 a day. Phoenix averages $25 a day for valet and $15 for self park. In San Francisco, valet averages $56 and self parking is $47.
Strip fees are still being determined but Absher said MGM will take a more reasonable approach. Also, the fee charged to overnight guests allows those patrons to park in multiple MGM properties without an extra charge.
Locals will be given a grace period for free parking after the program begins and can maintain their free-parking status by enrolling and earning privileges through M life, the company's customer loyalty program. Nonresident guests can also earn free-parking status through the M life program.
Area residents weren't impressed.
"The Strip already offers overpriced restaurants and overpriced entertainment so this just adds one more reason for locals to avoid the Strip," Eric Yaillen of Las Vegas said in an email. "Clearly (the analysis) didn't include focus groups of locals."
Henderson resident Jeff Haviland said he'll gamble closer to home.
"As a senior citizen I always valet park but if too expensive, I will no longer go," he said. "I also feel this may hurt the tips valet guys receive."
Competing Strip casino operators were silent following MGM's announcement. Most observers believe other companies will follow with parking fees, but let MGM take the initial blows.
"We make decisions that are best for the company's customers and employees," Absher said. "We're not afraid to lead on issues, popular or unpopular."
Howard Stutz's Inside Gaming column appears Wednesdays and Sundays. He can be reached at hstutz@reviewjournal.com or 702-477-3871. Find on Twitter: @howardstutz