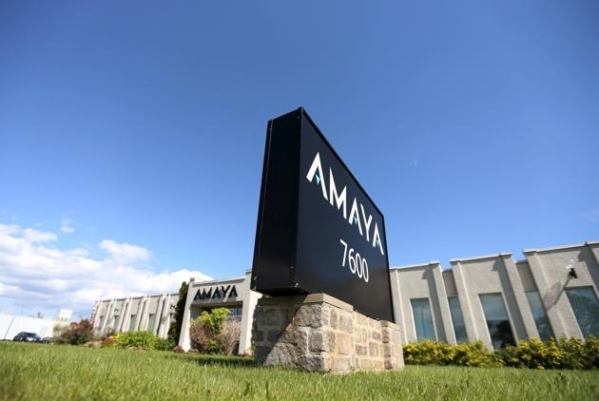 Amaya Gaming CEO David Baazov knows how to make financial headlines.
The Montreal-based business spent $4.9 billion to acquire the parent company of PokerStars in 2014. A year later, Amaya, already publicly traded on the Toronto Stock Exchange, gained listing on the Nasdaq to open itself up to U.S. investors. Amaya has been an active acquirer of other gaming companies, including Internet gambling provider Ongame and slot machine maker Cadillac Jack.
Now, Baazov wants to own the whole company, and he's willing to spend $2.8 billion in Canadian dollars to accomplish that goal.
On Monday, Amaya confirmed a non-binding offer from Baazov of $21 per share (in Canadian dollars) was forthcoming. The offer was a 40 percent premium to Friday's closing price on the Toronto exchange. Amaya's board established a special committee of independent directors to review the proposal.
Analysts believe they know the answer.
"In our view, the Amaya shareholders may have difficulty approving a deal at these levels," said Macquarie Securities gaming analyst Chad Beynon.
Baazov, 35, already owns 18.6 percent of Amaya. Beynon said the largest five shareholders after Baazov hold 24 percent of the company and aren't happy with the recent stock price slide in Toronto, which has hit multi-year lows.
"We believe they will want to hold out for more, particularly given the flurry of major acquisitions in the last 24 months," Beynon said.
Eilers Krejcik Gaming principal Adam Krejcik speculated whether or not the bid is real. He wondered if the move was a tactic to drive up Amaya's share price.
"While this could just be a bluff to try draw out competing bids, we believe that would be an incredibly risky proposition as there are only a few select gaming companies in the world who could realistically acquire PokerStars," Krejcik said.
PokerStars is viewed as Amaya's "crown jewel." Considered the world's largest online gaming website, PokerStars — and its sister site FullTilt Poker — have an estimated 95 million users and control some 60 percent of the legal online gaming market, primarily based in Europe.
Amaya took over PokerStars two years after the business's former owners paid a $731 million noncriminal settlement to the U.S. Department of Justice over the April 2011 Black Friday crackdown on illegal Internet gaming. Amaya has worked to restore PokerStars reputation in the U.S. and preparing to launch operations in New Jersey in a few months in conjunction with Resorts Atlantic City.
Success in New Jersey could lead to online poker opportunities in California and Pennsylvania, two states that are considering online gaming legalization.
Krejcik said Baazov's attempts to take Amaya private, however, could be a setback in the U.S.
"Going private could negatively impact the perception of PokerStars/Amaya as a fully transparent entity and potentially raise concerns during any type of licensing process," he said.
Baazov has grown Amaya from a small technology company to a gaming industry player. At the 2014 Global Gaming Expo in Las Vegas — two months after the PokerStars acquisition — Baazov was seated at a roundtable keynote with the CEOs of International Game Technology, Aristocrat Technologies and other gaming equipment suppliers to discuss market conditions.
Following the session, he said "time answers everything" when asked about bringing PokerStars back to the U.S.
In a Forbes Magazine profile a few months later, Baazov was described as the Israeli-born son of a construction worker who moved with his Georgian parents to Montreal at the age of 1. He was a "math whiz" who moved out at age 16 and eventually started the business that grew into Amaya.
All his transactions in the last two years have come up aces.
When the news of the possible buyout hit the Canadian media Monday, Amaya's shares in Toronto jumped in early trading but fell back by the end of the day. Analysts viewed the activity as investors believing the offer was too low.
In a statement, Amaya said the board's committee "has neither received nor solicited a formal bid or offer related to a potential transaction." There was also uncertainty that Baazov would follow through with a bid if the company could complete a transaction."
So what's the end game?
Krejcik said anyone who bought Amaya shares in 2015 "would effectively lose money on this deal."
This might be Baazov's first losing hand.
Howard Stutz's Inside Gaming column appears Wednesdays and Sundays. He can be reached at hstutz@reviewjournal.com or 702-477-3871. Find on Twitter: @howardstutz