Rant by Adelson surprises Murren
August 11, 2013 - 5:34 am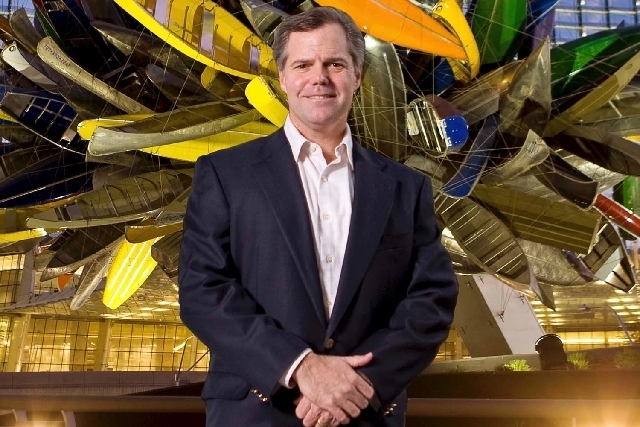 Having navigated MGM Resorts International through almost four years of turbulent economic waters, Jim Murren has grown used to hearing negative comments from haters and detractors.
What surprised Murren, however, were some recent vitriolic remarks directed at his company from a competing corporate office down the street.
Las Vegas Sands Corp. Chairman Sheldon Adelson used his quarterly earnings conference call to blame Caesars Entertainment Corp. and MGM Resorts for driving down hotel room rates along the Strip, thus, diminishing Adelson's earnings in Las Vegas.
Adelson claimed the industry-leading long-term debt carried by Caesars ($23.7 billion) and MGM Resorts ($13.1 billion) affects the way they do business, such as lowered room rates to drive up occupancy.
"I don't necessarily blame them," Adelson said. "I suppose if I were in that position, I might do the same thing."
In an interview following MGM Resorts' quarterly earnings conference call last week, Murren, MGM's chairman and CEO, said his company and Caesars have a better understanding of how Las Vegas works these days than Adelson does. Las Vegas Sands drew 86 percent of its quarterly revenue from Asia.
MGM Resorts and Caesars Entertainment together control 20 Strip-area hotel-casinos and nongaming hotels that encompass more than 64,000 rooms. Combined they have more than 77,000 employees in Las Vegas.
Las Vegas Sands has two Strip resorts with 7,000 rooms and 9,400 employees.
"We know the market here," Murren said. "We and Caesars are the largest players. We provide the most jobs, the most tax revenues and the most community support. It's obvious to us that the market is getting better."
MGM Resorts said net revenue from its Strip properties grew 3.4 percent, to $1.248 billion, in the quarter that ended June 30.
For example, MGM Resorts flagship Bellagio grew revenue 2.3 percent in the quarter, MGM Grand had a 10.9 percent revenue increase and Mandalay Bay's revenue was up 6.7 percent.
That's overall revenue , not just casino numbers.
The company said its hotel revenue on the Strip was up 5 percent. Revenue per available room, a nontraditional reporting figure analysts (such as Murren in his former career) use to gauge profits, was up 2.5 percent on the Strip.
"People are spending more money in the nongaming areas," Murren said.
Adelson said his competition fills rooms with customers who don't want to pay premium rates at The Venetian or Palazzo.
"They need the bodies in their casinos and they need the bodies in their beds," Adelson said. "The only way to get them is to buy the business by reducing the price."
In response, Murren said MGM Resorts implemented a capital improvement plan a year ago to upgrade room offerings across its Strip resorts.
Rooms at MGM Grand and Bellagio were renovated in 2012 and this year. Other properties, such as The Mirage and Mandalay Bay, are making improvements.
In addition, MGM Resorts has improved its nongaming attractions, such as bringing on new shows (Cirque du Soleil's "Michael Jackson One " at Mandalay Bay), and more trendy restaurants.
The company is spending $100 million to develop an outdoor retail, dining and entertainment area between New York-New York and Monte Carlo to capture pedestrian traffic along the Strip.
Murren said the company has a $300 million capital expenditure budget because it will pay off down the road.
"We're constantly upgrading our portfolios," Murren said. "That will lead to higher average daily room rates."
He's not alone in that thought.
Stifel Nicolaus Capital Markets gaming analyst Steven Wieczynski said Adelson's remarks might be outdated. He said MGM Resorts' commitment to reinvesting in its Strip hotels with nongaming attractions allows the company to command room rate premiums, which attract better spending guests.
"The company remains well-positioned to capture an increasing share of Strip visits, potentially contributing to a resurgence in revenues ahead of a broader market recovery," Wieczynski said.
Investors have responded by sending shares of MGM Resorts 45 percent higher this year.
And, MGM Resorts isn't alone in its business model.
Caesars Entertainment is upgrading rooms at several Strip resorts, including Bally's Las Vegas. The company is spending $180 million to turn Bill's into the Gansevoort and investing $550 million in Linq, an open-air retail, dining and entertainment area between the Flamingo and The Quad that includes an observation wheel.
"I'm a big fan of the Linq," Murren said. "I think it's going to be great for visitors."
Adelson also focused on the "excessive" debt owed by MGM Resorts and Caesars. The companies "don't have a big way to pay them off," he said.
Not that Adelson is crying poor. He ranks ninth on the Forbes 400 List with a net worth of $26.5 billion. Las Vegas Sands' net income soared 120 percent in the second quarter, largely because of profits from Macau and Singapore.
Murren wasn't sure why Adelson's ire was directed at the competition.
"He's entitled to his own opinion," Murren said. "Maybe because he's rich he thinks people care about what he has to say. It's obvious we know Las Vegas better than he does."
Howard Stutz's Inside Gaming column appears Sundays. He can be reached at hstutz@reviewjournal.com or 702-477-3871. Follow @howardstutz on Twitter.