Reality TV might be perfect outlet for Tilman Fertitta's oversized personality
January 23, 2016 - 6:16 pm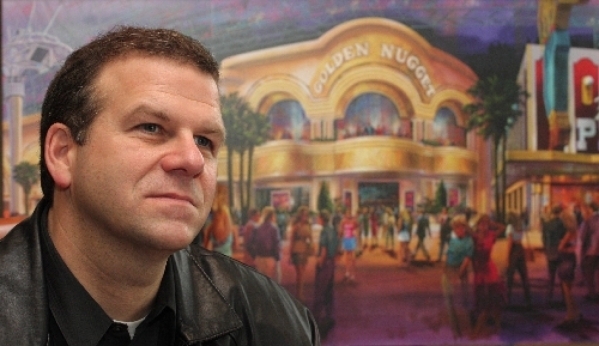 What is the connection between owning the Golden Nugget and television?
Tilman Fertitta, chairman and CEO Landry's Inc., the privately held Houston-based company that owns the Fremont Street resort, is about to find out.
CNBC announced this month Fertitta will take part in "Billion Dollar Buyer," a reality television series that premieres in late March on the financial news network.
Fertitta, 58, No. 293 on the Forbes 400 with a net worth of $2.3 billion, will work with two small businesses each episode and rate their compatibility with Landry's, which has more than 500 properties through its 50 restaurant, hotel and entertainment brands.
Fertitta will offer advice and push the companies to improve. At the end of each episode, he will decide which company receives a game-changing purchase order from Landry's for their product. Landry's spends $2 billion annually on goods and services.
"Billion Dollar Buyer" will join CNBC's line-up of prime time shows, including "Shark Tank," "The Profit," and "Restaurant Startup."
It's unclear how much of the program will involve the Golden Nugget.
But it won't be the first time the Fremont Street hotel-casino has met the television lights.
Steve Wynn filmed a series of humorous advertising spots in the 1980s featuring Frank Sinatra. In one segment, a youthful Wynn told Sinatra he "ran this place" to which the entertainer reached into his pocket, peeled off some bills, handed them to Wynn and said, "See that I get enough towels."
Dot-com millionaires Tim Poster and Thomas Breitling appeared in the short-lived Fox Television reality series "The Casino" after buying the resort and its sister property in Laughlin from MGM Resorts International in 2004 for $215 million. The show centered around their efforts to revive the Golden Nugget. The show lasted three episodes before it was canceled because of poor ratings. The unaired episodes were shown on a little-watched reality television channel.
The late Terry Lanni, MGM's chairman during the three years the company owned the Golden Nugget, avoided the television spotlight.
Fertitta's show is more about his business instincts rather than the hotel-casino.
Jim Ackerman, an executive producer for CNBC, said the network's audience wants programming "that dives into the world of small business and celebrates the American dream."
Fertitta, a cousin of the Fertitta family that controls Station Casinos, operates some of the nation's best-known restaurants, including Landry's Seafood, Chart House, Saltgrass Steak House, Bubba Gump Shrimp Co., Claim Jumper, Morton's The Steakhouse, McCormick & Schmick's, Mastro's, and Rainforest Cafe.
The Golden Nugget has been a growth story for Landry's, which has five hotel-casinos operating under the brand.
Fertitta engineered the $325 million purchase of the Golden Nugget Las Vegas and Golden Nugget Laughlin in 2005. Landry's added a new hotel tower to the downtown property and other amenities, such as a 200,000-gallon shark tank. The Laughlin casino was cleaned up. Both properties received restaurants from the Landry's collection.
Fertitta's $1.4 billion buyout of Landry's in 2010, in which he took private the public company he founded in 1986, paved the path for a casino shopping spree.
He spent $38 million in 2011 to buy the rundown Trump Marina in Atlantic City and $45 million in 2012 to acquire the Isle of Capri Biloxi in Mississippi. Both casinos were rebranded as Golden Nuggets, with Landry's spending more than $100 million at each property to renovate the casino floors, add amenities and drop in some of Landry's familiar restaurants.
In Atlantic City, the casino now has a Chart House and Vic & Anthony's. Biloxi has a Morton's and a Bubba Gump Shrimp.
His largest undertaking came when Landry's acquired an under-construction hotel-casino in Lake Charles, Louisiana, in 2013 from Ameristar. The $600 million project was rebranded as the Golden Nugget Lake Charles and opened in December 2014 with 740 hotel rooms, a golf course and country club, meeting space and a private beach and marina. Construction began this month on a 300-room hotel tower.
Lake Charles is 144 miles from Houston and is one of the closet casino areas to a Texas customer base.
Reality television might be a perfect outlet for Fertitta, who often exudes an oversized personality. He has a small ownership stake in the NFL's Houston Texans and owns the city's Bentley and Rolls-Royce dealership. Last April, he announced plans to develop a luxury office, residential and hotel tower on a 10-acre site in Houston's West Loop South area.
Fertitta also owns the yacht Boardwalk, a 164-foot, three-level vessel. The marina at the Golden Nugget Biloxi was expanded to accommodate the yacht — named for Landry's Kemah Boardwalk amusement complex.
Most of the restaurant brands controlled by Landry's came through acquisition.
"When we buy somebody, we cut the head off," Fertitta told Forbes in 2012. He said the selling operators are looking for a leader.
"We lead very well," Fertitta said. "And we immediately spend money on them and make them better. Everybody wants to be led. Except for me. I want to lead."
— Howard Stutz's Inside Gaming column appears Wednesdays and Sundays. He can be reached at hstutz@reviewjournal.com or 702-477-3871. Find on Twitter: @howardstutz.