Sorry, folks: A future NBA team won't call The Sphere home
Updated July 2, 2023 - 8:00 am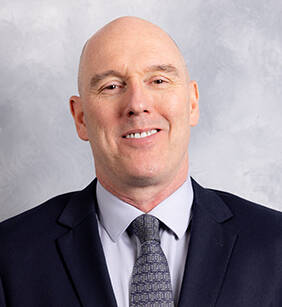 Rich Claffey wants to make one thing perfectly clear: Sphere isn't going to become the home of a Las Vegas National Basketball Association team.
In an interview about the massive dome-shaped venue opening just off the Strip in September, Claffey, executive vice president and chief operations officer of Sphere, said a cab driver told him that was what's in store for the building that is sort of shaped like a giant basketball.
It isn't.
And while there may be some sports components coming to the venue someday — maybe boxing, maybe video-game tournaments — changing the face of entertainment, whether it's live concerts or innovative films, is what it's built for.
"It's the entertainment venue of the future," Claffey said.
And while the countdown is underway for the first appearance of U2 in the building Sept. 29 and the immersive film "Postcard from Earth" on Oct. 6, it's clear that Sphere has already made its mark as a major addition to the Strip skyline — and will likely become one of the brightest stars of Las Vegas Boulevard when digital animation begins.
The company has kept it close to the vest about when some of those activations will begin, but based on what I saw on a scale model of Sphere at the "Big Dome" Sphere Studio in Burbank, California, recently, the high-resolution images will be even more striking than the big screens of Allegiant Stadium and Resorts World.
During the testing phases of lighting the exosphere screens, the color palettes have been very conservative with their solid shades of green, purple and blue.
But just as Claffey sees Sphere as an entertainment game-changer, he also imagines it to present a remarkable skyline change because of its height and shape.
"I think for me personally and for the company, it's an enhancement to an already famous skyline. The building is 360 feet tall and is the largest spherical structure in the world," he said. "It's also the largest LED screen in the world."
The animation on that massive screen should pop because of the construction materials used. Designers went all in on materials, hence the $2.2 billion price tag. Claffey said the exosphere has 1.2 million "hockey pucks" that encase 24 diodes each. Because the screen is programmable, each of those diodes can produce the illusion of movement. It should be quite a show.
Work is underway to produce some kind of presentation — again, top secret — involving the Nov. 18 Formula One Las Vegas Grand Prix, whose course will circle Sphere.
The company also has produced a few mock advertisements at Big Dome to show off the screen's capability of selling products, a potential revenue stream.
In all likelihood, the screen presentations will be entertaining and will be photographed and videoed by the millions of tourists who swarm to Southern Nevada.
One thing for sure, Claffey knows a thing or two about entertainment.
He began his career with Madison Square Garden in 1983 as part of the stage crew at the venue. He also spent a year as a member of the crew on a Bruce Springsteen world tour.
His other roles at MSG have included serving as senior vice president and general manager of Theatre Operations and Rockettes Operations, responsible for directing all facility operations for Radio City Music Hall, the Beacon Theatre and The Chicago Theatre, and managing day-to-day operations and administration for the Rockettes. He also has held a variety of positions at Radio City Music Hall, including head electrician of the stage crew, head carpenter, technical director of the "Christmas Spectacular," vice president of production and general manager.
Claffey is working with various teams across the company including development and construction, content and technology.
"There's still a lot of commissioning going on and minor construction stuff, but we're getting very close and we're really looking forward to getting to the finish line in September," he said.
Because of Sphere's center Strip location, it's bound to be a visible presence to passengers flying in, golfers at Wynn and Strip sightseers regardless if whether they're north or south.
When Sphere construction hits the finish line, Claffey is confident the building will be the entertainment game-changer that was promised and a new beacon on the Strip skyline.
Contact Richard N. Velotta at rvelotta@reviewjournal.com or 702-477-3893. Follow @RickVelotta on Twitter.