Southern Nevada meetings, conventions industry on a roll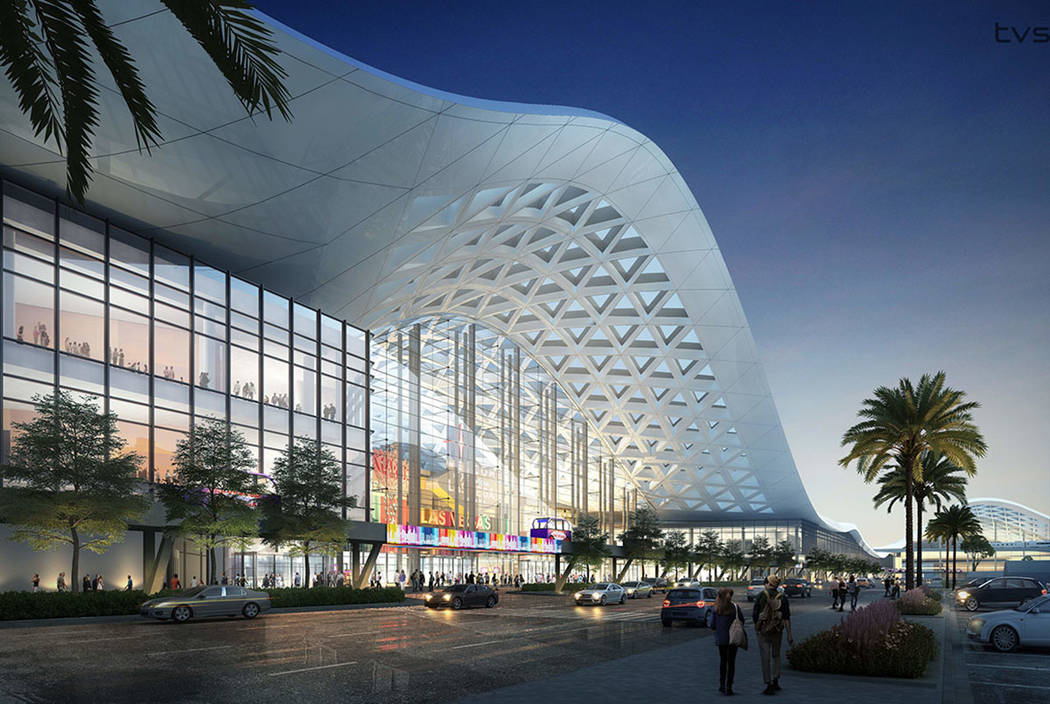 The meetings and convention industry chose blue as its theme color.
Clearly, it should be green. As in the color of money.
One of the reasons Las Vegas has been so prosperous over the years: Its emphasis on attracting conventions and trade shows to the city.
Last week, Southern Nevada's resort community celebrated the meetings industry with Global Meetings Industry Day. There was blue as far as the eye could see.
There's plenty to celebrate:
■ Las Vegas had its biggest year for convention attendance in 2017, hosting more than 6.6 million business travelers. It's going to be challenging to top that this year, considering 2017 had the monstrous, once-every-three-years ConExpo-Con/Agg construction industry trade show in March.
■ The Las Vegas meetings industry supports 65,000 jobs and annually generates more than $9.3 billion in economic impact.
■ The influx of business travelers supports affiliated industries. Lodging, food and beverage, transportation, entertainment and gaming are beneficiaries of the added volume of visitors. Gaming industry analysts pay attention to the arrival of big trade shows when they do their revenue calculus. Once they've seen Las Vegas, many conventioneers like the place so much they extend their stays with spouses or plan separate pleasure trips later.
■ Trade Show News Network again recognized Las Vegas as the No. 1 trade show destination in North America, hosting 47 major shows last year. That's more than runners-up Chicago and Orlando combined. If you think you've heard that news before, you have: This was the 24th straight year Las Vegas has been No. 1.
■ Convention destinations nationwide are always looking to knock off No. 1, so local leaders moved to do something about it. The Las Vegas Convention Center will be expanded and renovated over the next five years at a cost of $1.4 billion. Architects and designers last week gave the public its first look at the concept of the new building that will hold a 400,000-square-foot exhibition hall.
By all accounts, it's going to be gorgeous. Among other features, it will have ample meeting-room space, a food court, iconic Las Vegas imagery for photo ops and a rooftop gathering space with a view of the Strip.
While the Las Vegas Convention and Visitors Authority is coordinating development of the Convention Center upgrades, many city stakeholders are mapping out their own plans to add to or enhance the 11 million square feet of meeting space in Southern Nevada.
Aria recently spent $170 million to develop 200,000 square feet of flexible meeting space over four stories in a space once used as a theater.
Caesars Entertainment is investing $375 million in Caesars Forum, a 550,000-square-foot conference center scheduled to open in 2020.
Las Vegas Sands Corp. is collaborating with the Madison Square Garden Co. to build MSG Sphere Las Vegas near the Sands Expo Center.
Not only will it have 18,000 seats available for corporate presentations, with state-of-the-art sound and visual production facilities, but the venue also will double as a performance arena.
Wynn Las Vegas is building a 280,000-square-foot meetings and convention complex with an indoor-outdoor design adjoining a boardwalk and beach-lined lagoon on the former Wynn Golf Club 18-hole course.
A plan also is in place to extend the Las Vegas Monorail to Mandalay Bay and to open a new stop near the Sands Expo Center. That would, in effect, link the city's three major convention centers and deliver easier access to several other meeting locations, an ideal scenario for some of the megashows that make Las Vegas home.
For Southern Nevadans, there's obviously a lot to feel blue about in the months and years ahead.
The Review-Journal is owned by the family of Las Vegas Sands Corp. Chairman and CEO Sheldon Adelson. Las Vegas Sands operates the Sands Expo Center.
Contact Richard N. Velotta at rvelotta@reviewjournal.com or 702-477-3893. Follow @RickVelotta on Twitter.