Sports betting a highlight of this year's Global Gaming Expo
Updated June 23, 2018 - 12:59 pm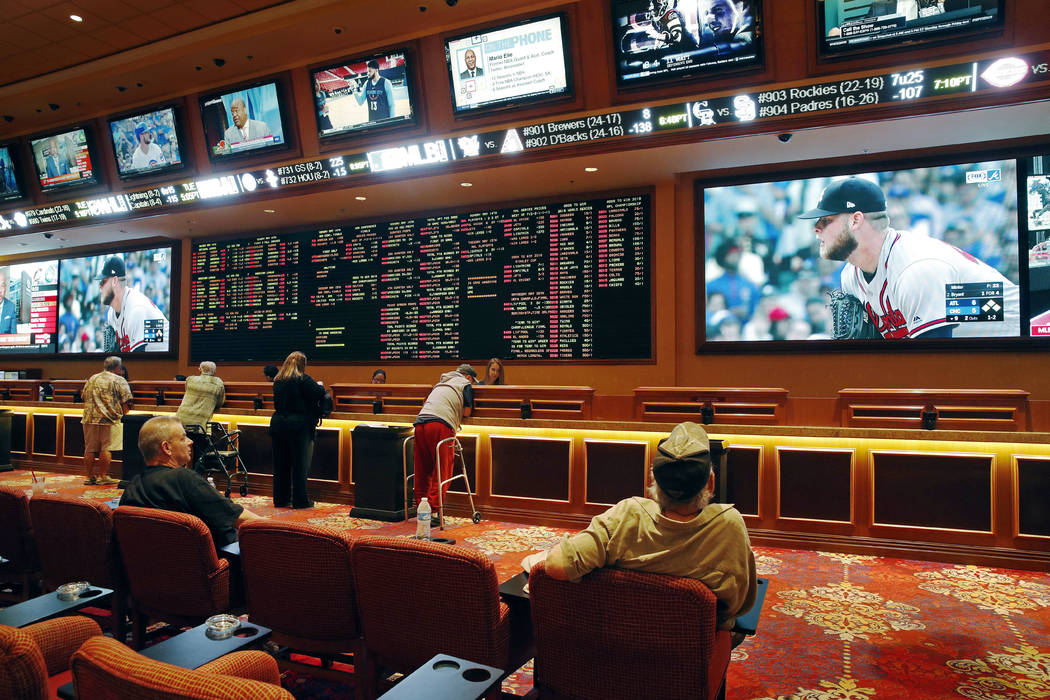 By the time the American Gaming Association's Global Gaming Expo rolls into Las Vegas in October, college and pro football will be well underway.
The Major League Baseball playoffs will have begun, the National Hockey League will be lacing up skates for the 2018-19 season, and college basketball and the NBA will be on the verge of opening new campaigns.
It's the best time of the year to be a sports fan, and now, sports bettors in Delaware and New Jersey will be able to join their counterparts in Nevada as they wager on games.
It's not surprising that sports betting will be a key focus of the largest gaming industry trade show in the world, better known as G2E, when the doors open for an estimated 26,000 conventioneers Oct. 8 at the Sands Expo and Convention Center.
When the AGA announced last week it would bring a sports betting symposium to the show, industry insiders asked what more could possibly be said about it?
Legal scholars, consumers and industry watchers debated the merits of the business of sports betting for months prior to New Jersey arguing the case before the U.S. Supreme Court in December.
Gaming industry analysts published report after report on estimated effects over the course of the past two years.
The Supreme Court handed down a decision May 14 repealing the Professional and Amateur Sports Protection Act, allowing states to establish their own regulated sports betting.
Analyst Eilers & Krejcik Gaming predicts 44 states will have approved sports betting by 2023.
But there is plenty more to be said about sports betting, according to AGA Senior Vice President of Public Affairs Sara Slane.
There is a desire to learn more about the business itself, Slane said in a phone interview. "You have a handful of states that have already now enacted sports-betting legislation, so there's a lot of discussion on what the regulations mean, how the suppliers and operators and sovereign tribal communities will take advantage of this opportunity."
Slane said there will be sports book operators from around the world showcasing products and talking about their experiences in other regulated jurisdictions.
Also to be discussed at the expo will be the sports leagues' persistent efforts to get a piece of the action through royalties, which they initially called an "integrity fee."
"There's obviously a lot of controversy around what the leagues are proposing right now and the 20 percent revenue grab at the state level," she said. "That will certainly be a hot topic of discussion as well as making sure that consumers are protected and that the operators are able to stamp out the illegal markets."
The leagues maintain that they should be entitled to a cut because, after all, if it weren't for them, there would be nothing to bet on. But the reality is the leagues have existed — even have been bet on — for decades and they have not received anything for their performances.
Slane said that in past G2E sessions, gaming regulators have been involved, and she expects they will be a part of the symposium, both on the giving and receiving ends.
"We do anticipate that we will have a lot of participation from those regulators there that can learn more about Nevada's successful sports-betting model and how they can implement it in their states as well," she said.
The association will name speakers and panelists for the event, but it's getting the word out now for what should be one of the liveliest G2Es in recent memory.
The Review-Journal is owned by the family of Las Vegas Sands Corp. Chairman and CEO Sheldon Adelson. Las Vegas Sands operates the Sands Expo and Convention Center.
Contact Richard N. Velotta at rvelotta@reviewjournal.com or 702-477-3893. Follow @RickVelotta on Twitter.