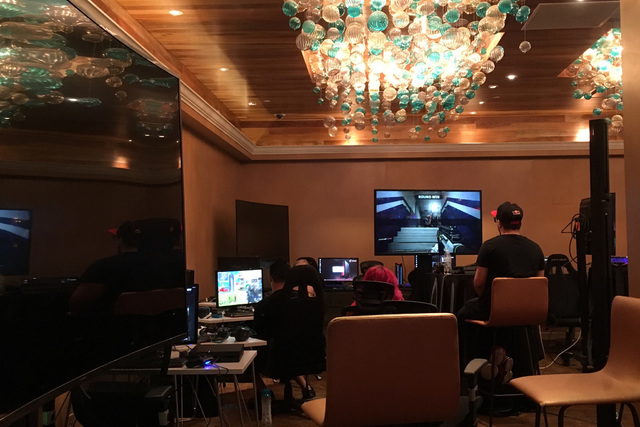 So would you take Team Liquid in a head-to-head World of WarCraft matchup against the Evil Geniuses?
Yes, it's a tough call, considering the Evil Geniuses have scored $14.9 million in winnings in 607 e-sports tournaments. But then, Team Liquid has a lot more experience, having played in 803 tourneys, and it still won $4.4 million.
Or, maybe you should get behind Wings Gaming. That team is ranked second in the world with $9.5 million in winnings but collected that in just 14 competitions.
Definitely a tough call.
Don't worry, I really have no idea what I'm talking about and can't even give you a statistical rundown on Team Liquid, the Evil Geniuses or Wings Gaming, or who plays for those teams. And I've never played "World of Warcraft."
But those teams are among 500 ranked on an e-sports earnings website that lists the teams, the players and the tournaments that might find their way into Las Vegas' casinos in the months and years ahead.
The earnings website disclaimer says, "This list represents the top ranking teams in e-sports who won the most prize money based on tournament results, player transfers and team statements published on the internet. Sources include news articles, forum posts, live report threads, interviews, official statements, reliable databases, VODs and other publicly accessible sources that preserve 'historical' information."
We might not be far — maybe as early as next year — from some daring sports book writing a ticket for e-sports bets and having to hire the expertise necessary to know a good line.
Regulators first have to sort out what kinds of bets should be allowed. Then it will be up to the books to determine if they even want to get involved.
Regulators also will have to establish some safeguards to insure the integrity of the games. They might even have to take a look at the age of the competitors to determine how that fits into the rules because many e-sports players aren't old enough to legally play a slot machine.
As far as Gaming Commission Chairman Tony Alamo is concerned, it's on the books to monitor suspicious line movements, and that happens in any competition, whether it involves Team Liquid or the Green Bay Packers. So he's not too worried about integrity issues.
Nevada regulators probably will collaborate with Britain's E-Sports Integrity Coalition and its commissioner, Ian Smith, who addressed the Nevada Gaming Policy Committee last week.
Smith said the key factors in protecting the integrity of e-sports is to be wary of software weaknesses, online attacks that can slow or disable opponents as they play, and match fixing.
Regulators understand that match fixing happens: Games are played by human beings who have occasional lapses in judgment and try to find shortcuts to riches. Smith called it "opportunistic idiocy" when a player sees a way to earn $500 if he wins but $1,000 if he loses and deliberately throws a match.
But the bad guys almost always get caught.
There is software that can detect defective play, and most good line makers will discover suspicious wagering movements before a match is even played, as they've done before some basketball games.
The real challenge of e-sports becoming a fixture in Las Vegas casinos might be determining whether it's something that will grow and generate future revenue or if it's a passing fad that will be gone in a few years.
It's not a regulator's job to determine how lucrative a product would be in a casino, but rather to provide the avenue for it to be operated safely and with integrity and to let licensees take their chances on making it work financially.
Some companies have already determined that it's not worth taking the risk. Rahul Sood, CEO and co-founder of Unikrn, a global e-sports betting company, said some of the early failures of e-sports in Las Vegas were the fault of resort companies that hadn't properly researched the market or the demographic.
He said a company he didn't name hosted an event but was disappointed in the financial results because all the participants and their fans bolted the property and went to McDonald's rather than buy food and drinks on property. "This (e-sports in casinos) is the biggest green space in gambling we've ever seen," Sood said. "It isn't just an opportunity to attract people for games and tournaments. It's about attracting a whole new demographic as future customers. They're (players) into it for the bragging rights and the instant gratification."
He suggested that the company that saw its audience leave the property "should have created a pop-up McDonald's" to keep the captive audience.
"This is a group that isn't going to play your Britney Spears slot machines," he said.
MGM Resorts International is one of the companies that is going all in on millennial marketing and next month is expected to unveil new casino space catering to millennial customers. Located where the Rain Forest Cafe once operated — near the Hakkasan nightclub — the area has been developed at the direction of a committee of millennial MGM employees who offered their ideas on the decor, music and vibe of the space.
MGM's sister property, Mandalay Bay, hosted the League of Legends e-sports tournament in April.
Sood said Las Vegas would only succeed at becoming the e-sports capital of the world if it veers away from traditional thinking about what appeals to today's traditional slot, table game and sportsbook players.
Maybe we'll learn next year if Evil Genius-Team Liquid matchups will be as compelling as Patriots-Cowboys.
Contact Richard N. Velotta at rvelotta@reviewjournal.com or 702-477-3893. Follow @RickVelotta on Twitter.
RELATED
Las Vegas sports book to take first-ever wagers on e-sports
Neonopolis in downtown Las Vegas to be home to esports arena
Esports amenities attract customers to the Downtown Grand