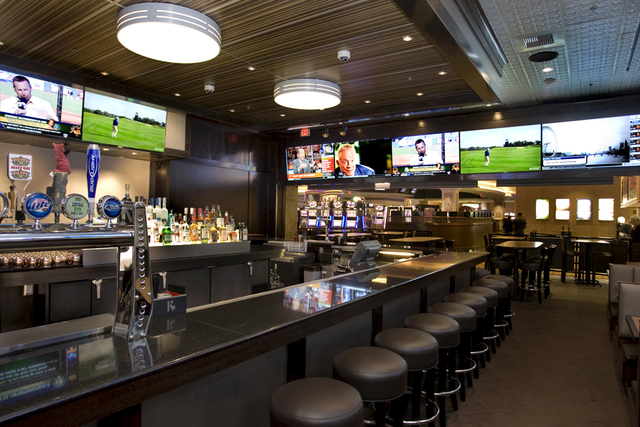 Boyd Gaming Corp. plans to revamp its restaurant offerings throughout its locals-oriented properties.
The company began the effort recently at the Suncoast by opening The Game, a sports bar and grill near the property's race and sports book.
The space replaced TGI Friday's and offers a new restaurant menu and bar items. For sports fans, wide-screen high-definition televisions line the walls, including 15 monitors with 75-inch screens.
During its third-quarter earnings conference call, Boyd Gaming CEO Keith Smith said the company is evaluating the restaurants inside its Coast Casinos properties — Suncoast, The Orleans, and Gold Coast — and Sam's Town.
Smith said the company is enhancing its product offerings to be more compelling and attractive to a broader range of customers.
The locals gaming market has been slow to recover following the recession.
Through September, gaming revenue in the locals market is down less than 1 percent from 2013, the Gaming Control Board reports. Some areas have performed better than others.
North Las Vegas casinos, primarily driven by improvements at the Aliante, are up 1.7 percent. The Boulder strip, which includes Henderson, is down 2.4 percent. The balance of Clark County has been relatively flat.
Station Casinos — Boyd's chief locals market competition — is spending $55 million to upgrade its restaurants at its flagship properties; Red Rock Resort in Summerlin and Green Valley Ranch Resort in Henderson.
In 2013, Station Casinos added a Lucille's Smokehouse Bar-B-Que to Red Rock and has brought in Mercadito — a popular Chicago-based restaurant — to both Red Rock Resort and Green Valley Ranch Resort.
In October, Station Casinos opened Hearthstone Kitchen &Cellar at Red Rock Resort.
Station Casinos President Steve Cavallaro said in the summer that Red Rock Resort wanted to offer new amenities to prepare for increased customer traffic coming from the adjacent Downtown Summerlin, which opened in October.
"We saw a material benefit to business at Green Valley Ranch when The District opened," Cavallaro said. "And we expect the same positive effect at Red Rock."
The Game is Boyd's initial push to compete with new restaurants.
Smith said the company's casinos have to upgrade their products to attract more locals.
"Consumer spending patterns have shifted over the last several years and it is imperative that we remain competitive by adjusting our products so they're well positioned to grow," Smith said. "To take advantage of this opportunity, we're investing in projects aimed at enhancing and repositioning certain amenities at our properties."
The Game is being positioned as a new concept with more than two dozen craft beers from local brewers and a menu that includes spicy barbecue chicken wings, build-your-own hamburgers, fish tacos and flatbread artisan pizzas.
"We sought to create the ultimate sports fan hangout, surrounding customers with all the games they want to see, and then some," Boyd Gaming Nevada Region Senior Vice President Steve Thompson said.
The company plans to reposition restaurants at The Orleans next year. Boyd also plans to remodel hotel rooms at both The Orleans and Suncoast, starting in December.
Smith said may take time for locals market gaming revenue to increase regularly. However, he said customers want new restaurants, shops and entertainment options as the markets improve.
"We recognize that consumers are spending their discretionary dollars differently today and that demand for non-gaming amenities is increasing," Smith said. "As we've noted previously, we are now targeting some of our capital spending to take advantage of that trend."
Wells Fargo Securities gaming analyst Cameron McKnight said the company is smart to act proactively to attract and keep more local consumers.
"Going forward, management expects the improving local economy, upcoming renovations and new non-gaming amenities to reinvigorate growth for these properties," McKnight said.
Smith said Boyd Gaming isn't stopping at its locals properties in upgrading nongaming amenities. The company plans to enhance the restaurants at its three downtown Las Vegas casinos and in some of its regional markets.
In December, a new Asian-themed restaurant will open at the California Hotel downtown.