UNLV's International Gaming Institute is world's most respected center of casino industry studies
August 13, 2016 - 6:25 am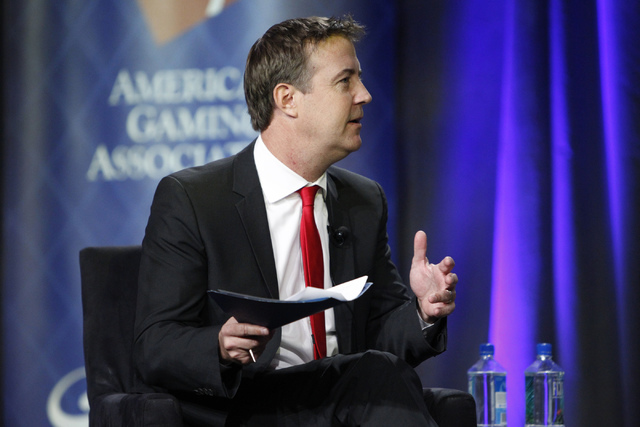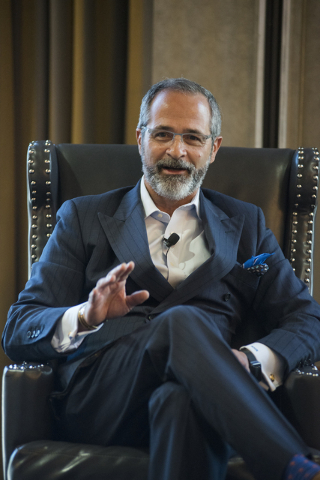 The collective groaning by all who spend time in classrooms can mean only one thing: It's back-to-school time in Southern Nevada.
In some Nevada classrooms, the books are a little different, because they're texts for classes with titles like "Accounting for the Gaming Industry," "Sociology of Gambling" and "Casino Marketing."
Those are courses offered through programs coordinated by the University of Nevada, Las Vegas' International Gaming Institute, the world's most respected center of casino industry studies.
Its executive director, Bo Bernhard, has a well-worn passport because he's in demand to speak, lead seminars and teach classes all over the world. He just returned to Las Vegas after helping to coordinate sessions for hundreds of new employees opening a new resort in Macau.
It wasn't that long ago that casinos were considered just adult playgrounds and that gambling was an entertainment diversion or hobby.
But in the late 1960s and early 1070s, William Eadington, an economics professor at the University of Nevada, Reno, recognized it as something more — an industry worthy of serious research.
Now, Bernhard is carrying the torch for Eadington, who died at age 67 in 2013.
An interesting aspect of UNLV's institute is that it works with schools and colleges on campus and its studies cross multiple disciplines.
"The International Gaming Institute is a university-level institute, one that partners with any number of different entities on campus, including the law school, engineering, computer science, libraries, architecture, sociology, psychology and others when our projects mandate that we engage in multidisciplinary thinking," Bernhard said.
"At base, as with all strong university institutes, we do two things: We teach and we do research, really R&D," he said. "The 'research' part is consistent with what all universities do while the 'D' part pertains to innovation, an area where we are really developing cutting-edge inventions for gaming and hospitality."
One class offered through the institute is a gaming innovation class, directed by Mark Yoseloff, the former CEO of Shuffle Master, the company that first developed and marketed all those automatic card-shuffling machines you see at casino pit games.
A fascinating story about Shuffle Master, which was bought out by Bally Technologies and, ultimately, by Scientific Games, is that once its developers delivered the perfect shuffling machine, it needed to invent more table games that could use them. That's how the game Let It Ride came to be.
The first two innovation classes conducted by the institute yielded 23 new patents developed by students. One student sold an idea to gaming manufacturing giant Konami Gaming, though the amount was not publicly disclosed.
In the development of new games, students are immersed into the mathematical world of odds to determine game outcomes that not only make a profit for the house but are fair to the player.
While the coursework and its connection to gaming and hospitality are obvious, the institute's value to other school programs are not.
The study of problem gambling, for example, is an area to which even the prestigious Harvard Medical School devotes considerable resources.
Engineering and architecture address examine casino design to determine what draws customers.
The institute's connection to the Boyd Law School provides a doorway to the intricacies of gaming law and regulatory studies.
There's a law school class in which students develop a proposed law or regulation for consideration by legislators or regulators.
Just as the University of Nevada hosts the National Judicial College in Reno, UNLV and the institute is home to the International Center for Gaming Regulation. Regulators worldwide look to Nevada as a model for gaming industry regulation and throughout the year the institute is the site for round-table meetings of regulators, courses on establishing regulations for land-based casinos and how to conduct financial and background investigations on prospective gaming licensees.
The results of such investigations play out every month at every Nevada Gaming Control Board and Nevada Gaming Commission meeting.
Most of the time, the investigations yield the credentials of solid citizens worthy of licensing, but investigators occasionally find incidents in an individual's past that will prevent him or her from getting a license. Most applicants tell board members after the outcome that it was the most exhaustive process they've ever been through.
The institute, as a research center, also tracks industry innovation. A new course offered for the first time this fall will focus on a new Strip phenomenon — e-sports and wagering on the outcome of video game competitions.
"E-sports is the hottest topic in every board room on the Strip, particularly with respect to millennials," said Robert Rippee, director of the Hospitality Lab and eSports Lab. "What better place to begin the journey to understand its relevance and application to the casino and hospitality industry than right here at UNLV?"
Rippee said in the eSports Lab, students will explore multiple facets of eSports. They'll learn about the games and the behavior of players and fans so casino companies can effectively target millennials as customers.
New intellectual property and strategies may also emerge from students' study.
"We're lucky," Bernhard said. "Everyone wants to know what millennials want — and one thing we have on a college campus: lots and lots of millennials."
Contact Richard N. Velotta at rvelotta@reviewjournal.com or 702-477-3893. Find him on Twitter: @RickVelotta