Walls surrounding legalized sports wagering may be 'crumbling'
September 20, 2015 - 6:53 am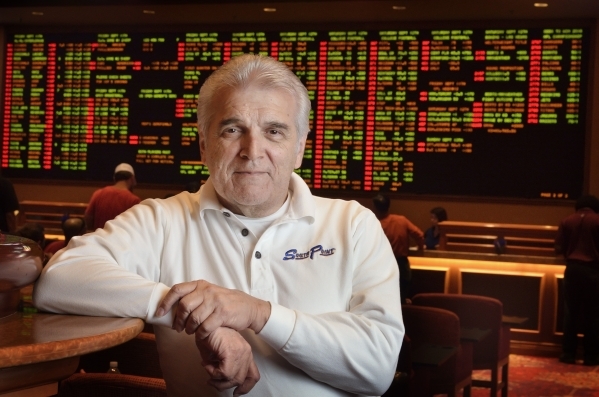 Jimmy Vaccaro was booking legal sports wagers on the Strip long before ESPN came into existence.
Forty years ago, he wrote the betting lines in chalk at the old Royal Inn. Today, the lines are updated electronically via mobile sports wagering applications.
Vaccaro has managed sports books for casinos owned by Steve Wynn, Kirk Kerkorian and Michael Gaughan and has seen the sports gambling industry change dramatically over parts of five decades.
So naturally he's long been skeptical when the conversation concerns sports betting coming out from the shadows and into the mainstream. The idea of Las Vegas-style sports books landing outside Nevada was far-fetched.
That is, until now.
"The walls seem to be crumbling," said Vaccaro, who currently oversees the sports book at the South Point. "There used to be something like a 50-foot wall. Now I can see over it."
Vaccaro said betting lines are sneaking into the everyday sports discussion. ESPN football announcers, both college and professional, have incorporated point spreads into their analysis. The number of daily fantasy sports advertisements a game broadcasts seem endless.
"Everybody is flashing point spreads," Vaccaro said. "I did a couple of spots with ESPN a few weeks ago and it was all about the money."
Legalized sports betting was discussed within the walls of the casino industry long before National Basketball Association Commissioner Adam Silver became the first head of major sports league to voice a softening approach toward the activity. In a New York Times op-ed piece a year ago, Silver wrote the NBA should reconsider its opposition to legal sports wagering.
When the casino industry gathers in Las Vegas for the Global Gaming Expo at the end of the month, legalized sports betting will be a key discussion area. Seminar topics include ways to protect the integrity of sports wagering, the booming interest in daily fantasy sports, and legal issues surrounding the activity.
Jason Robins, the CEO of DraftKings — one of the largest daily fantasy sports websites — is participating in a panel discussion on whether or not fantasy sports are a form of gambling.
American Gaming Association CEO Geoff Freeman doesn't expect everyone's questions to be answered over the three-day G2E. But he's optimistic the trade association will have a progressive policy that addresses sports wagering by the end of the year.
The AGA has two committees that could provide guidance. One is a looking solely at sports betting and a second is seeking ways to stop illegal gambling.
The groups intersect. The AGA said recently $95 billion will be wagered this fall and winter on professional and college football; $93 billion of the bets will placed illegally.
The 1992 passage of the Professional and Amateur Sports Protection Act (PASPA) limits sports wagering to four states. Nevada is the only one with full-scale sports books.
Still, PASPA isn't working. Unregulated, off-shore Internet sports betting sites have changed the landscape.
"It's clear that a federal ban on traditional sports betting outside of Nevada is failing," Freeman said.
The research arm of gaming industry adviser GamblingCompliance.com said in a white paper that legalized sports betting in the U.S. would result in annual wagers of $200 billion. Sports book operators could earn as much as $12.4 billion a year from the bets.
"We wanted to quantify the potential size of the market," said GamblingCompliance Americas Managing Director James Kilsby. The study used Nevada and several European jurisdictions as revenue models.
"Sports betting doesn't seem like it's a generation away anymore," Kilsby said. "We're not there yet, but many are considering it."
New Jersey wants to allow regulated sports books in Atlantic City casinos and the state's racetracks. But the effort has been derailed by the courts. Lawmakers in California, Indiana, Minnesota, New York, South Carolina and Texas have introduced sports betting legislation this year.
In Nevada, a bill was approved this year that allows sports books, from their headquarters on the Strip, to manage facilities and post betting lines in other states. Vaccaro, who spent a year setting up a sports book in the Bahamas, said Nevada operators "have the experience and the infrastructure to get it done."
Vaccaro is closely following the debate over daily fantasy sports. Nevada sports book operators have stayed out of the arena over questions of legality. The industry's two giants, DraftKings and FanDuel, have marketing deals with major sports leagues and ESPN, which is owned by the anti-gaming Disney Company.
"There is still a lot to play out in daily fantasy sports, including whether courts and legislatures decide that it's gambling," Fantini's Gaming Report principal Frank Fantini wrote in a research report on the growing business. "We are headed for a showdown."
Howard Stutz's Inside Gaming column appears Wednesdays and Sundays. He can be reached at hstutz@reviewjournal.com or 702-477-3871. Find on Twitter: @howardstutz.